[20101125. JNM Facebook GERD club case (2) posted on Nov 13, 2010]
This is the second of the GERD club case series.
About 50 years old male complained of recurrent heartburn. How would you interpret the endoscopic findings of the lower esophagus. You can choose one from the following examples. Or you can leave some comments.
1. Normal
2. Hiatal hernia
3. Minimal change lesion with or without hiatal hernia
4. Reflux esophagitis LA-A
5. Short segment Barrett's esophagus or ESEM
6. Others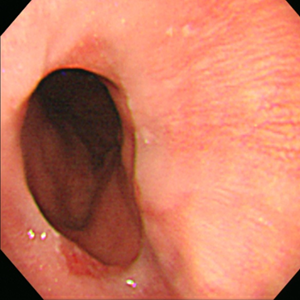 ---
My comment:First of all, there is a short segment hiatal hernia. We can see the diaphragmatic orfice at 1-2 cm below the SC junction. In addition, there are two triagular hyperemic area at 6 and 12 o'clock direction. By the LA classification, discrete hyperemic area can be considered as 'mucosal break'. However, I guess these triangular hyperemic areas represent early metaplastic change rather than true mucosal break. So, my impression is very small CLE, which is closest to answer #5.
Best comment from members of ANMA by unknown JNM Facebook page manager: Anyone who has a louder voice will win.
---
[위식도역류질환 공개강좌 동영상]
© 일원내시경교실 바른내시경연구소 이준행. EndoTODAY Endoscopy Learning Center. Lee Jun Haeng.