[20120126. Complications of EMR/ESD (21): Perforation (13) - Detachable snare & Neoveil]
Direct clip closure가 어려우면 detachable snare를 이용하여 큰 구멍을 당겨 막을 수 있습니다.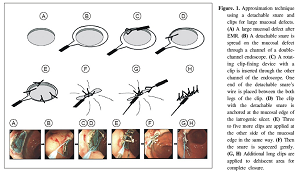 Korean J Gastrointest Endosc 2005:31:73-75
---
[2016-9-12. 추가]
Neoveil (absorbable polyglycolic acid felt)을 이용하여 천공을 막기도 합니다.
NEOVEIL is an absorbable reinforcement material made from PGA, and has the following characteristics.

1. NEOVEIL is a soft non woven fabric with elasticity through a special process.

2. NEOVEIL is absorbed for about 15 weeks like an absorbable PGA suture material. So its advantages are for use to regions which do not take a long time to heal.

3. NEOVEIL has good biocompatibility since it is made from PGA that is used in many clinical cases as a suture.

4. NEOVEIL is colored with green dyestuff, therefore it is easy to distinguish between NEOVEIL and tissues in clinical use.

PDF 0.3 M
아래는 위암 ESD 도중 발생한 천공 증례입니다. Clipping을 하였으나 충분하지 않아서 Neoveil을 부착시켰으며 이후 비수술적으로 호전되었습니다.

[Home]