[Second or later follow-up endoscopy after treatment of gastric ulcer]
---
In patients with BGU, yearly endoscopic follow-up is usually recommended. I am not sure whether this kind of tradition is really valid.
Do we need to take biopsies in the second or third follow-up endoscopy? When the ulcer is completely healed (scar stage), no further biopsy is required in the yearly endoscopy.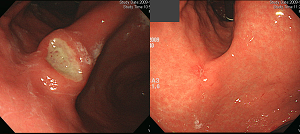 Please don't take biopsy from the ulcer scar every year. It's unnecessary and the patient don't like it.
[Home]