[OLGA staging system]
---
위축성위염, 화생성위염의 중증도 분류는 매우 다양하지만 저는 보통 내시경 소견에 의한 Kimura 분류를 좋아합니다. 편하기 때문이지요. 병리과 의사의 도움을 받아서 분류하는 방법도 많습니다. 최근 OLGA라는 분류가 제안되었고 몇몇 연구자들이 이용하고 있습니다.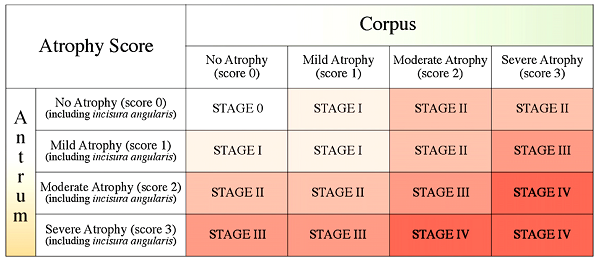 크게 보시려면 그림을 클릭하세요.
제가 OLGA system을 잘 설명드릴 정도로 알지 못해서 그냥 인터넷에 떠도는 설명을 옮깁니다 (link).
"Atrophic gastritis (resulting mainly from long-standing Helicobacter pylori infection) is a major risk factor for (intestinal-type) gastric risk.cancer of degree the with correlates significantly changes atrophic the of topography extent/the and development cancer The current format for histology reporting in cases of gastritis fails to establish an immediate link between gastritis phenotype and risk of malignancy. The histology report consequently does not give clinical practitioners and gastroenterologists an explicit message of use in orienting an individual patient's clinical management. Building on current knowledge of the biology of gastritis and incorporating experience gained worldwide by applying the Sydney System for more than 15 years, an international group of pathologists (Operative Link for Gastritis Assessment) has proposed a system for reporting gastritis in terms of stage (the OLGA staging system). Gastritis staging arranges the histological phenotypes of gastritis along a scale of progressively increasing gastric cancer risk, from the lowest (stage 0) to the highest (stage IV)."
---
2012년 12월 1일 학회에서 국립암센터 조수정 선생님께서 'Validation of gastritis OLGA-staging system for gastric cancer risk in a region of high prevalence: a case-control stuy'라는 제목의 연구결과를 발표하였습니다. 결론은 'High OLGA stages are independent risk factor for gastric cancer in a region where incidence of gastric cancer is high'였는데 무척 흥미롭습니다.
[Home]