Previous | Home | EndoTODAY | List | Next
---

[내시경학회 집담회]
오늘 오후 6시 이화여자대학교 목동병원 2층 대회의실에서 제 102회 대한소화기내시경학회 집담회가 열렸습니다. 아래에 소개합니다.

1. Tuberculous lymphangitis (인제대학교 서울백병원)
---

2. Familial Mediterranean fever (동국대학교 일산병원)
간헐적 복통. 복통과 함께 발생하는 온몸의 피부 발진과 전신적 열감. 여러번 응급실을 방문하여 많은 검사를 하였으나 원인 진단이 되지 않음. 16번 염색체 MEFV gene mutation (+). 국내에서 성인 3 증례, 소아 1 증례가 보고된 바 있음. 일본에서는 약 100예가 보고되어 있음. 치료 (Wikepedia): Attacks are self-limiting, and require analgesia and NSAIDs (such as diclofenac). Colchicine, a drug otherwise mainly used in gout, decreases attack frequency in FMF patients.
Familial Mediterranean fever: the first adult case in Korea에 나오는 사진을 아래에 소개합니다.

Findings of abdominal CT. (A) Left sided small bowel (probably jejunal loop, arrow) wall thickening and multiple enlarged mesenteric lymph nodes. (B) Small amount of pelvic fluid collection.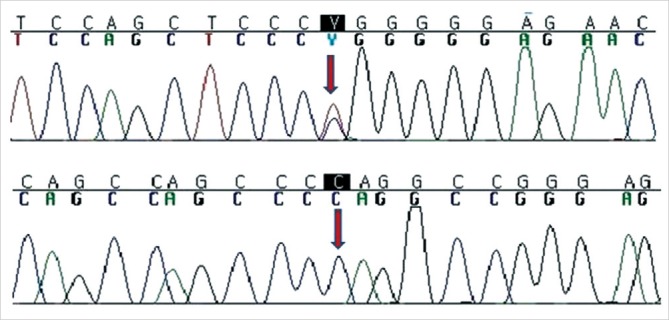 Results of the DNA analysis of the MEFV gene mutation analysis (c.[329T > C; 442G > C] + [442G > C]).
Familial Mediterranean fever in Japan의 abstract를 옮깁니다.
Familial Mediterranean fever (FMF) is a hereditary autoinflammatory disease that is prevalent in Mediterranean populations. While it is considered a rare disease in the rest of world, a significant number of FMF patients have been reported in East Asia, including Japan. Our aim was to determine the prevalence of FMF in Japan and elucidate the clinical and genetic features of Japanese patients. A primary nationwide survey of FMF was conducted between January and December 2009. Hospitals specializing in pediatrics and hospitals with pediatric, internal medicine, and rheumatology/allergy departments were asked to report all patients with FMF during the survey year. The estimated total number of Japanese FMF patients was 292 (95% confidence interval, 187-398 people). We evaluated the clinical and genetic profiles of Japanese patients from the data obtained in a secondary survey of 134 FMF patients. High-grade fever was observed in 95.5%, chest pain (pleuritis symptoms) in 36.9%, abdominal pain (peritonitis symptoms) in 62.7%, and arthritis in 31.3%. Of the patients profiled, 25.4% of patients experienced their first attack before 10 years of age, 37.3% in their teens, and 37.3% after age 20 years. Colchicine was effective in 91.8% of patients at a relatively low dose (mean dose, 0.89 ± 0.45 mg/d). AA amyloidosis was confirmed in 5 patients (3.7%). Of the 126 patients studied, 109 (86.5%) were positive for 1 or more genetic mutations and 17 (13.5%) had no mutation detected. Common Mediterranean fever gene (MEFV) mutations were E148Q/M694I (19.8%) and M694I/normal (12.7%). The differences in the prevalence of peritonitis, pleuritis, and a family history of FMF were statistically significant between FMF patients with MEFV exon 10 mutations compared with those without exon 10 mutations.In conclusion, a significant number of patients with FMF exist in Japan. Although Japanese patients with FMF are clinically or genetically different from Mediterranean patients, the delay in diagnosis is an issue that should be resolved.
---

3. Polypoid AV malformation presenting with jejunojenunal intussusception (울산의대 서울아산 병원)
Similar image from the Web

link
---

4. OTSC(over the scope clipping)로 치료한 fistula (순천향대학교 천안병원)
Technical success rate: 80%
Clinical success rate: 70%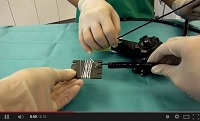 YouTube에 소개된 동영상 (이미지를 click 하세요)
---

5. 식도암 수술 후 발생한 fistula를 sponge packing으로 치료 (연세대학교 신촌세브란스 병원)
기전: wound clearing and granulation tissue formation
---

6. Delayed perforation after ESD for EGC (성균관의대 삼성서울병원)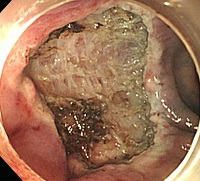 Delayed perforation은 일본에서 영문 증례 6개 (5 증례는 수술), 일본어 증례 2개가 보고된 바 있음.
Comment from floor: Oblique muscle이 없는 부위이므로 deep burning이 되면 delayed perforation 위험이 있음.
Comment from floor: Pain이 있을 때 Demerol을 쓸 것이 아니라 항생제를 우선 사용하는 것도 하나의 방법이다.
---

7. Submucosal tunnelling technique ESTD for gastric SET (고려대학교 구로병원)
4 cm tunnelling
Resected specimen이 peritoneum으로 loss되지 않도록 미리 detachable snare로 병소를 잡아두었음.
Artificial perforation을 만들면서 circumferential transmural resection 후 detachable snare를 잡아 당겨서 resected specimen을 수거할 수 있었음.
Tunnel 입구 closure를 하였음.
---

[참고자료]