[Description exercise 4]
---

Case 22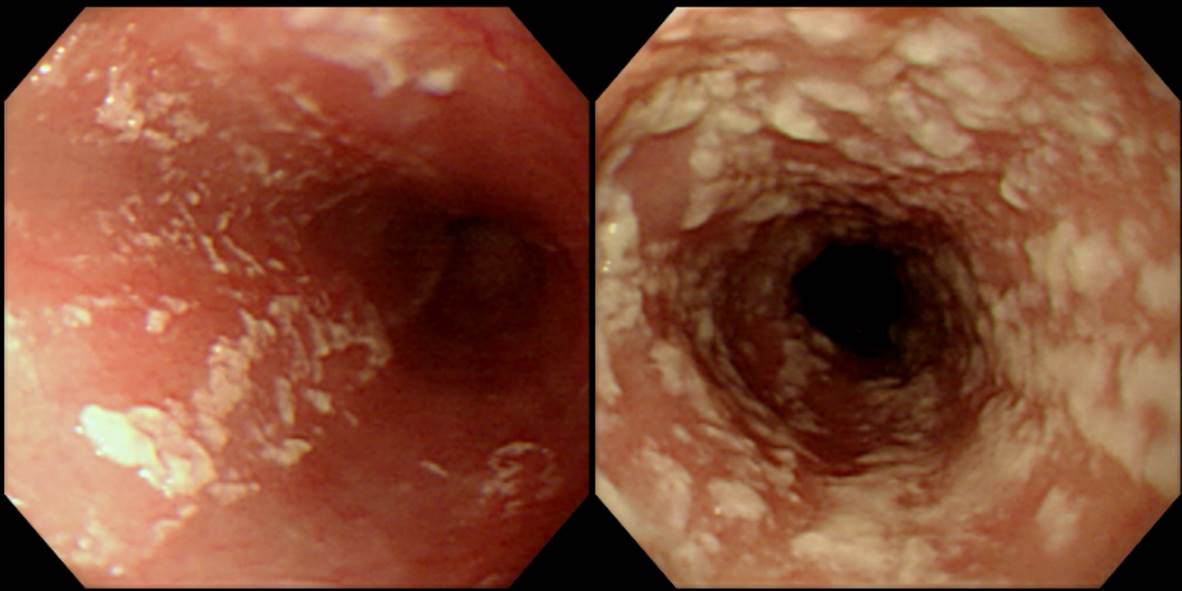 Findings: At mid to lower esophagus, 1-3 mm sized numerous white plaques are scattered. The plaques are conglomerated at lower esophagus. There is no ulcer or edema.
Impressions: Esophageal candidiasis, grade III
---
[Comment]

---

Case 23 (lower esophagus)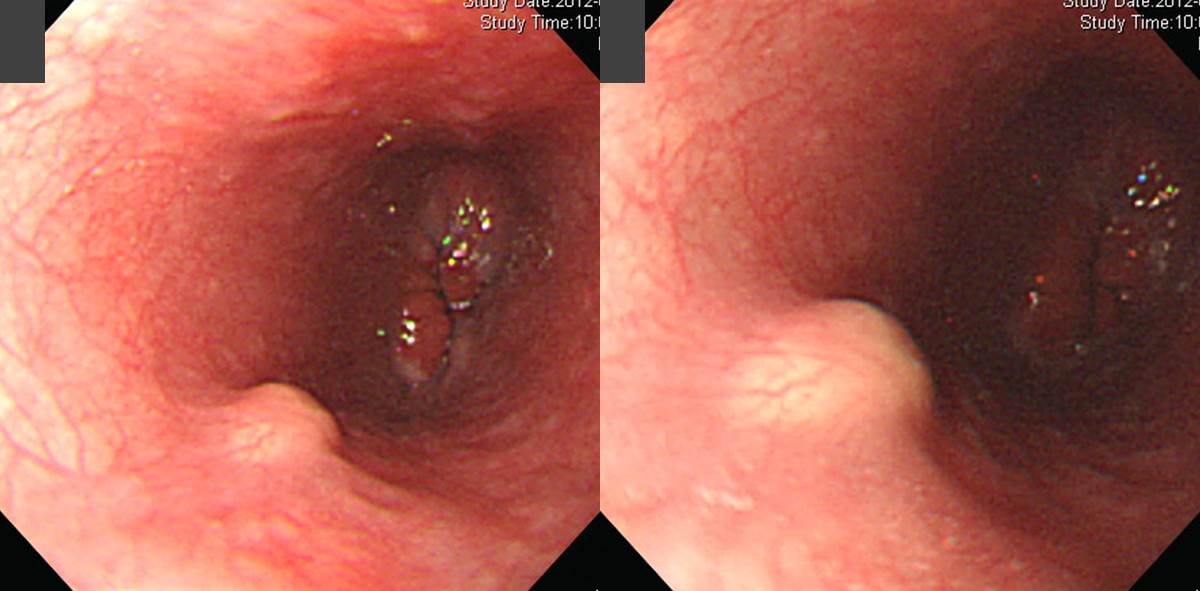 Findings: At lower esophagus, 5-6 mm sized flat yellosish elevated lesion with normal overlying mucosa is found.
Impression: esophageal submucosal tumor (most likely, granular cell tumor)
---
[Comments]
More cases of esophageal granular cell tumors

---

Case 24. Gastric antrum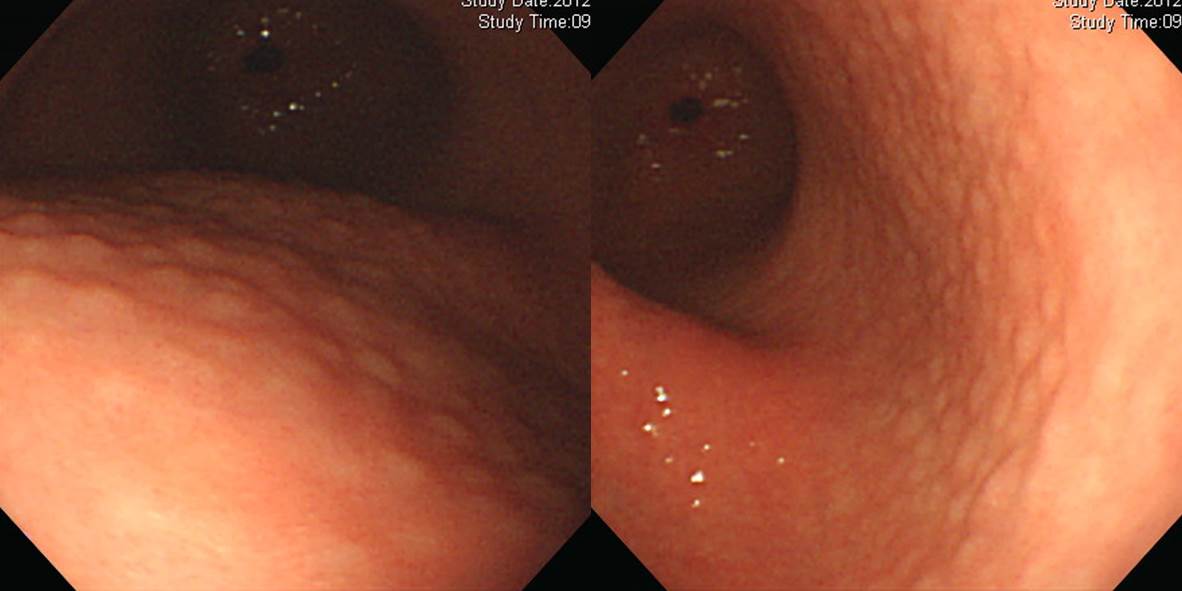 Findings: At antrum, the entire mucosa showes goose-skin apprearance with scattered multiple small nodular (or large granular) lesions.
진단: Lymphofollicuar gastritis (= nodular gastritis)
---
[Comments]

More cases of lymphofollicular gastritis

---

Case 25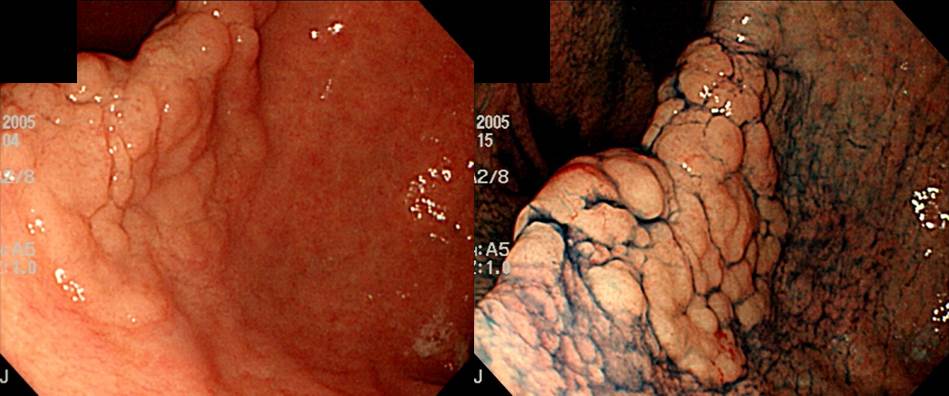 Findings: At angle and proximal antrum along lesser curvature, anterior wall aspect, 4x3 cm sized, flat elevated lesion is found. 있습니다. The edge is relatively clear, and the surface is pale and nodular.
Impression: Gastric adenoma, r/o EGC IIa
---
[Comments]
ESD was done and the final pathology was 'tubular adenoma, 3 x 3.5 cm, negative resection margin'.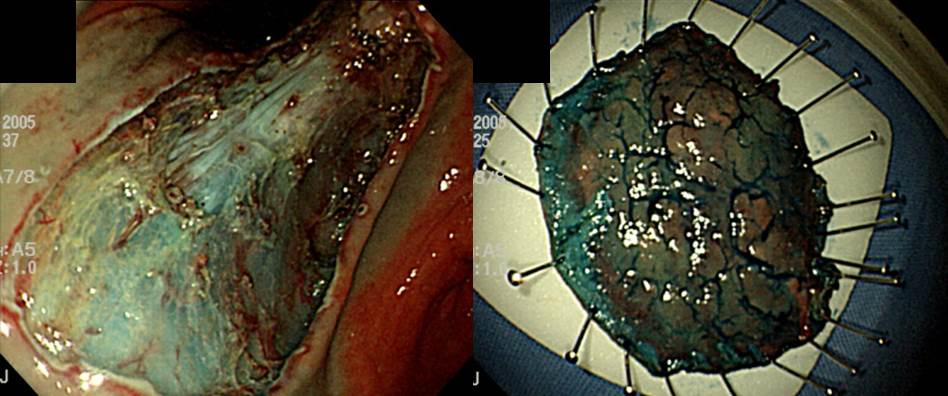 ---

Case 26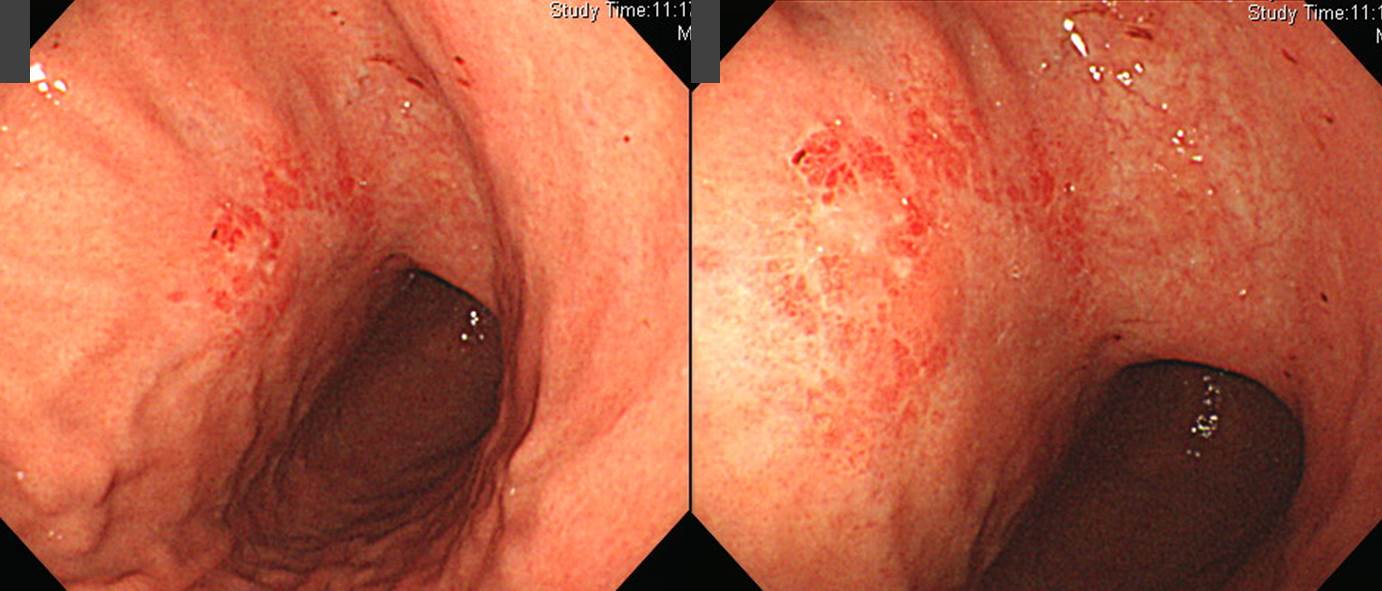 Findings: At anterior wall of lower body, a 4cm-sized ill-defined mixed atrophic and hyperplastic mucosal discolorated area was seen. There were multiple converging folds, which stops at the edge of the lesion.
Impression: EGC IIb
---
[Comment]
Surgery was done.
Early gastric carcinoma
1. Location : middle third, center at body and anterior wall
2. Gross type : EGC type IIb
3. Histologic type : signet-ring cell carcinoma
4. Histologic type by Lauren : indeterminate
5. Size : 6.5x3.3 cm
6. Depth of invasion : extension to mucosa (muscularis mucosa) (pT1a)
7. Resection margin: free from carcinoma, safety margin: distal 5.2 cm, proximal 4 cm
8. Lymph node metastasis : no metastasis in 33 regional lymph nodes (pN0)
9. Lymphatic invasion : not identified
10. Venous invasion : not identified
11. Perineural invasion : not identified
Please see the following PPT file for Paris classification of GI neoplasms.
PPT PDF 0.4 M
---

Case 27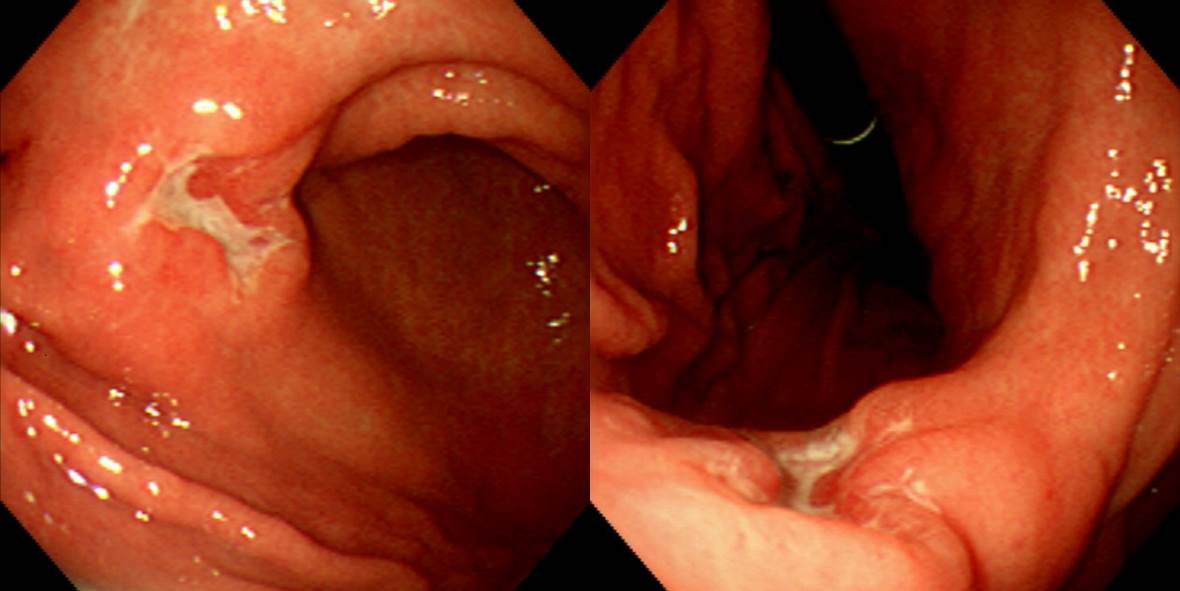 Findings: At anteriow wall of lower body, a 3-4cm sized mass with central irregular ulcer is seen. Edge of the ulcerative area is geographic, and shows spiculation.
Impression: AGC III
---
[Comments]
Surgery was done
Advanced gastric carcinoma, mimicking EGC type IIb+IIc, low body along the lesser curvature,
Adenocarcinoma, poorly differentiated, diffuse type;
1) tumor size: about 8x4.5 cm
2) extension to the subserosa
3) no endolymphatic tumor emboli
4) negative resection margins (proximal: about 3 cm; distal: about 3 cm)
5) no metastasis in 48 perigastric lymph nodes
---

Case 28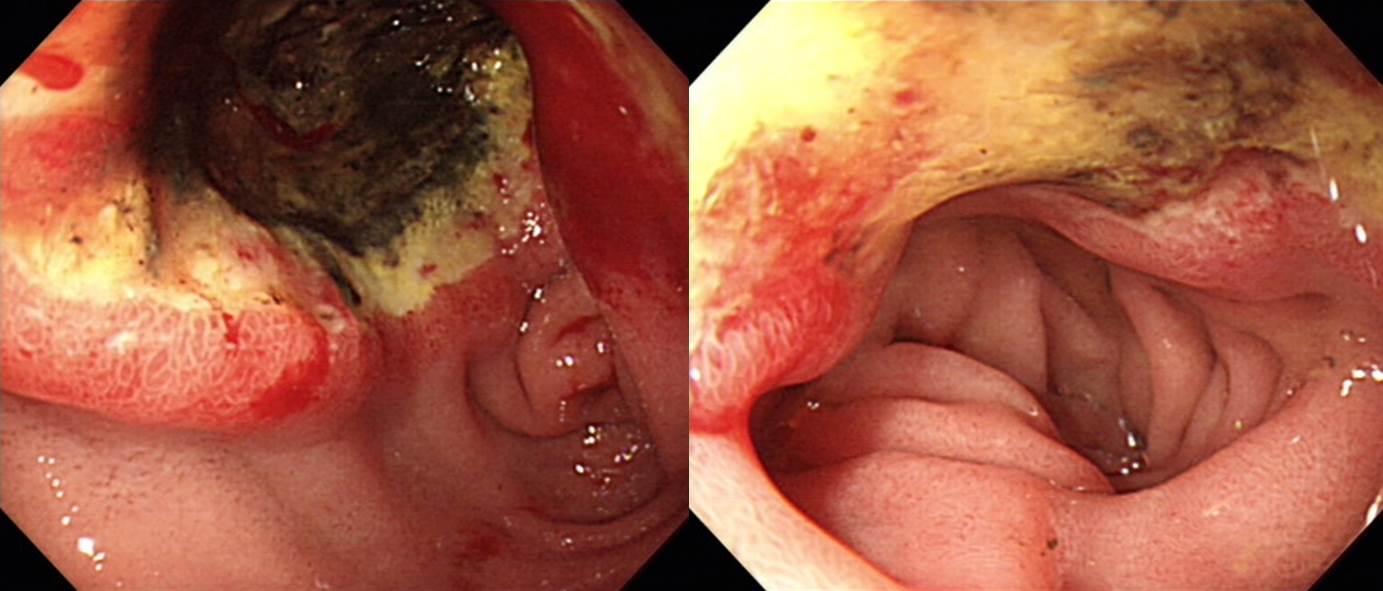 Findings: At the second part of the duodenum, a 4-5 cm sized ulcerative lesion is seen. The base of ulcer is necrotic and covered with dirty exudate.
Impression: Duodenal cancer
---
[Comments]
Surgery was done.
PERIAMPULLARY DUODENAL CANCER
1. Type of specimen : Whipple resection
2. Histopathologic Diagnosis : Adenocarcinoma, M / D
(1) Tumor site : duodenal
(2) Tumor size : 6x4 cm
(3) T3 : Tumor invades pancreas and periduodenal adipose tissue
(4) Involvement of pancreas and duodenum : present
(5) N1 : Regional lymph node metastasis (2/5: "LN8", 0/2; "LN12", 0/1; peripancreatic lymph node, 2/2(dNi))
(6) M0 : No distant metastasis
(7) Negative resection margins (R0 : complete resection with grossly and microscopically negative resection margins)
(8) perineural invasion: present
(9) lymphovascular invasion: present
(10) mucin production: irregular
(11) pancreas autolysis, moderate
(12) autolysis: gallbladder
© EndoTODAY Endoscopy Learning Center. Lee Jun Haeng.