Previous / EndoTODAY / List / Next
[20120611. Bezoar (2) - Pathogenesis and risk factors]
다시 Sleisenger 교과서에서 옮깁니다.
"Ingestion of large amounts of indigestible material is not the sole requirement for bezoar formation.
The majority of patients have a predisposing factor that contributes to bezoar formation -- most commonly altered gastrointestinal anatomy from previous surgery. Bezoar formation after surgery is a result of altered gastric motility with delayed gastric emptying and a reduction of gastric accomodation, poor gastric mixing, and reduced peptic activity.
Gastroparesis is commonly observed in patients with bezoars who do not have surgically altered gastric anatomy, although not all patients with bezoars have abnormal gastric emptying scans.
Patients with comorbid illnesses such as diabetes, patients with end-stage renal disease on dialysis, or patients on mechanical ventilation have an increased risk of bezoar formation."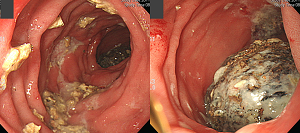 subtotal gastrectomy 환자에서 발생한 bezoar. 내시경 검사 당시 bezoar가 십이지장에 위치하고 있었습니다. 이 경우는 그다지 단단해 보이지 않았습니다.
참고문헌: 위석 12예에 대한 임상적 고찰 - 수술하였던 환자들에 대한 요약입니다.
---
[참고문헌]
1. EndoATLAS 위석 - 위석 총정리
[Home]