Previous | Home | EndoTODAY | List | Next
---

[Subepithelial cysts]

식도 낭종

Duplication cyst. 이는 엄밀한 의미의 subepithelial cyst는 아닙니다. 과거에는 malignancy와 감별을 위하여 대부분 수술을 하였으나 최근에는 CT 등으로 추적관찰만 하는 경우가 많습니다.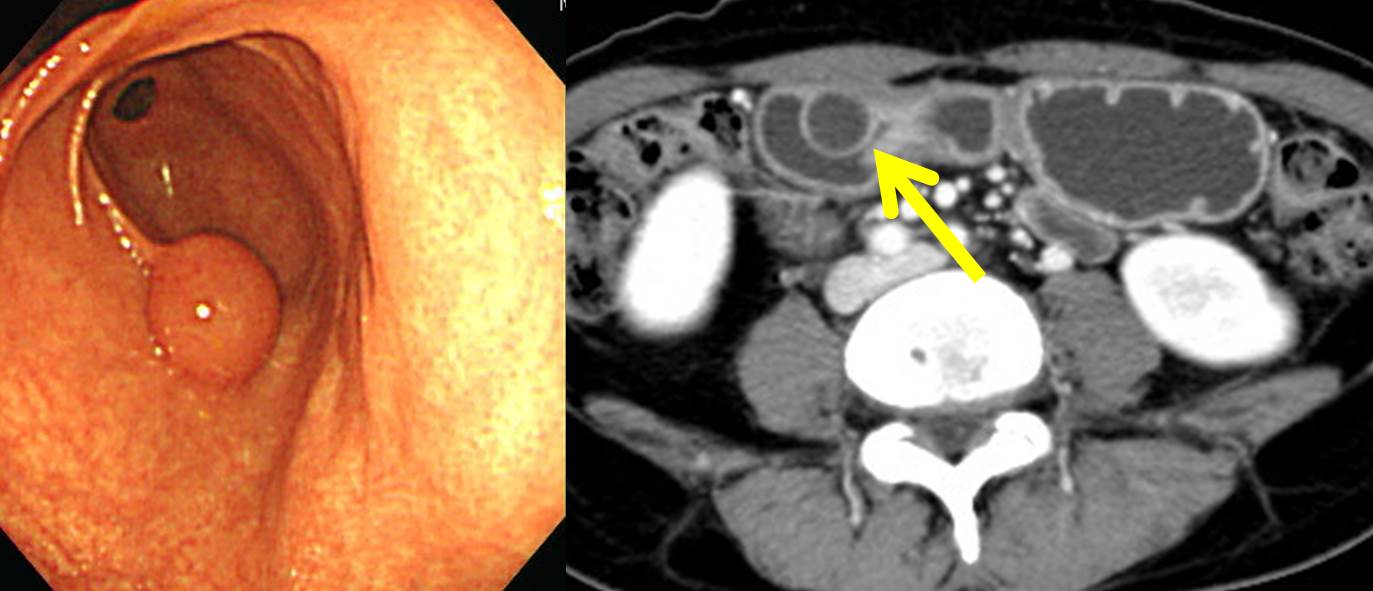 위 상피하종양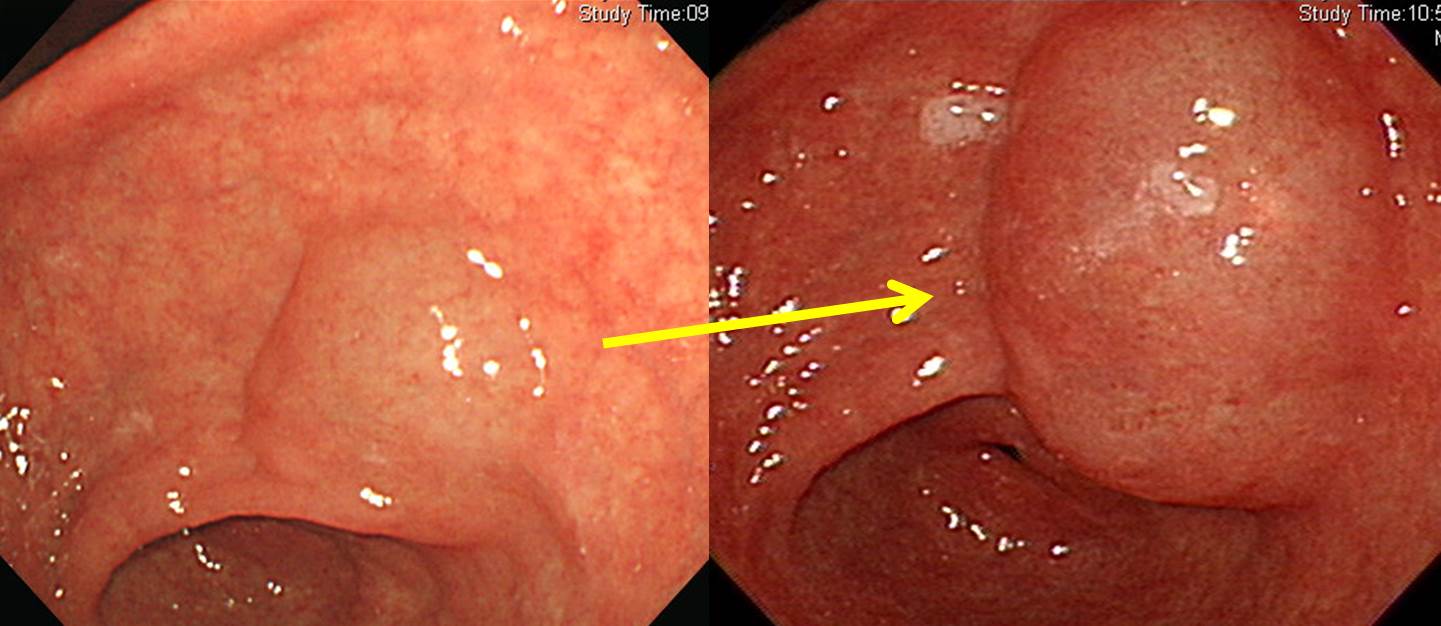 1년 사이에 상당히 커진 위 상피하종양. 상당히 커졌더라도 특별한 치료는 필요없습니다.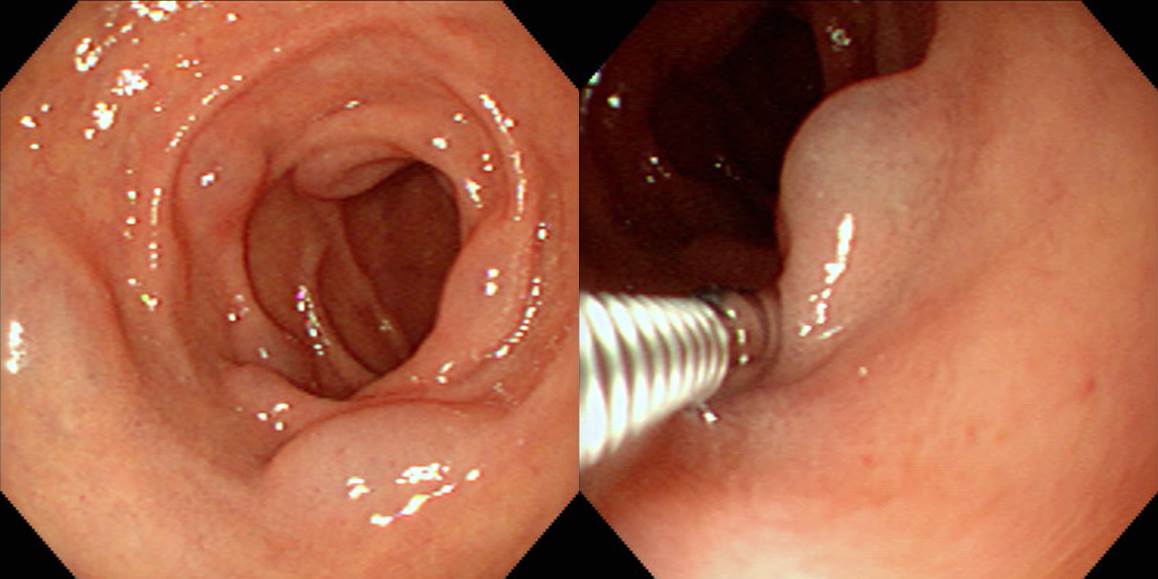 다발성 십이지장 상피하 종양. 별다른 임상적 의의는 없습니다.
---

[서종옥 선생님의 기생충과 내시경]
순천 개업가에서 활동중인 서종옥 선생님께서 이왕재 교수님이 발행하는 건강과 생명 9월호에 "기생충과 내시경"을 기고하셨습니다. 서종옥 선생님께서 제게 PDF file을 보내오셨습니다. 흥미로운 내용이 많았습니다. 참고하시기 바랍니다.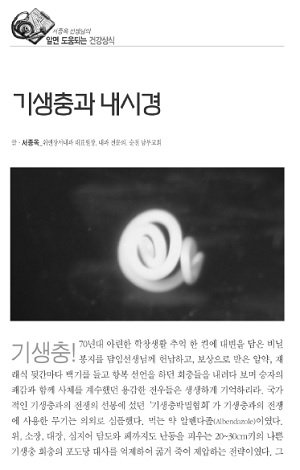 PDF, 2.0 M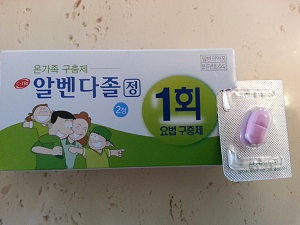 ---

2013년 9월 14일 토요일 강북삼성병원에서 기능성질환학회 심포지엄이 열렸습니다. 좋은 주제가 많았고 토론도 활발하였습니다. 흥미로운 증례 하나와 최명규 교수님의 특강을 요약하여 소개합니다.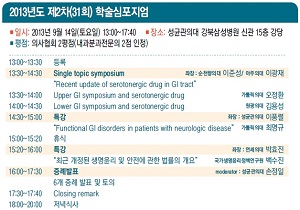 ---

[증례: Gastric band over-inflation에 의해 발생한 pseudoachalasia]
증례 발표: 5년 전 비만 치료로 gastric band (LapBand) 수술을 받은 환자입니다. 수술 후 1년 동안 15 kg 체중이 감소한 후 3-4년 동안은 변화없이 유지되었습니다. 1년 전부터 dysphagia가 발생하면서 체중이 추가로 20kg가 빠져서 내원하였습니다. 내시경, esophagography, esophageal manometry 등의 진단적 검사 후 gastric band의 over-inflation에 의한 chronic concentric pouch dilatation과 관련된 pseudo-achalasia로 진단하였습니다. Gastric band와 연결된 피하 port로부터 주사기로 4 cc 정도 액체를 aspiration후 증상이 호전되었습니다.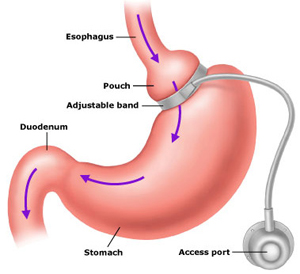 Gastric band 수술: silicone band를 proximal stomach에 둘러 neo-stomach이라고 불리는 small pouch를 만듬.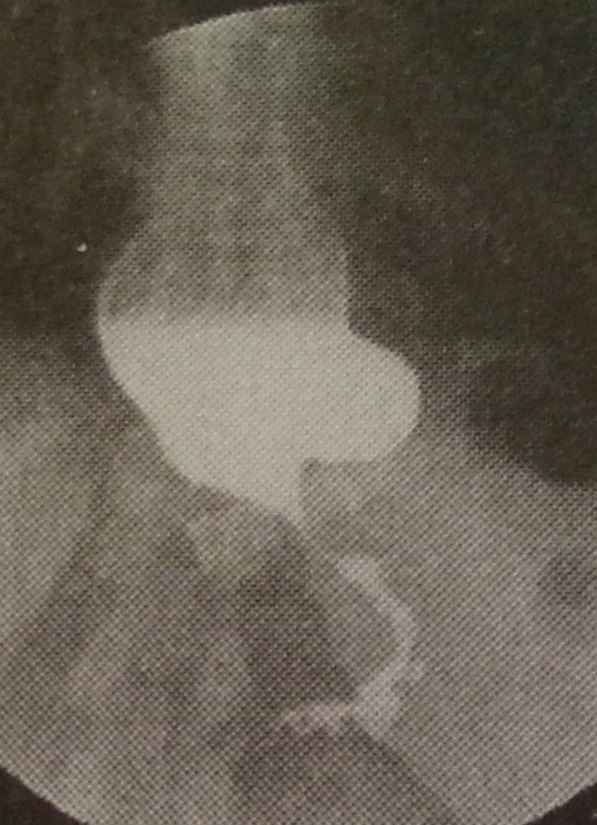 Esophagography에서 proximal stomach이 확장되어 있고 그 아래로 바륨이 잘 내려가지 않음.
---
1) 질문: 5년 전에 gastric band를 하고 약간 체중이 감소한 상태로 잘 유지되다가 왜 1년 전부터 증상이 발생하였을까?
발표자 답변: 기준보다 약간 tight하게 band가 조여진 경우 점차적으로 peristalsis가 감소되면서 몇 년 후 증상이 발생하였을 것이다.
Floor 의견: 잘 유지되던 band가 1년 전 migration되면서 증상이 발생한 것일 수 있겠다.
---
2) Gastric band 후 pseudo-achalasia가 발생한 것은 다음 세가지 이유가 있을 것으로 논의되었습니다.
Placing the band too far proximally at the level of the gastroesophageal sphincter without producing a real pouch -> surgically placed further distally
Band overinflation -> aspirate some fluid
Band dislocation with additional pouch outlet obstruction -> total emptied
---

[특강 (최명규 교수님): GI dysfunction in idiopathic Parkinson's disease]

파킨슨병 초기에 소화기증상이 많다. 변비는 무척 흔하다. 변비환자는 나중에 파킨슨병에 걸리기 쉽다는 연구도 있다.
CNS (central nerve system) 증상 이전에 ENS (enteric nerve system) 증상이 발생한다.
GI tract에도 alpha-synuclein이 침착된다.
ENS에서 먼저 파킨슨병의 병태생리가 시작하여 CNS로 전파되어 결국 CNS 증상이 발생하는 것이 아닐까?
Helicobacter pylori가 파킨슨병의 발생에 관여한다는 의견이 있다.
---

최명규 교수님 팀의 파킨슨병 관련 연구과 리뷰:
1) The prevalence and patterns of pharyngoesophageal dysmotility in patients with early stage Parkinson's disease. Mov Disord 2010;25(14):2361-8
These results suggest that the majority of patients with early-stage PD showed pharyngeal and esophageal dysfunction even before clinical manifestations of dysphagia, which may reflect selective involvement of either the brain stem or the esophageal myenteric plexus in early-stage PD.
2) Anorectal dysfunctions in Parkinson's disease. J Neurol Sci 2011;310(1-2):144-51
3) Anorectal manometric dysfunctions in newly diagnosed, early-stage Parkinson's disease. J Clin Neurol 2012;8(3):184-9
RESULTS: Anorectal manometry was abnormal in 12 of the 19 patients. These abnormalities were more common in patients with more severe anorectal symptoms, as measured using a self-reported scale. However, more than 40% of patients with no or minimal symptoms also exhibited manometric abnormalities.

CONCLUSIONS: These results suggest that anorectal dysmotility manifests in many early-stage PD patients, which this represent evidence for the involvement of neuronal structures in such nonmotor manifestations in PD.
---

최명규 교수님께서 언급하신 Helicobacter와 파킨슨병에 대한 연구:
1) Helicobacter infection may play a causative role in the pathogenesis of PD by evoking autoimmunity against mitochondria, resulting in ENS damage. (Helicobacter hypothesis for idiopathic parkinsonism: before and beyond. Helicobacter 2008;13:309)
We challenge the concept of idiopathic parkinsonism (IP) as inevitably progressive neurodegeneration, proposing a natural history of sequential microbial insults with predisposing host response. Proof-of-principle that infection can contribute to IP was provided by case studies and a placebo-controlled efficacy study of Helicobacter eradication. "Malignant" IP appears converted to "benign", but marked deterioration accompanies failure. Similar benefit on brady/hypokinesia from eradicating "low-density" infection favors autoimmunity. Although a minority of UK probands are urea breath test positive for Helicobacter, the predicted probability of having the parkinsonian label depends on the serum H. pylori antibody profile, with clinically relevant gradients between this "discriminant index" and disease burden and progression. In IP, H. pylori antibodies discriminate for persistently abnormal bowel function, and specific abnormal duodenal enterocyte mitochondrial morphology is described in relation to H. pylori infection. Slow intestinal transit manifests as constipation from the prodrome. Diarrhea may flag secondary small-intestinal bacterial overgrowth. This, coupled with genetically determined intense inflammatory response, might explain evolution from brady/hypokinetic to rigidity-predominant parkinsonism.
2) A recent trial demonstrated that Hp eradication improved the clinical status of infected patients with PD and reduced motor fluctuations, possibly by eliminating Hp-induced interference with L-dopa absorption. (Helicobacter pylori infection and motor fluctuations in patients with Parkinson's disease. Lee WY. Mov Disord 2008;23:1696
HP infection could interfere with the absorption of L-dopa and provoke motor fluctuations. HP eradication can improve the motor fluctuations of HP infected patients with PD.
---

2013년 9월 15일 일요일 대한위장내시경학회 추계학술대회가 소공동 롯데호텔에서 열렸습니다. 저는 "정확한 내시경 소견의 기재와 조직검사"라는 제목으로 강의하였습니다. 강의 자료는 삼성서울병원 모바일 홈페이지 (beta)의 강의자료 모음집인 Selected Lectures에 올려놓았습니다.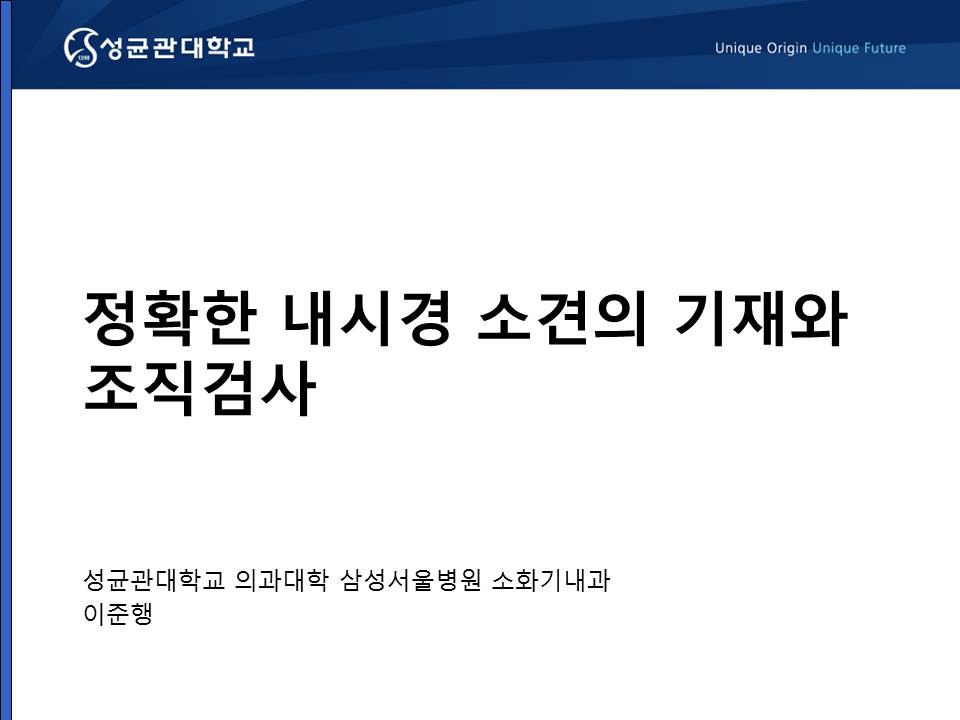 Powerpoint PDF, 4.0 M
---

한양대 이항락 교수님께서 "내시경으로 관찰된 위염의 분류"에 대해 멋진 강의를 해 주셨습니다. 위염은 헬리코박터와 뗄 수 없는데요.... 이항락 교수님의 강의 도중 나온 keypad voting을 불법으로 찍었습니다. 용서해 주시기 바랍니다.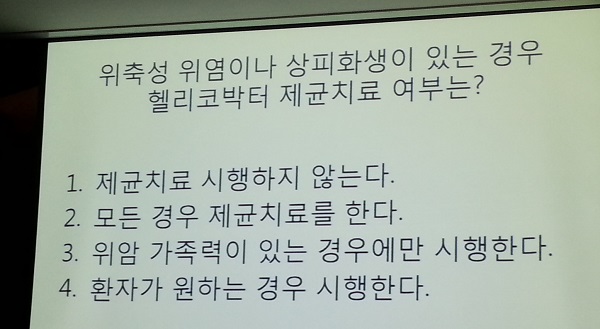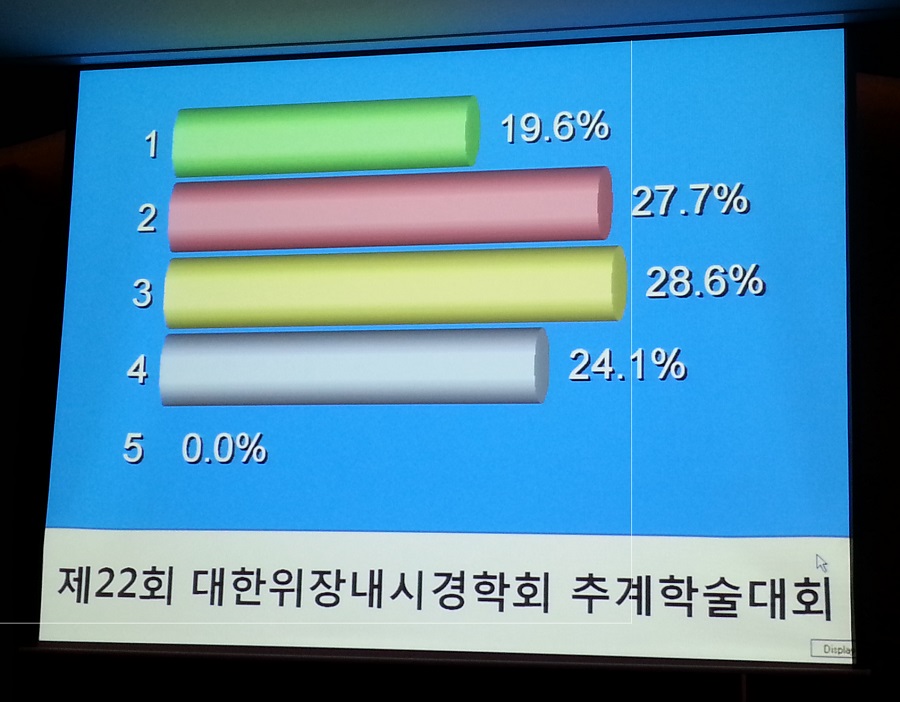 ---

대한위장내시경학회에서는 학술대회마다 quiz를 내고 있습니다. 매우 훌륭한 전통이라고 생각합니다. 이번에는 바렛 식도에 대한 문제가 있었습니다. 여러분은 어떻게 생각하십니까? 1, 2, 3, 4번 사진에 대한 자신만의 설명을 제게 보내주시면 감사하겠습니다.