Previous | Home | EndoTODAY | List | Next
---

[ChemoRT after ESD (M3 or SM1)]
식도암 ESD 후 M3나 SM1암으로 나왔을 때 추가치료 방법을 결정하는데 도움이 되는 randomized study 결과는 본 적이 없습니다. 최근 M3와 SM1암에 대한 ESD후 chemoRT를 시행한 결과가 발표된 바 있어 소개합니다 (Mochizuki. Exp Ther Med 2011).
- From November 2004 to June 2010, 120 patients with superficial ESCC were treated by ESD at the Shiga University.
- Among the 120 patients, invasion to the muscularis mucosa or to the submucosal layer was pathologically observed in 18 patients and 14 of these received additional CRT instead of surgery.
- Radiation therapy was delivered 5 days per week at 2 Gy per fraction. The total dose was 40 Gy in 20 fractions over 4 weeks. The chemotherapy regimens consisted of 5-fluorouracil and cisplatin.
- No recurrence for 45 months.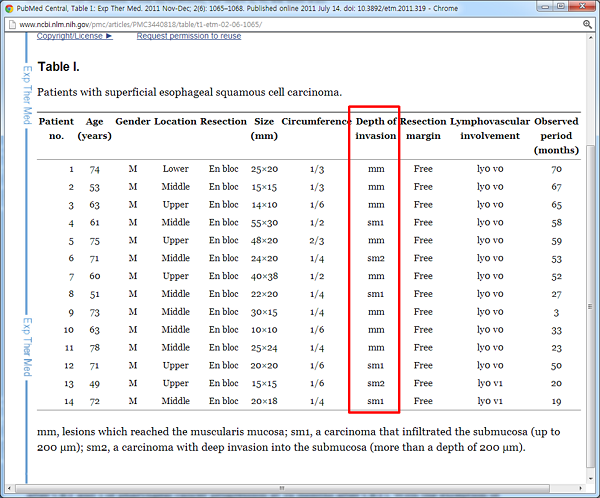 크게
결과는 좋았지만 대부분 작은 M3암이었다는 점과 randomized study가 아니라는 점에서 만족스러운 자료는 아니라고 생각합니다.
[Home]