Previous | Home | EndoTODAY | List | Next
---

[Lymphoepithelioma-like carcinoma (2)]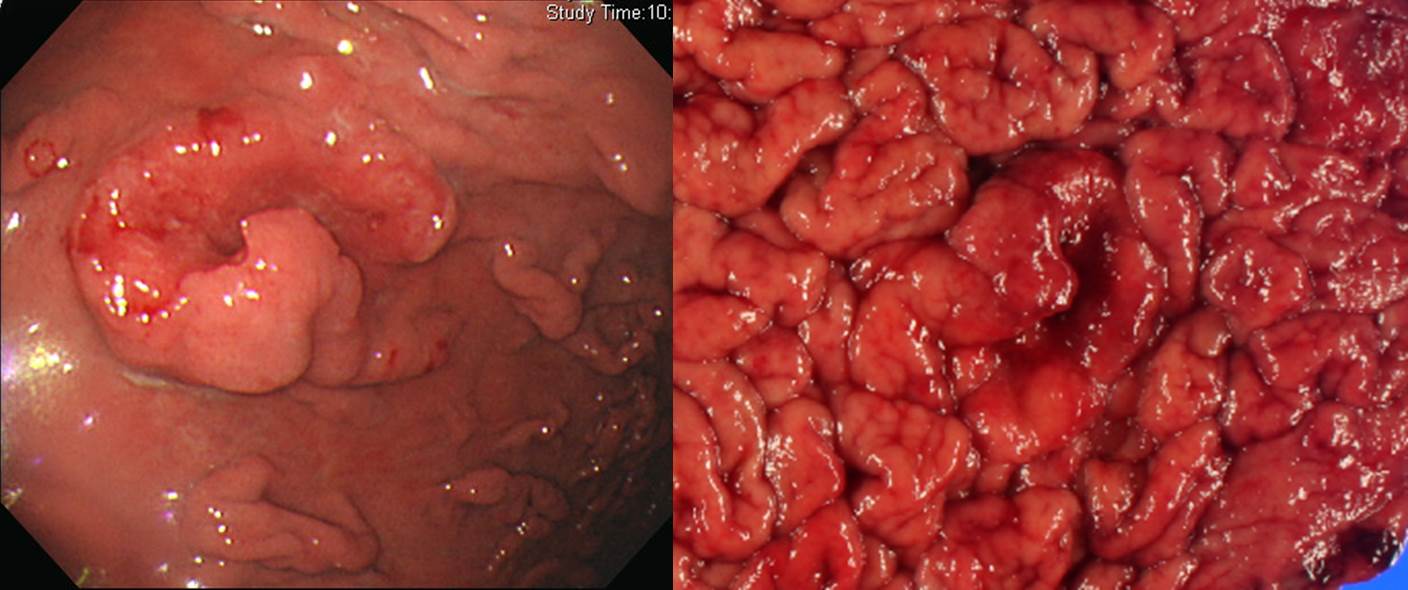 Lymphoepithelioma-like carcinoma(LELC)는 비인두암과 조직학적으로 유사하고, 림프구성 간질을 가진 미분화된 위종양입니다. Epstein-Barr 바이러스와의 연관성도 언급되고 있습니다. LELC은 식도, 위, 담관, 타액 선, 폐, 자궁, 피부 등에서 발생합니다. 위 LELC는 전체 위암의 l-4%를 차지하는데 조기위암의 경우 IIa + IIc형이 많으며 진행성 위암의 경우 Borrmann type IV 형이 많다고 합니다. 조기위암의 형태로 나타날 경우는 일반적인 조기위암과 예후가 비슷하나 진행성 위암의 형태를 취할 경우 일반적인 진행성 위암에 비하여 예후가 훨씬 좋은 것으로 알려져 있습니다. 드물게 점막하 종양의 형태로 나타나는 경우도 있어 주의가 필요합니다. (참고: 대한소화기내시경학회지 2004;28:123-126)
관련 저널 하나 소개합니다. Wang HH, Wu MS, Shun CT, Wang HP, Lin CC, Lin JT. Lymphoepithelioma-like carcinoma of the stomach: a subset of gastric carcinoma with distinct clinicopathological features and high prevalence of Epstein-Barr virus infection. Hepatogastroenterology. 1999;46(26):1214-9.
METHODOLOGY: Of 379 patients with gastric adenocarcinoma, from 1993 to 1996, 6 of them with lymphoepithelioma-like carcinoma of stomach were retrospectively studied.
RESULTS: Five patients were females and one patient was male. Their age ranged from 51-75 years with a mean age of 61.5 years. Endoscopically, 2 patients were initially diagnosed as early gastric cancer and the other 4 were diagnosed as advanced gastric cancer. Three patients had tumors located in the lower third of the stomach, while the other three tumors were located in the middle and upper third. Two tumors invaded into the serosal layer and the other four lesions were confined at submucosal and muscular layers. Using the in situ hybridization method, all 6 patients (100%) had positive nuclear Epstein-Barr virus-encoded small RNA signals in the tumor cells but not in the surrounding lymphoid stroma and non-neoplastic gastric mucosa. Helicobacter pylori was found in 4 (66.7%) of the cases. The mean follow-up period of the 6 patients was 27 months. Five patients were free of the disease. Lymph node involvement and mesenteric implantation was noted in one patient in which cancer recurred 1 year after gastrectomy.
CONCLUSIONS: Lymphoepithelioma-like carcinoma of stomach in this study revealed a female predominance, preferential localization in the proximal part of the stomach, better prognosis, and a high association with Epstein-Barr virus infection.
---

[Cases]
조직검사에서는 poorly differentiated adenocarcinoma였고 EUS에서 SM invasion이 뚜렷했습니다. 수술 후 최종 병리는 약간 의외로 lymphoepithelioma-like carcinoma였습니다.
tomach, subtotal gastrectomy:
. Early gastric carcinoma
1. Location : lower third, Center at proximal antrum and anterior wall
2. Gross type : EGC type IIc
3. Histologic type : lymphoepithelioma-like carcinoma
4. Histologic type by Lauren : mixed
5. Size : 1.8x1.4 cm
6. Depth of invasion : invades submucosa (sm3) (pT1b)
7. Resection margin: free from carcinoma, safety margin: proximal 1 cm, distal 8.7 cm
8. Lymph node metastasis : no metastasis in 34 regional lymph nodes (pN0)
9. Lymphatic invasion : not identified
10. Venous invasion : not identified
11. Perineural invasion : not identified
12. AJCC stage by 7th edition: pT1b N0
13. Epstein-Barr virus : positive
임상강사 백남영 선생님께서 정리한 내용입니다.



© 일원내시경교실 바른내시경연구소 이준행. EndoTODAY Endoscopy Learning Center. Lee Jun Haeng.