Previous | Home | EndoTODAY | List | Next
---

[Non-balloon type PEG replacement tube]
수년 전 갑자기 non-balloon type replacement tube가 수입중단되어 balloon형을 사용하고 있었습니다. 2012년 말 우리나라의 한 회사에서 non-balloon type replacement tube를 생산하기 시작하였다고 합니다. 저는 아직 써 본 적은 없습니다.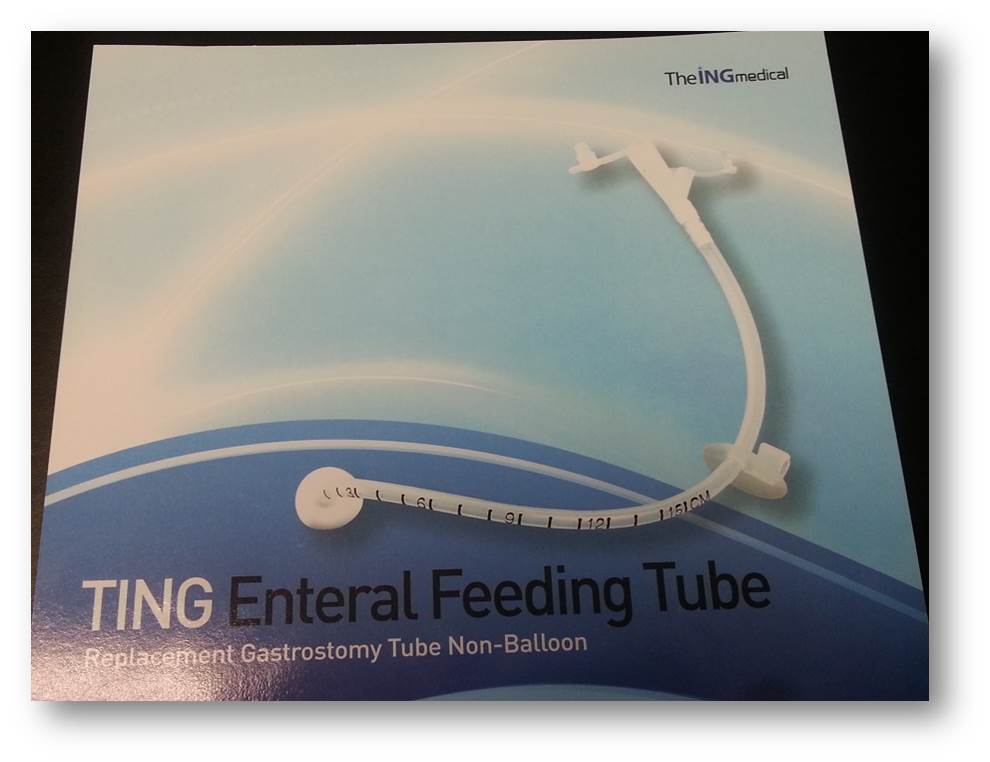 긴 tube가 없는 button type이라는 것도 있는데 저는 한번도 써 본 적이 없습니다.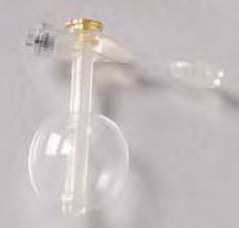 ---

2013년 9월 14일 강북삼성병원에서 기능성질환학회 심포지엄이 열렸습니다. 좋은 주제가 많았고 토론도 활발하였습니다. 흥미로운 증례 하나와 최명규 교수님의 특강을 요약하여 소개합니다.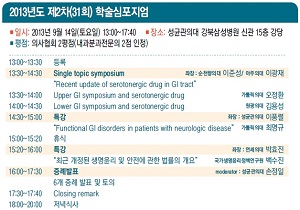 ---

[증례: Gastric band over-inflation에 의해 발생한 pseudoachalasia]
증례 발표: 5년 전 비만 치료로 gastric band (LapBand) 수술을 받은 환자입니다. 수술 후 1년 동안 15 kg 체중이 감소한 후 3-4년 동안은 변화없이 유지되었습니다. 1년 전부터 dysphagia가 발생하면서 체중이 추가로 20kg가 빠져서 내원하였습니다. 내시경, esophagography, esophageal manometry 등의 진단적 검사 후 gastric band의 over-inflation에 의한 chronic concentric pouch dilatation과 관련된 pseudo-achalasia로 진단하였습니다. Gastric band와 연결된 피하 port로부터 주사기로 4 cc 정도 액체를 aspiration후 증상이 호전되었습니다.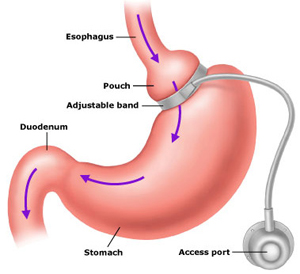 Gastric band 수술: silicone band를 proximal stomach에 둘러 neo-stomach이라고 불리는 small pouch를 만듬.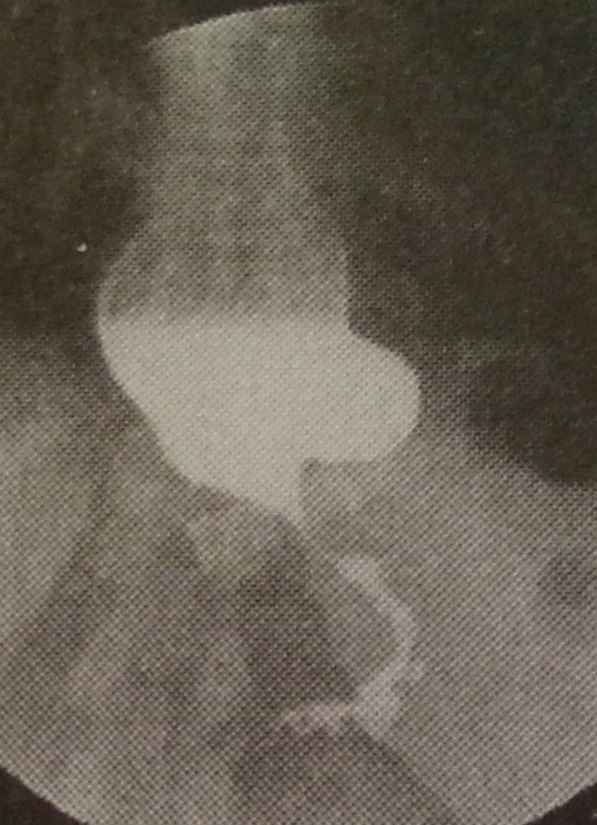 Esophagography에서 proximal stomach이 확장되어 있고 그 아래로 바륨이 잘 내려가지 않음.
---
1) 질문: 5년 전에 gastric band를 하고 약간 체중이 감소한 상태로 잘 유지되다가 왜 1년 전부터 증상이 발생하였을까?
발표자 답변: 기준보다 약간 tight하게 band가 조여진 경우 점차적으로 peristalsis가 감소되면서 몇 년 후 증상이 발생하였을 것이다.
Floor 의견: 잘 유지되던 band가 1년 전 migration되면서 증상이 발생한 것일 수 있겠다.
---
2) Gastric band 후 pseudo-achalasia가 발생한 것은 다음 세가지 이유가 있을 것으로 논의되었습니다.
Placing the band too far proximally at the level of the gastroesophageal sphincter without producing a real pouch -> surgically placed further distally
Band overinflation -> aspirate some fluid
Band dislocation with additional pouch outlet obstruction -> total emptied
---

[특강 (최명규 교수님): GI dysfunction in idiopathic Parkinson's disease]

파킨슨병 초기에 소화기증상이 많다. 변비는 무척 흔하다. 변비환자는 나중에 파킨슨병에 걸리기 쉽다는 연구도 있다.
CNS (central nerve system) 증상 이전에 ENS (enteric nerve system) 증상이 발생한다.
GI tract에도 alpha-synuclein이 침착된다.
ENS에서 먼저 파킨슨병의 병태생리가 시작하여 CNS로 전파되어 결국 CNS 증상이 발생하는 것이 아닐까?
Helicobacter pylori가 파킨슨병의 발생에 관여한다는 의견이 있다.
---

최명규 교수님 팀의 파킨슨병 관련 연구과 리뷰:
1) The prevalence and patterns of pharyngoesophageal dysmotility in patients with early stage Parkinson's disease. Mov Disord 2010;25(14):2361-8
These results suggest that the majority of patients with early-stage PD showed pharyngeal and esophageal dysfunction even before clinical manifestations of dysphagia, which may reflect selective involvement of either the brain stem or the esophageal myenteric plexus in early-stage PD.
2) Anorectal dysfunctions in Parkinson's disease. J Neurol Sci 2011;310(1-2):144-51
3) Anorectal manometric dysfunctions in newly diagnosed, early-stage Parkinson's disease. J Clin Neurol 2012;8(3):184-9
RESULTS: Anorectal manometry was abnormal in 12 of the 19 patients. These abnormalities were more common in patients with more severe anorectal symptoms, as measured using a self-reported scale. However, more than 40% of patients with no or minimal symptoms also exhibited manometric abnormalities.

CONCLUSIONS: These results suggest that anorectal dysmotility manifests in many early-stage PD patients, which this represent evidence for the involvement of neuronal structures in such nonmotor manifestations in PD.
---

최명규 교수님께서 언급하신 Helicobacter와 파킨슨병에 대한 연구:
1) Helicobacter infection may play a causative role in the pathogenesis of PD by evoking autoimmunity against mitochondria, resulting in ENS damage. (Helicobacter hypothesis for idiopathic parkinsonism: before and beyond. Helicobacter 2008;13:309)
We challenge the concept of idiopathic parkinsonism (IP) as inevitably progressive neurodegeneration, proposing a natural history of sequential microbial insults with predisposing host response. Proof-of-principle that infection can contribute to IP was provided by case studies and a placebo-controlled efficacy study of Helicobacter eradication. "Malignant" IP appears converted to "benign", but marked deterioration accompanies failure. Similar benefit on brady/hypokinesia from eradicating "low-density" infection favors autoimmunity. Although a minority of UK probands are urea breath test positive for Helicobacter, the predicted probability of having the parkinsonian label depends on the serum H. pylori antibody profile, with clinically relevant gradients between this "discriminant index" and disease burden and progression. In IP, H. pylori antibodies discriminate for persistently abnormal bowel function, and specific abnormal duodenal enterocyte mitochondrial morphology is described in relation to H. pylori infection. Slow intestinal transit manifests as constipation from the prodrome. Diarrhea may flag secondary small-intestinal bacterial overgrowth. This, coupled with genetically determined intense inflammatory response, might explain evolution from brady/hypokinetic to rigidity-predominant parkinsonism.
2) A recent trial demonstrated that Hp eradication improved the clinical status of infected patients with PD and reduced motor fluctuations, possibly by eliminating Hp-induced interference with L-dopa absorption. (Helicobacter pylori infection and motor fluctuations in patients with Parkinson's disease. Lee WY. Mov Disord 2008;23:1696
HP infection could interfere with the absorption of L-dopa and provoke motor fluctuations. HP eradication can improve the motor fluctuations of HP infected patients with PD.
---

2013년 9월 15일 내일 오전 9시 소공동 롯데호텔에서 "정확한 내시경 소견의 기재와 조직검사"라는 제목으로 강의할 예정입니다. 강의 자료는 삼성서울병원 모바일 홈페이지 (beta)의 강의자료 모음집인 Selected Lectures에도 올려놓았습니다.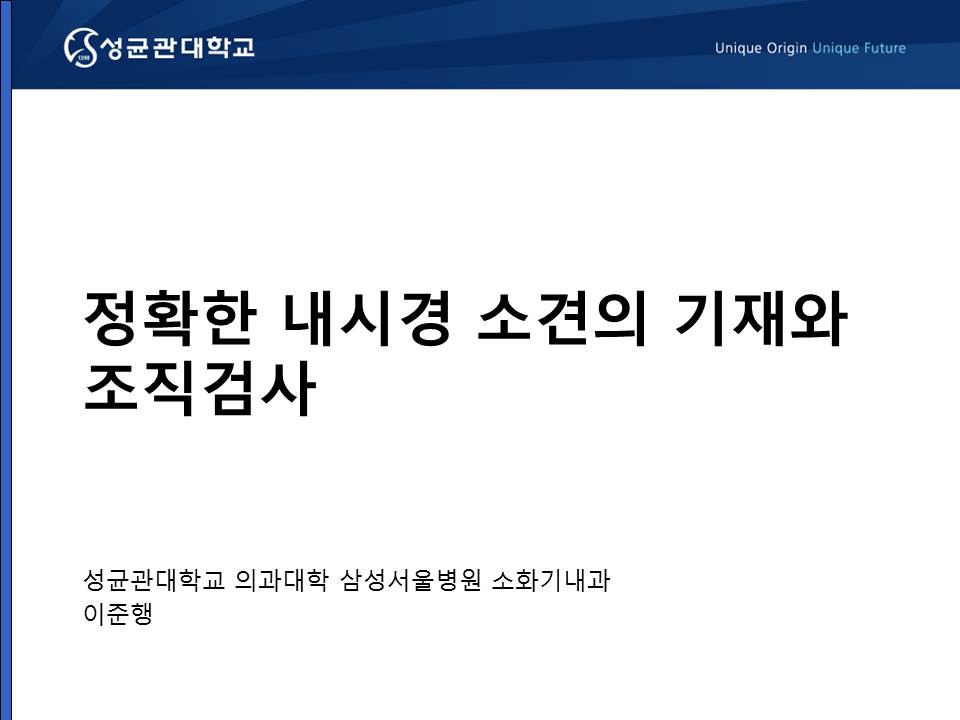 ---

제가 개발하고 있는 삼성서울병원 모바일 홈페이지 (beta)의 강의자료 모음집인 Selected Lectures을 소개합니다. SMC Winter School에서 발표된 여러 선생님들의 강의자료도 올려놓았습니다.
[Selected Lectures (Powerpoint PDFs)]

1. Introduction to endoscopy
5. Endoscopy of high risk patients
6. Reporting of endoscopic findings and biopsy 정확한 내시경 소견의 기재와 조직검사
6. Interpretation of functional tests
7. Three tips for effective presentation
8. Gastrointestinal parasite diseases
10. SMC Quality Academy (SQA) 2013
11. Sceening endoscopy - a physician's point of view
12. 내시경 교육과 삽입 tip
13. 무증상 성인의 건강검진 내시경에서 주의할 점 (Powerpoint PDF, 4.7 M)
---

2. Esophageal diseases
2. Endoscopy for esophageal diseases
4. GERD: Summary (staff lecture), Endoscopy, Treatment
5. Extraesophageal manifestation of GERD
6. PPI
8. Metachronous gastric cancers after esophageal cancer surgery
---

3. Stomach diseases
1. Esophagogastric junction cancer
3. Endoscopic diagnosis of gastric cancer/Classification by experts
4. Borrmann type IV gastric cancer
6. Gastric SMT
10. Endoscopy for duodenal diseases
---

4. Therapeutic upper endoscopy
1. Hemostasis of upper GI bleeding
2. Role of PPI for bleeding peptic ulcer
6. PEG
---

5. Lower endoscopy
1. Insertion of the colonoscope
4. UGI lesions in FAP - text
---

6. 이준행의 2013년 학생 강의
1. 2학년 presentation 방법론
2. 2학년 복부진찰
3. 2학년 토혈
4. 2학년 위염
5. 2학년 소화성궤양 (1)
6. 3학년 소화성궤양 (2)
7. 3학년 복통
---

[Putin in New York Times]
러시아의 Putin 대통령이 New York Times에 기고한 내용에 대하여 미국에서 온갖 이야기가 들끓고 있다고 합니다. 경향신문의 소개기사와 New York Times의 원문을 옮깁니다. 미국도 예외없이 law and order를 지키라는 주장입니다.
---
[2013-9-14. 경향신문] 푸틴 기고문 실었다가 여론 뭇매 맞는 NYT
시리아에 대한 군사개입을 반대한 블라디미르 푸틴 러시아 대통령의 기고문을 실은 뉴욕타임스가 미국 내 여론의 뭇매를 맞았다. 미국인들은 푸틴 대통령이 '미국 예외주의'를 비판한 부분을 특히 불쾌해했다.
상원 외교위원장인 민주당 로버트 메넨데즈는 12일 CNN에 푸틴 대통령의 글을 읽고 "거의 토할 뻔했다"고 말했다. 그는 "KGB(옛 소련 국가보안위원회) 출신이 무엇이 우리 국익에 부합하고 말고를 운운한다는 게 걱정된다. 러시아의 (시리아 화학무기 국제관리) 제안이 얼마나 진지한 것인지 의문스럽다"고 말했다. 공화당의 존 매케인 상원의원은 자신의 트위터에 "푸틴의 뉴욕타임스 기고문은 모든 미국인의 지적 능력에 대한 모독"이라고 썼다. 제이 카니 백악관 대변인은 정례 브리핑에서 "이는 멋진 아이러니라는 점을 지적하고 싶다. 표현의 자유라는 이 나라의 특별한 전통을 보여주기 때문이다. 러시아에서는 지난 수십년간 표현의 자유가 오히려 퇴조하고 있다"고 비꼬았다. 코네티컷주의 한 독자는 "뉴욕타임스가 미국의 오랜 적을 돕는 행위를 한 것을 보고 충격을 받았다"는 내용의 항의 메일을 보냈다고 뉴욕타임스는 밝혔다.
뉴욕타임스는 독자들의 항의가 쏟아지자 12일 이례적으로 여론독자부 명의로 이 기고문을 싣게 된 경위를 상세히 소개했다. 뉴욕타임스 측은 푸틴이 지적한 모든 점이 자사의 논조와 일치하는 것은 아니지만 글이 논리정연한 데다, 새로운 정보 및 논쟁거리를 담고 있어 주저없이 게재키로 결정했다고 밝혔다. 크렘린 측은 기고문을 싣기 위해 모스크바 주재 뉴욕타임스 지국과 뉴욕 소재 홍보회사를 통해 뉴욕타임스에 접근했다고 한다.
푸틴 대통령의 기고에 부정적 평가만 있는 것은 아니었다. 공화당 대선후보로 출마한 적 있는 보수논객 팻 뷰캐넌은 "그 글을 두 번이나 읽었는데, 솔직히 말해, 매우 잘 쓴 글이었다. 지난 한 주 블라디미르 푸틴은 정말 정치인 같았다"고 평가했다. 푸틴 대통령은 12일자 뉴욕타임스 기고에서 시리아 화학무기 공격은 정부군이 아니라 반정부군이 사용했다고 믿을 만한 이유가 있다며 미국만이 특별하다는 식의 '미국 예외주의'를 비판했다.
---
[2013-9-12. New York Times] A Plea for Caution From Russia
MOSCOW ? RECENT events surrounding Syria have prompted me to speak directly to the American people and their political leaders. It is important to do so at a time of insufficient communication between our societies.
Relations between us have passed through different stages. We stood against each other during the cold war. But we were also allies once, and defeated the Nazis together. The universal international organization ? the United Nations ? was then established to prevent such devastation from ever happening again.
The United Nations' founders understood that decisions affecting war and peace should happen only by consensus, and with America's consent the veto by Security Council permanent members was enshrined in the United Nations Charter. The profound wisdom of this has underpinned the stability of international relations for decades.
No one wants the United Nations to suffer the fate of the League of Nations, which collapsed because it lacked real leverage. This is possible if influential countries bypass the United Nations and take military action without Security Council authorization.
The potential strike by the United States against Syria, despite strong opposition from many countries and major political and religious leaders, including the pope, will result in more innocent victims and escalation, potentially spreading the conflict far beyond Syria's borders. A strike would increase violence and unleash a new wave of terrorism. It could undermine multilateral efforts to resolve the Iranian nuclear problem and the Israeli-Palestinian conflict and further destabilize the Middle East and North Africa. It could throw the entire system of international law and order out of balance.
Syria is not witnessing a battle for democracy, but an armed conflict between government and opposition in a multireligious country. There are few champions of democracy in Syria. But there are more than enough Qaeda fighters and extremists of all stripes battling the government. The United States State Department has designated Al Nusra Front and the Islamic State of Iraq and the Levant, fighting with the opposition, as terrorist organizations. This internal conflict, fueled by foreign weapons supplied to the opposition, is one of the bloodiest in the world.
Mercenaries from Arab countries fighting there, and hundreds of militants from Western countries and even Russia, are an issue of our deep concern. Might they not return to our countries with experience acquired in Syria? After all, after fighting in Libya, extremists moved on to Mali. This threatens us all.
From the outset, Russia has advocated peaceful dialogue enabling Syrians to develop a compromise plan for their own future. We are not protecting the Syrian government, but international law. We need to use the United Nations Security Council and believe that preserving law and order in today's complex and turbulent world is one of the few ways to keep international relations from sliding into chaos. The law is still the law, and we must follow it whether we like it or not. Under current international law, force is permitted only in self-defense or by the decision of the Security Council. Anything else is unacceptable under the United Nations Charter and would constitute an act of aggression.
No one doubts that poison gas was used in Syria. But there is every reason to believe it was used not by the Syrian Army, but by opposition forces, to provoke intervention by their powerful foreign patrons, who would be siding with the fundamentalists. Reports that militants are preparing another attack ? this time against Israel ? cannot be ignored.
It is alarming that military intervention in internal conflicts in foreign countries has become commonplace for the United States. Is it in America's long-term interest? I doubt it. Millions around the world increasingly see America not as a model of democracy but as relying solely on brute force, cobbling coalitions together under the slogan "you're either with us or against us."
But force has proved ineffective and pointless. Afghanistan is reeling, and no one can say what will happen after international forces withdraw. Libya is divided into tribes and clans. In Iraq the civil war continues, with dozens killed each day. In the United States, many draw an analogy between Iraq and Syria, and ask why their government would want to repeat recent mistakes.
No matter how targeted the strikes or how sophisticated the weapons, civilian casualties are inevitable, including the elderly and children, whom the strikes are meant to protect.
The world reacts by asking: if you cannot count on international law, then you must find other ways to ensure your security. Thus a growing number of countries seek to acquire weapons of mass destruction. This is logical: if you have the bomb, no one will touch you. We are left with talk of the need to strengthen nonproliferation, when in reality this is being eroded.
We must stop using the language of force and return to the path of civilized diplomatic and political settlement.
A new opportunity to avoid military action has emerged in the past few days. The United States, Russia and all members of the international community must take advantage of the Syrian government's willingness to place its chemical arsenal under international control for subsequent destruction. Judging by the statements of President Obama, the United States sees this as an alternative to military action.
I welcome the president's interest in continuing the dialogue with Russia on Syria. We must work together to keep this hope alive, as we agreed to at the Group of 8 meeting in Lough Erne in Northern Ireland in June, and steer the discussion back toward negotiations.
If we can avoid force against Syria, this will improve the atmosphere in international affairs and strengthen mutual trust. It will be our shared success and open the door to cooperation on other critical issues.
My working and personal relationship with President Obama is marked by growing trust. I appreciate this. I carefully studied his address to the nation on Tuesday. And I would rather disagree with a case he made on American exceptionalism, stating that the United States' policy is "what makes America different. It's what makes us exceptional." It is extremely dangerous to encourage people to see themselves as exceptional, whatever the motivation. There are big countries and small countries, rich and poor, those with long democratic traditions and those still finding their way to democracy. Their policies differ, too. We are all different, but when we ask for the Lord's blessings, we must not forget that God created us equal.
Vladimir V. Putin is the president of Russia.