Previous | Home | EndoTODAY | List | Next
---

[Appendiceal mucocele]
[애독자 질문] 선생님 제가 대장내시경을 시행한 환자 중 appendix orfice에 점액 같은 것이 있었습니다. 1 cm 크기의 SMT로 보였습니다. Appendiceal mucocele에서 점액이 나오는 것은 처음 본 것 같습니다. Air inflation 시키니 orfice에 있는 SMT는 orfice에서 이동하는 것 처럼 보였습니다.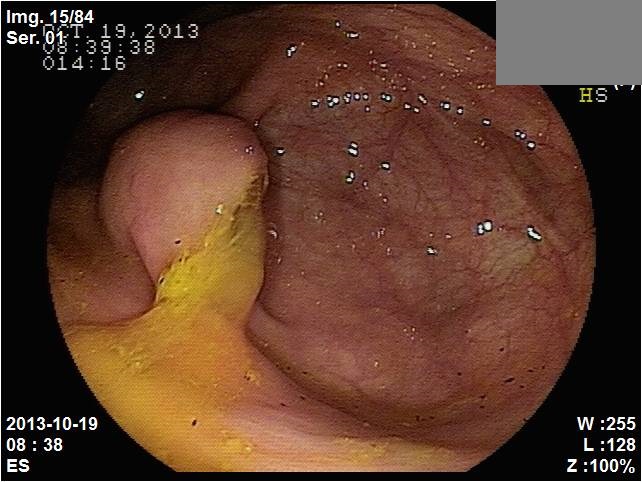 ---

[삼성서울병원 홍성노 교수님 답변] 말씀하신 소견은 모두 가능합니다. 흔히 보는 것은 appendiceal orfice 혹은 주위 cecal base에 점막하종양 형태로 관찰되는 것이 많지만
1. Gelatin같은 점액 분비가 가능하고 (병리적으로 단순한 mucosa hyperplasia도 있지만, cystadenoma, retention cyst 가 많은 부분을 차지하며, cystadenoma of the appendix가 터져서 복강내 intraperitoneal mucinous spread 및 mucinous implants가 되는 경우가 pseudomyxoma peritonei인 것은 잘 아실 것입니다.)
2. 장관 외 병변이기 때문에 호흡, 자세변화 또는 공기 주입에 따라 점막하 종양의 융기 형태의 변화가 가능합니다. Uptodate의 일부를 옮깁니다.
At endoscopy, an extrinsic or submucosal lesion may be suspected based upon smooth indentation into the cecal lumen, which may be the only sign of a mucocele. When poked with the biopsy forceps, the lesion may be firm in consistency or soft with a cushion sign. The appearance of the appendiceal orifice in the center of the mound has been labeled as the "volcano sign". An occasional and highly suggestive endoscopic finding is that of a glossy, rounded, balloon-shaped mass protruding from the appendiceal orifice and moving in and out of the latter with respiration. An outpouring of inflammatory exudate from the appendiceal orifice may be seen. As a general rule, the overlying mucosa is normal and mucosal biopsies are not usually done. If available, an endosonographic probe can disclose the cystic nature of the mucocele at the time of colonoscopy. Solid lesions such as carcinoids, lipomas, and lymphangiomas can thus be ruled out. Moreover, stromal invasion may perhaps be detected, which would predict the malignant behavior of the mucocele.
---

[Related EndoTODAY]