Previous | Home | EndoTODAY | List | Next
---

[Tips for taking endoscopic pictures]
Endoscope is similar to camcorder (NOT digital camera). Endoscopists make the diagnosis by endoscopic motion pictures. Sometimes, still images are used for documentation.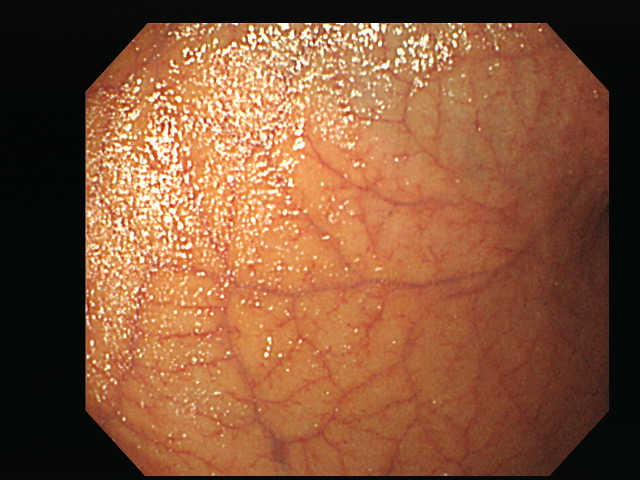 It is difficult to see the surface clearly due to glistening light.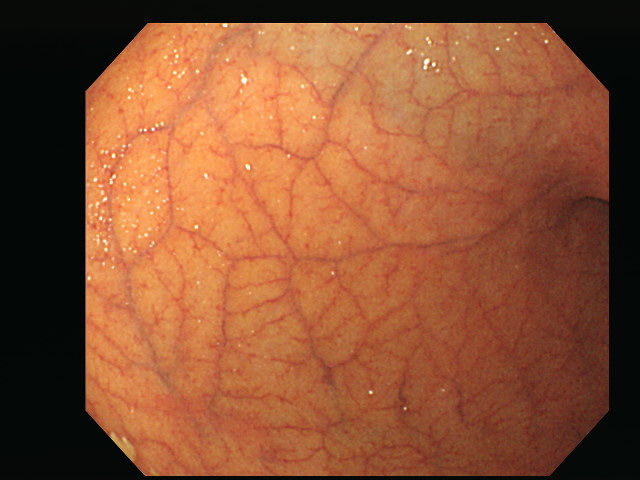 By twisting the scope a little, I can get a clear image without glistening light
---
In the general photography, white balance (WB) is the process of removing unrealistic color casts, so that objects which appear white in person are rendered white in your photo. Proper camera white balance has to take into account the "color temperature" of a light source, which refers to the relative warmth or coolness of white light. (Reference)
White balance is also necessary in medical endoscopy to get the best color reproduction. If the white balance is not good, the overall color cast can be different using the same endoscope. See the following example below.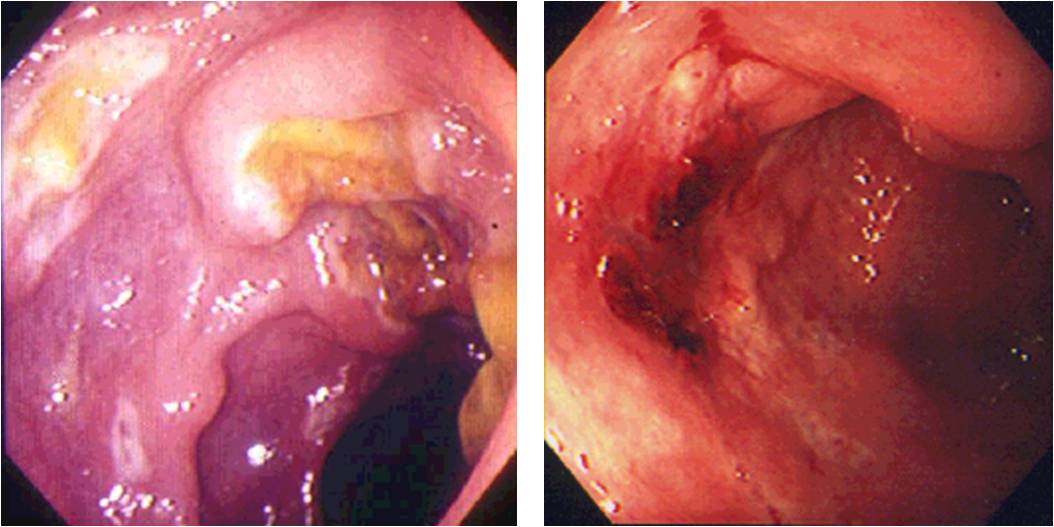 Two different images taken from the same endoscope.
---
Measuring the size is difficult. Using the endoscopy ruler, the size can be measured objectively. The white or black band is 2 mm in width.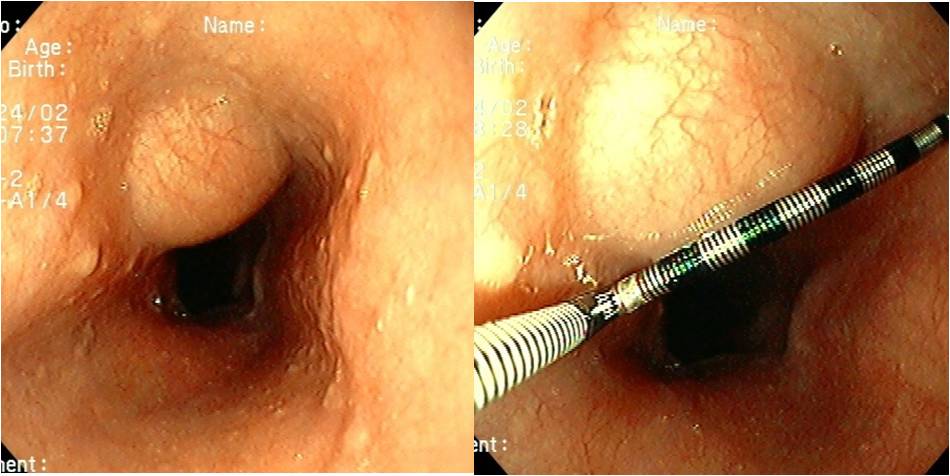 ---
Sometimes, just simple water irrigation make your image much different.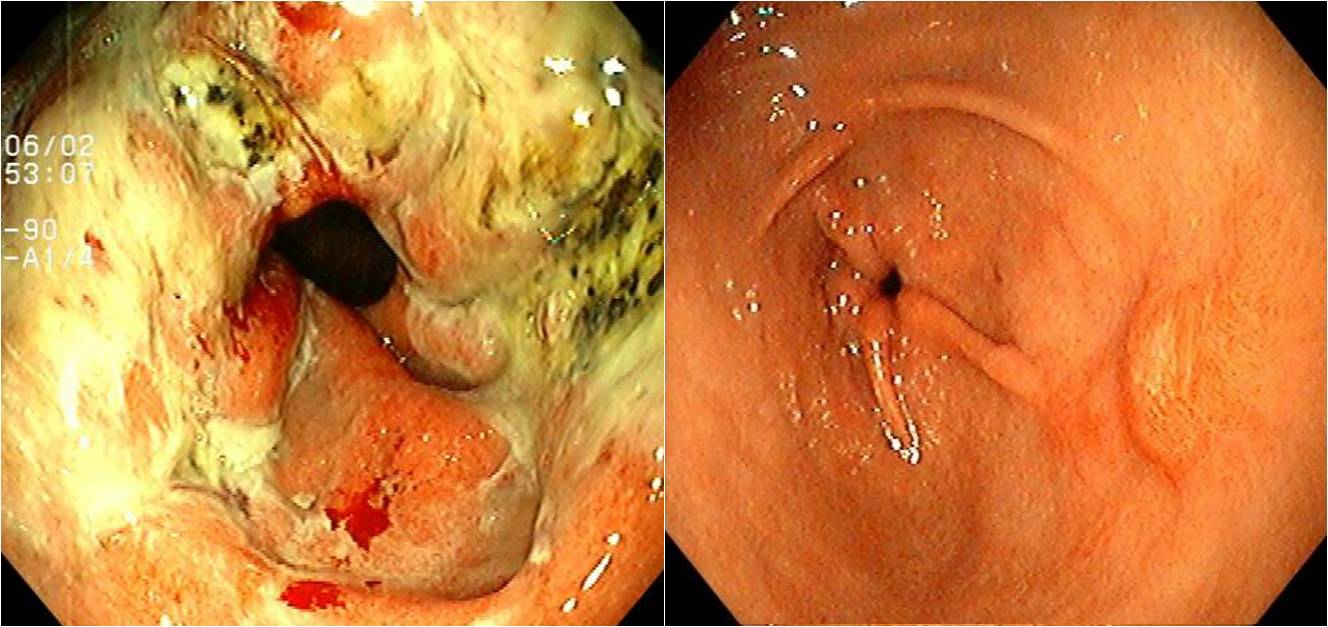 Before and after water irrigation.
---
In the long therapeutic procedure like ESD, the endoscopic view can be blurred due to fume from electocauterization. In that case, repeating air removal and infusion (air exchange) helps clear the endoscopic view.

Before air exchange

After air exchange
---
There are two dates in the endoscopy system. Date in the right upper corner is provided by the image maintenance system (PACS). Date in the left side is provided by the endoscopy system. The two dates must be the same. Usually the date of the PACS is automatic, and the date of the endoscopy system is manual. It is necessary to check whether the two dates are the same.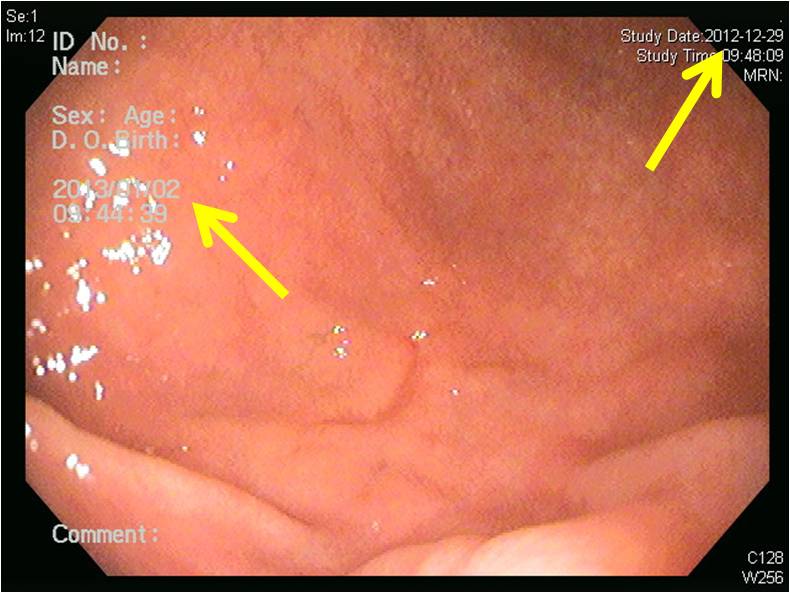 In this example, two dates in an endoscopy image are different.
---
Olympus company suggested 12 maintenance tips for endoscopists (link/link2). I strongly recommend you to read it carefully.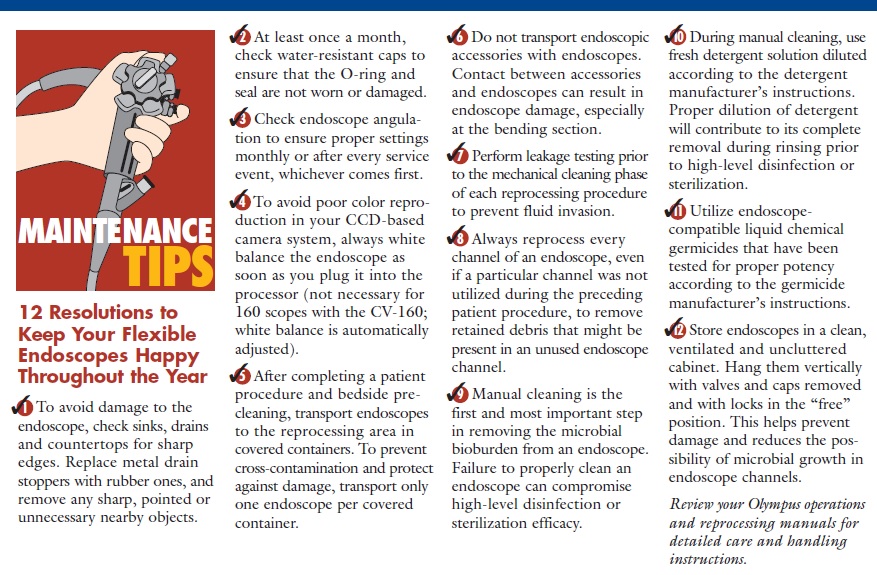 ---

[Selected Lectures (Powerpoint PDFs)]
홍익대에서 디자인사를 강의하는 박해천씨가 최근 디자인 게임이라는 책을 냈습니다. 경향신문과의 인터뷰에서 "학계에서 요구하는 논문 스타일로는 내 문제의식을 제대로 드러낼 수 없다는 고민이 있었는데"라는 부분이 큰 울림으로 다가옵니다. 논문으로 주장하기 어려운 이슈가 있는 법입니다. 누구는 대자보를 쓰고, 누구는 책을 냅니다. 저는 웹포스팅(EndoTODAY)과 강의를 이용합니다.
---

1. Introduction to endoscopy
1. Endoscopic instrument (내시경의 고장과 내시경의사의 고장)
4. Complication of endoscopy - 강기주 교수님
5. Endoscopy of high risk patients - 강기주 교수님
6. Reporting of endoscopic findings and biopsy
7. Interpretation of functional tests - text
8. Three tips for effective presentation
9. Gastrointestinal parasite diseases
11. SMC Quality Academy (SQA) 2013
12. 병원현장에 적용할 수 있는 Lean Six Sigma
13. Sceening endoscopy - a physician's point of view
14. 내시경 교육과 삽입 tip
---

2. Esophageal diseases
2. Endoscopy for esophageal diseases
4. GERD
6. Metachronous gastric cancers after esophageal cancer surgery
---

3. Stomach & duodenal diseases
1. Esophagogastric junction cancer
3. Endoscopic diagnosis of gastric cancer/Classification by experts
4. Borrmann type IV gastric cancer
6. Gastric SMT
8. Endoscopy of chronic gastritis
10. Gastric MALToma
11. Endoscopy for duodenal diseases
---

4. Therapeutic upper endoscopy
1. Hemostasis of upper GI bleeding
2. Role of PPI for bleeding peptic ulcer
7. PEG
---

5. Lower endoscopy
1. Insertion of the colonoscope - 김은란 교수님
2. Complication of lower endoscopy - 임상강사 이준희
3. Infectious colitis - 김은란 교수님
4. Prokinetic drugs - 민병훈 교수님
5. UGI lesions in FAP - text
---

6. 2013년 학생 강의
1. 2학년 Presentation 방법론
2. 2학년 복부진찰
3. 2학년 토혈
4. 2학년 위염
5. 2학년 소화성궤양 (1)
6. 3학년 소화성궤양 (2)
7. 3학년 복통
---

[집담회 유감]
진단 및 치료과정의 정형화는 현대의료의 추세입니다. 50년 전에는 나라마다 의사마다 치료가 달랐습니다. 최근에는 교과서나 가이드라인을 통하여 진단 및 치료가 표준화되고 있습니다. 그러나 모든 의학적 문제가 표준적인 방법에 따라 진단되고 치료되는 것은 아닙니다. 그래서 case report가 있고, 그래서 집담회가 있는 것입니다. 드문 문제에 대하여 어떻게 검사하였고, 어떤 결과를 얻어, 어떻게 치료하였는지 그 과정을 공유하는 제도적 장치가 case report이고 집담회입니다.
간혹 집담회의 취지를 모르는 분들을 보게 됩니다. 무척 복잡하거나 매우 드문 문제를 너무나 쉬웠던 것처럼 발표하는 분이 계십니다. 진단과 치료가 쉽지 않았을 것이 뻔한데도 너무나 쉽게 발표하는 통에 듣는 사람들이 어리둥절해 합니다. 사실 그렇게 간단하고 쉬웠다면 발표할 필요도 없습니다. 뭔가 어려웠고 고민되었기 때문에 발표하는 것입니다. 자신이 어렵게 경험한 것을 다른 사람과 공유하려고 발표하는 것입니다.
집담회 발표는 real 해야 합니다. 어려웠던 것은 어려웠다고, 우연히 발견한 것은 우연히 발견하였다고, 진단과 치료의 clue는 무엇이었는지 있는 그대로 이야기 해야 합니다. 약간의 편집이 없을 수 없겠지요. 그러나 지나친 화장은 집담회 취지에 어긋나는 것입니다.
나를 위한 집담회가 아니라, 남에게 도움되는 집담회가 될 수 있도록 real한 발표자료를 만듭시다.