Parasite | Eso | Sto | Cancer | ESD
---

[SIDDS 2016]
일시: 2016년 11월 24일 - 25일
장소: 그랜드힐튼 호텔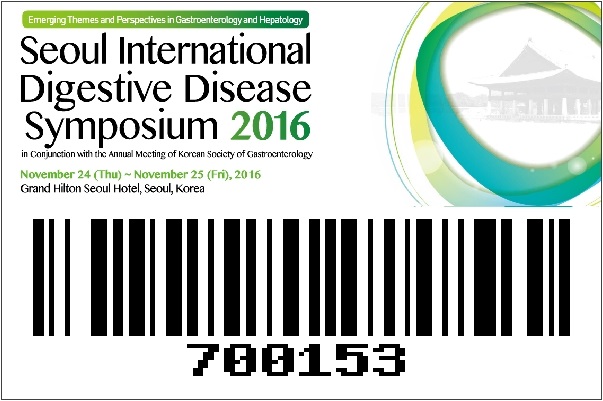 ---

1. Gastric cancer sympotium
1) Mechanism for H. pylori-induced genetic instability in gastric cancer development - Tsutomu Chiva (Japan)
2) Epigenetic and genetic alteration: MSI and EMT - Kyoung-Mee Kim (Korea)
"An important source of plasticity is the EMT (Epithelial-mesenchymal transition). EMT and MET (mesenchymal-epithelial transition) provide a framework through which solid cancers can disseminate and colonize distant sites.

EMT is a process by wich epithelial cells lose their cell polarity and cell-cell adhesion, and gain migratory and invasive properties to become mesechymal stem cells; these are multipotent stromal cells that can differentiate into a variety of cell types. EMT is a biologic process that allows a polarized epithelial cell, which normally interacts with basement membrane via its basal surface, to undergo multiple biological changes that enable it to assue a mesenchymal cell phenotype, which includes enhanced migratory capacity, invasiveness, elevated resistance to apoptosis, and greatly increased production of ECM components. The completion of an EMT is signaled by the degradation of underlying basement membrane and the formation of a mesenchymal stem cell that can migrate away from the epithelial layer in which it originated. A number of distinct molecular processes are engaged in order to initiate an EMT and enable it to reach completion.

The identification of the sinaling pathway that lead to activation of EMT during disease processes will provide new insights into the plasticity of cellular phenotypes and possible therapeutic interventions."
3) Microbiota in gastric cancer - Quanjian Dong (China)
4) Genomic instability in gastric cacner - Byung-Wook Kim (Korea)
---

2. Treatment of H. pylori (free paper oral presentation)
1) 7 day bismuth-based quadruple therapy vs 14 day moxifloxacin based triple therapy. 김성은 (고신대)
Analysis
Bismuth quatruple
(14 days)
Moxifloxacin triple
(7 days)
ITT
75.4%
58.5%
PP
93.6%
73.8%

1차 제균치료 실패 환자에서 7 day bismuth-based quadruple therapy가 더 좋다는 결론이었습니다.
2) Triple therapy vs sequential therapy for first-line Hp eradication. 장지영 (이화여대)
Analysis
Triple therapy
(firstline 7days)
Sequential therapy
(firstline)
ITT
64.3%
74.5%
PP
81.9%
90.3%

Sequential therapy의 제균율이 더 높았습니다.
3) High and frequent doses of dexlansoprazole and amoxicillin. 박혜윤 (경북대)
Amoxicillin 750 mg and dexlansoprazole 30 mg 4 times a day for 14 days

제균 성공률은 ITT 분석에서 52.0%, PP 분석에서 68.4%였습니다.
4) Hp eradication and type 2 DM. 남승주 (강원대)
별 차이가 없다는 결론이었습니다.
© 일원내시경교실 바른내시경연구소 이준행. EndoTODAY Endoscopy Learning Center. Lee Jun Haeng.