Parasite | Eso | Sto | Cancer | ESD
---

[Stent를 이용하여 EST 없이 CBD stone을 제거하여 Sphincter of Oddi 기능을 보존하는 방법]
전남대학교 병원에서 발표한 2015년 8월호 Gastrointestinal Endoscopy지의 흥미로운 논문을 보았습니다 (Jun CH. Gastrointest Endosc 2015). CBD stone을 제거하는 표준적인 방법은 EST 후 basket으로 stone을 제거하는 것입니다. 그런데 EST로 인하여 sphincter of Oddi 기능이 손상되기 때문에 duodenal contents가 역류하여 담석 재발의 원인이 되는 등 적지 않은 문제가 있었습니다.
The standard treatment for choledocholithiasis has been endoscopic sphincterotomy (EST) with stone extraction during ERCP. However, these methods often encounter basket impaction in patients with small common bile ducts (CBDs) and have various adverse events. Early adverse events including pancreatitis, bleeding, perforation, and cholangitis have been reported to occur in up to 10% of cases, after which late adverse events such as recurrent choledocholithiasis, papillary stenosis, cholangitis, and malignant degeneration can occur. The incidence of recurrent choledocholithiasis was estimated to be 1% to 24%. These recurrences usually involve brown-pigmented stones and are a consequence of bile infection caused by free duodenobiliary reflux after loss of sphincter of Oddi (SO) function after EST. Impaired bile flow and stasis, as in papillary stenosis, play an important role in stone recurrence.
전남대 선생님들은 BONA-SHIM stent를 삽입한 후 ESD 없이 CBD stone을 제거하였고 치료 후 sphincter of Oddi의 기능을 평가하였습니다.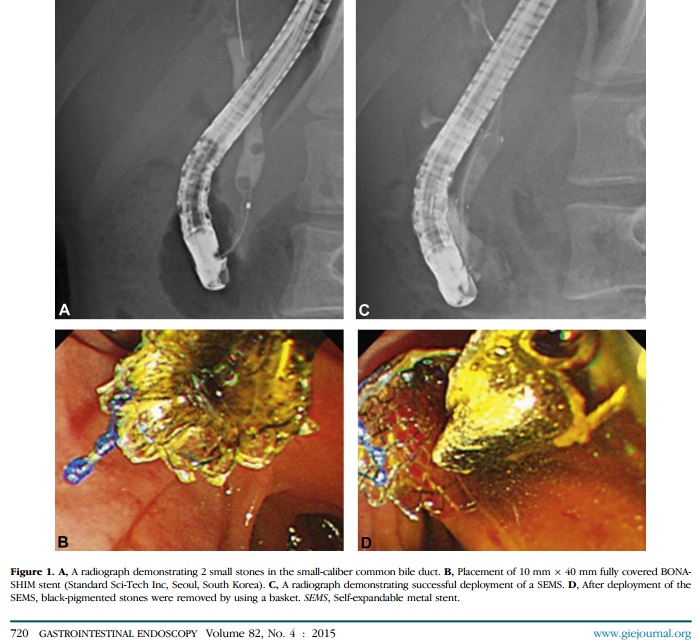 (비록 제가 ERCP는 잘 모르지만) sphincter of Oddi 기능을 보존할 수 있다는 점에서 좋은 치료라고 생각되었습니다. 이 연구에 대하여 'Incisionless stone extraction 2.0: clever, but costly'라는 editorial이 붙었습니다.
좋은 연구 축하합니다.

© 더불어 바른 내시경 연구소 소장 이준행