EndoTODAY | EndoATLAS | Outpatient Clinic
Parasite | Esophagus | Stomach | Cancer | ESD
Home | Guide | Author | Subscription | Links
---

[Thursday Endoscopy Conference 20160908]

1. Rectal sparing UC
과거 IBD (아마도 CD로 들었던 것 같다고 함)로 치료받은 환자의 대장내시경입니다. Skip area없이 rectum 빼고 전 대장의 염증성 소견이 있었습니다. Rectal sparing UC로 판단하였다고 합니다 (제가 전문가가 아니라 ...).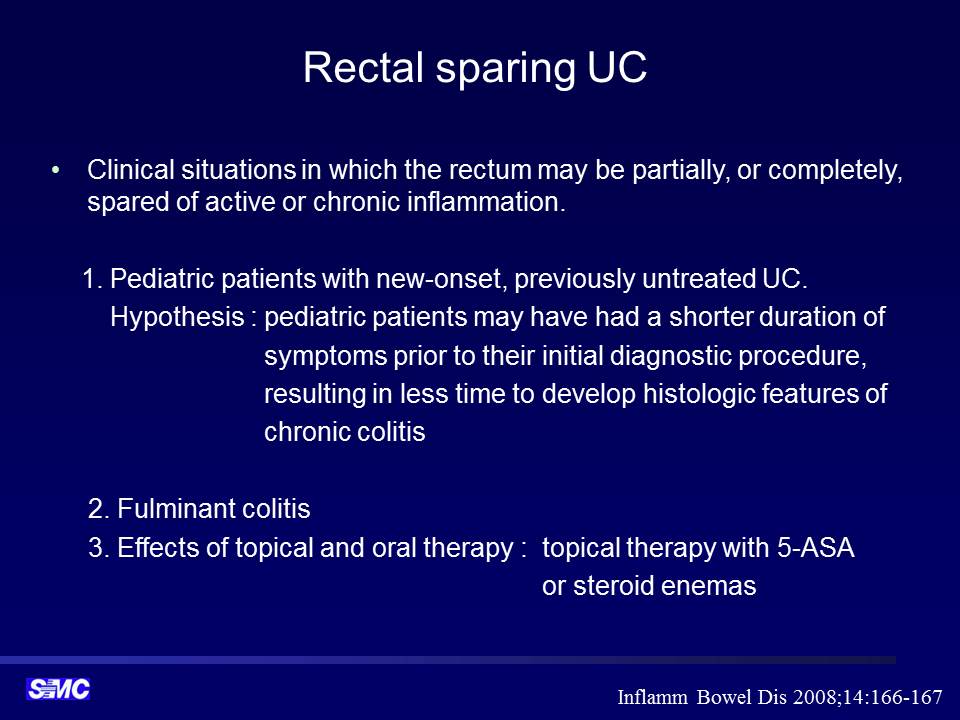 ---

2. Pneumatosis intestinalis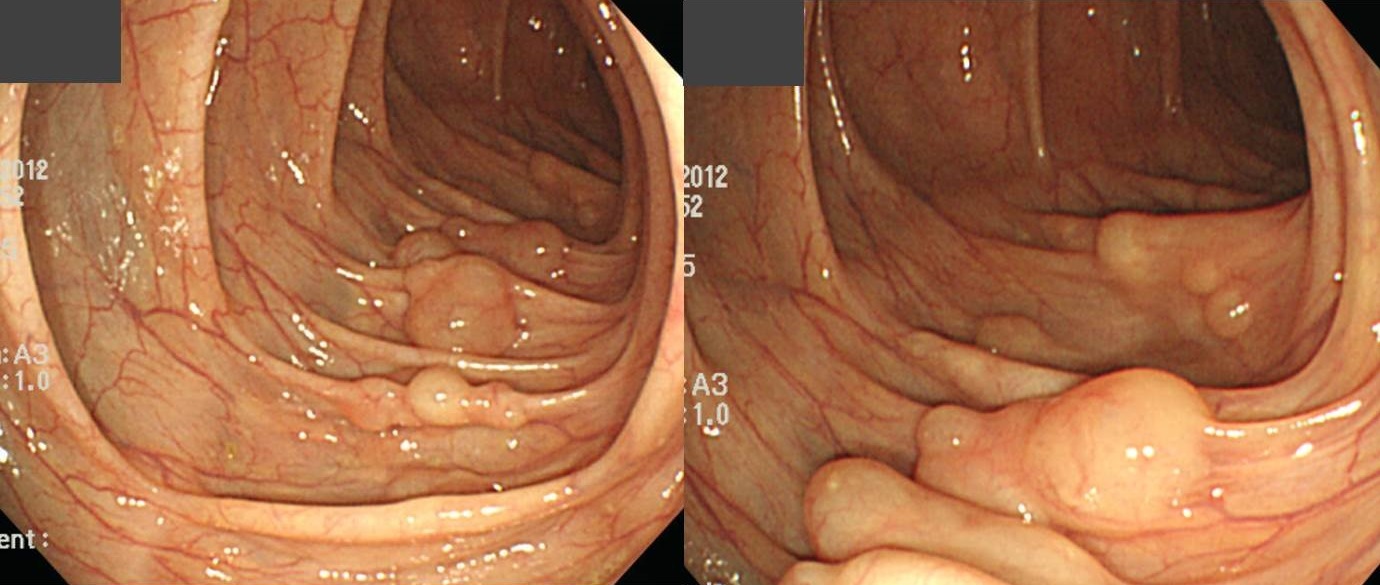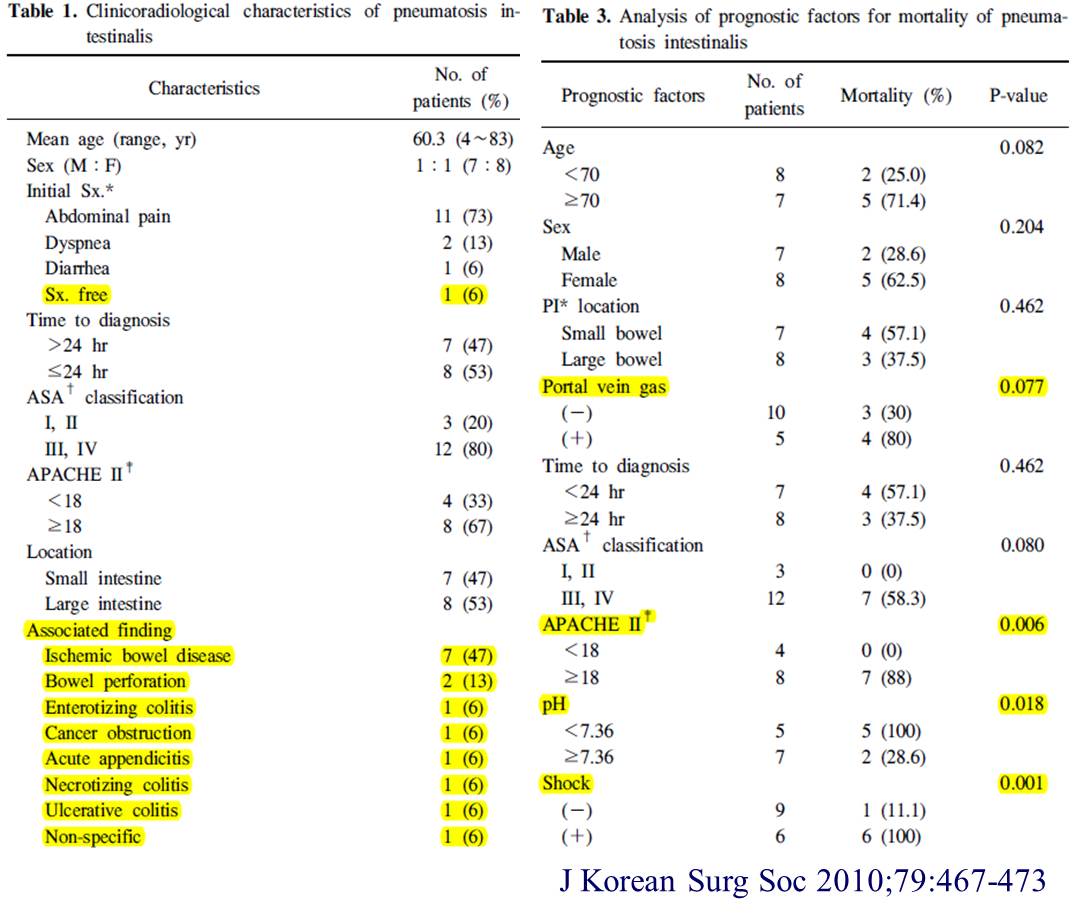 매우 심해보지만 수술한 환자의 경우임을 참고하시기 바랍니다. 우연히 건진에서 발견된 intestinal pneumatosis는 별 것 아닌 경우가 대부분입니다.
---

3. MALT lymphoma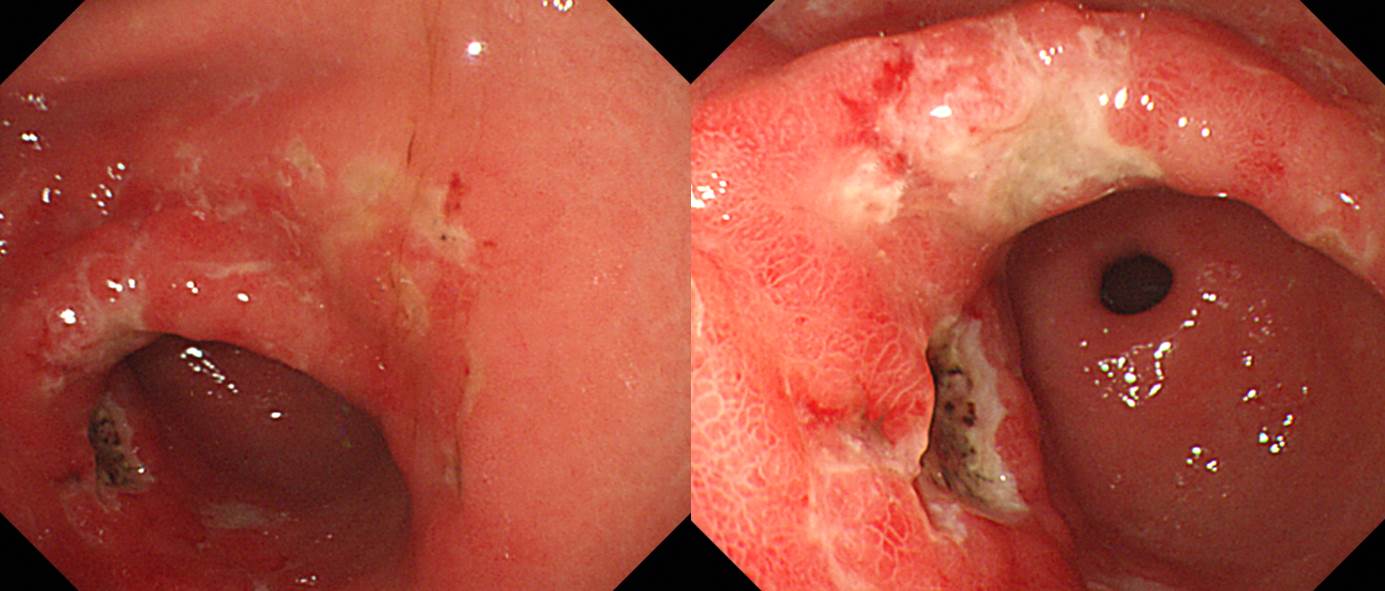 첫 조직검사에서 H. pylori (+) gastritis, suggestive of extranodal marginal zone lymphoma of MALT with marked plasmacytic differentiation으로 나왔습니다. 위 MALT 림프종의 일부는 plasma cell 침윤이 현저할 수 있습니다. 아래 병리학적 진단기준 4번째에 언급되어 있습니다.
정상적인 Peyer's patch의 림프조직을 닮은 반응성 림프여포가 있고,
Marginal zone/monocytoid B-세포들이 있으며,
Lymphoepithelial lesion, 즉 3개 이상의 marginal zone cell이 상피 혹은 위 선에 침범하여 상피세포의 호산성 변성을 보이는 병변을 보이며,
소림프구와 형질세포 침윤(plasma cell infiltration)과 함께 (Dutcher 소체를 가질 수 있다),
여포아세포(centroblast)와 면역아세포(immunoblast)가 출현한다.
---

4. EGC
Early gastric carcinoma
1. Location : middle third, Center at body and lesser curvature
2. Gross type : EGC type IIc
3. Histologic type : tubular adenocarcinoma, poorly differentiated
4. Histologic type by Lauren : diffuse
5. Size : 1.8x1.8 cm
6. Depth of invasion : invades submucosa (sm3) (pT1b)
7. Resection margin: free from carcinoma, safety margin: proximal 3.5 cm, distal 5.3 cm
8. Lymph node metastasis : no metastasis in 12 regional lymph nodes (pN0)
9. Lymphatic invasion : not identified
10. Venous invasion : not identified
11. Perineural invasion : present
12. Peritoneal cytology : negative
13. AJCC stage by 7th edition: T1b N0
---

[References]
1) SMC Endoscopy Unit 삼성서울병원 내시경실
2) SMC Monday GI conference 삼성서울병원 일원내시경교실 월요점심소화기집담회
3) SMC Thursday endoscopy conference 삼성서울병원 일원내시경교실 목요점심내시경집담회


© 일원내시경교실 바른내시경연구소 이준행. EndoTODAY Endoscopy Learning Center. Lee Jun Haeng.