Parasite | Eso | Sto | Cancer | ESD
---

[다양한 대장 질환 015 - Filiform polyposis]
목요집담회 내시경퀴즈에 나왔던 증례입니다. 저도 처음 보는 것인지라 소개합니다. Filiform polyposis라고 합니다.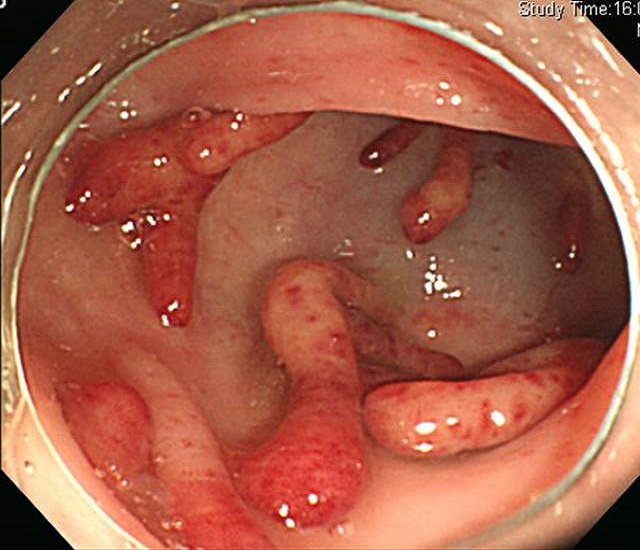 Filiform polyposis is an uncommon entity manifested by multiple slender worm-like projections, histologically characterized as submucosal fibrovascular accentuation within normal mucosa. Filiform polyposis is mostly asymptomatic and incidentally diagnosed on colonoscopy. However, patients may present with a variety of symptoms, including anemia, weight loss, cramping abdominal pain, and diarrhea.

The condition can also produce obstruction and intussusceptions, in addition to bleeding. The vast majority of cases occur in the setting of inflammatory bowel disease, particularly in patients with ulcerative colitis. Crohn's disease can present as a giant mass lesion containing inflammatory polyposis . The pathogenesis of filiform polyposis is uncertain. However, long-term inflammation of the colonic mucosa during chronic inflammatory bowel disease with alternating periods of ulceration and healing may lead to the formation of finger-like projections.
© 일원내시경교실 바른내시경연구소 이준행. EndoTODAY Endoscopy Learning Center. Lee Jun Haeng.