Parasite | Eso | Sto | Cancer | ESD
---

[다양한 대장 질환 028 - Endometrial cancer + colon cancer]
2016년 4월 28일 목요점심내시경집담회에서 ovary cancer 수술 후 CT 상 rectosigmoid junction 부위가 두꺼워 시행한 대장내시경 조직검사에서 metastatic serous carcinoma가 나온 경우를 소개하였습니다.

난소암 대장 침윤
그러나 산부인과 환자에서 대장 병소가 보인다고 모두 산부인과 질환의 대장 침윤 혹은 대장 전이는 아닙니다. Double primary cancer가 얼마든지 가능하기 때문입니다. 아래 사진을 보십시오.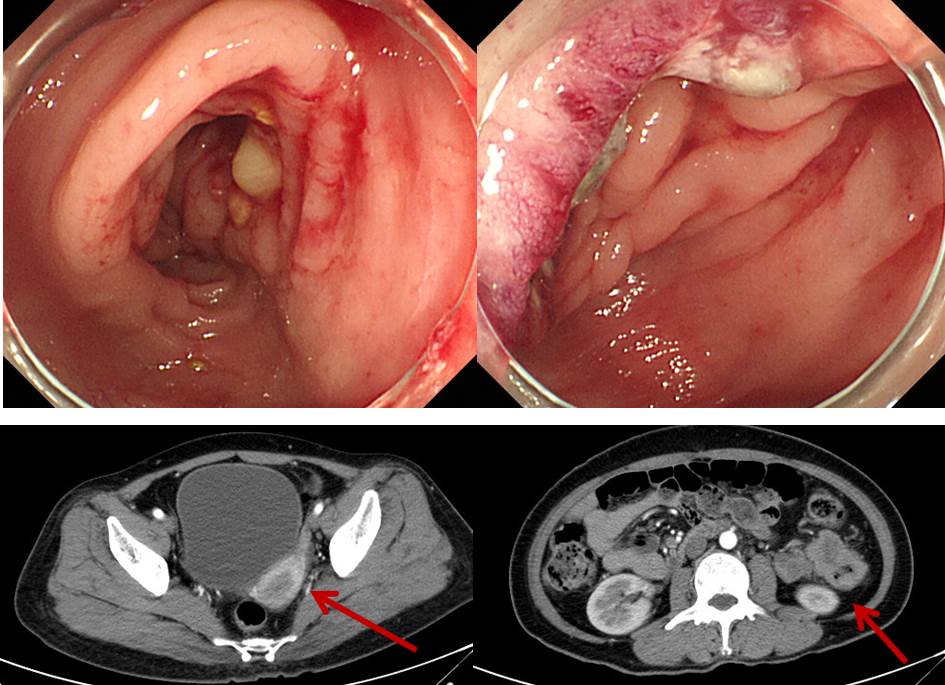 Double primary
Uterus, total hysterectomy with pelvic lymph node dissection:
Endometrioid adenocarcinoma, not otherwise specified, grade I
1) invasion depth: confined to endometrium
2) tumor size: 2.5x1.7cm
3) lymphovascular invasion without D2-40 immunohistochemistry : negative
4) no metastasis in all 13 regional lymph nodes (pN0)
Descending colon, left hemicolectomy:
Adenocarcinoma, poorly differentiated (grade 3, solid pattern)
1. Location: descending colon
2. Gross type: ulceroinfiltrative
3. Size: 5.9x3.5 cm
4. Depth of invasion: invades pericolic adipose tissue(pT3)
5. Resection margin: free from carcinoma
6. Regional lymph node metastasis : No metastasis in all 23 regional lymph nodes(pN0)
7. Lymphatic invasion: not identified
8. Venous invasion: not identified
9. Perineural invasion: not identified
10. Tumor budding : positive (5-9)
11. Micropapillary component: no
12. Tumor border: infiltrative
13. Peritoneal cytology: negative
14. Pathologic staging: pT3 N0


© 일원내시경교실 바른내시경연구소 이준행. EndoTODAY Endoscopy Learning Center. Lee Jun Haeng.