[Description exercise 13 - 대장질환]
모처럼 매우 classic한 환자의뢰서를 받았습니다. 내시경 소견을 이 정도로 잘 쓰실 수 있는 것도 멋진 일 아닐까요? 이준행의 의사면허번호는 4만번대입니다. 의뢰주신 선생님의 의사면허번호는 2만번대였습니다. 선배 의사님께 존경의 뜻을 전합니다.

---

Case 85. D-colon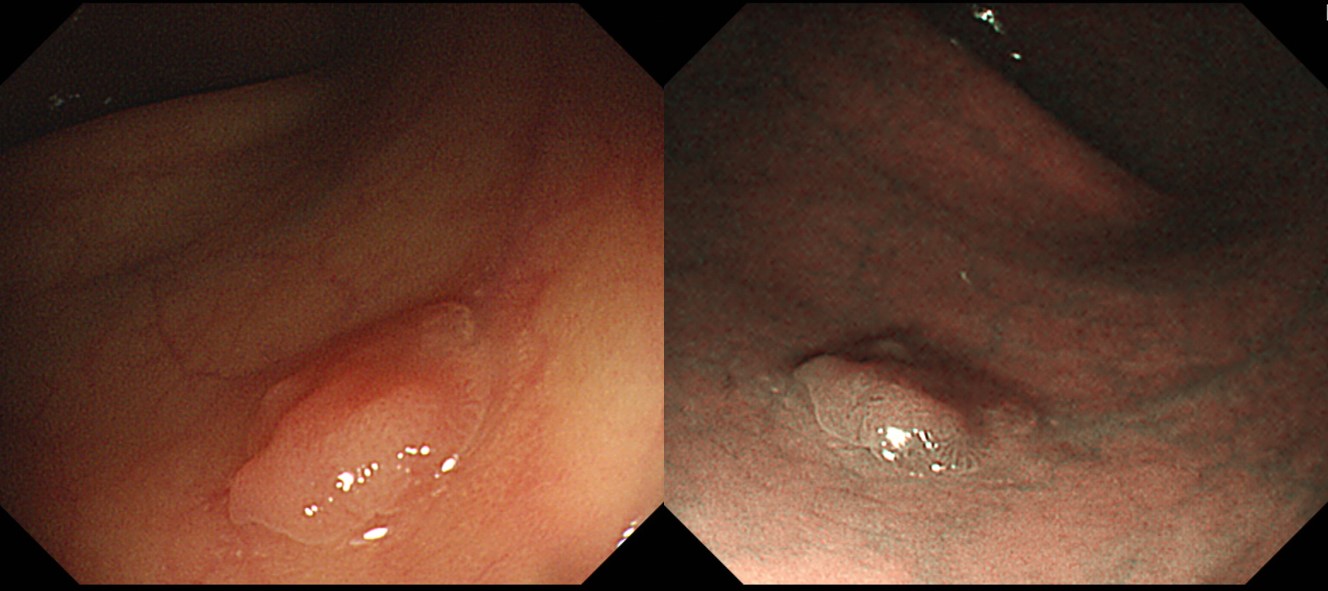 정답: tubular adenoma
---
[이준행 comment]
흔하디 흔한 선종입니다. 대장내시경 도중 이 정도의 병소가 발견되면 one stage로 polypectomy를 하는 것이 standard procedure입니다. Inject and cut 방법 (EMR)으로 polypectomy하였고 최종 병리는 tubular adenoma였습니다.
---

Case 86. T-colon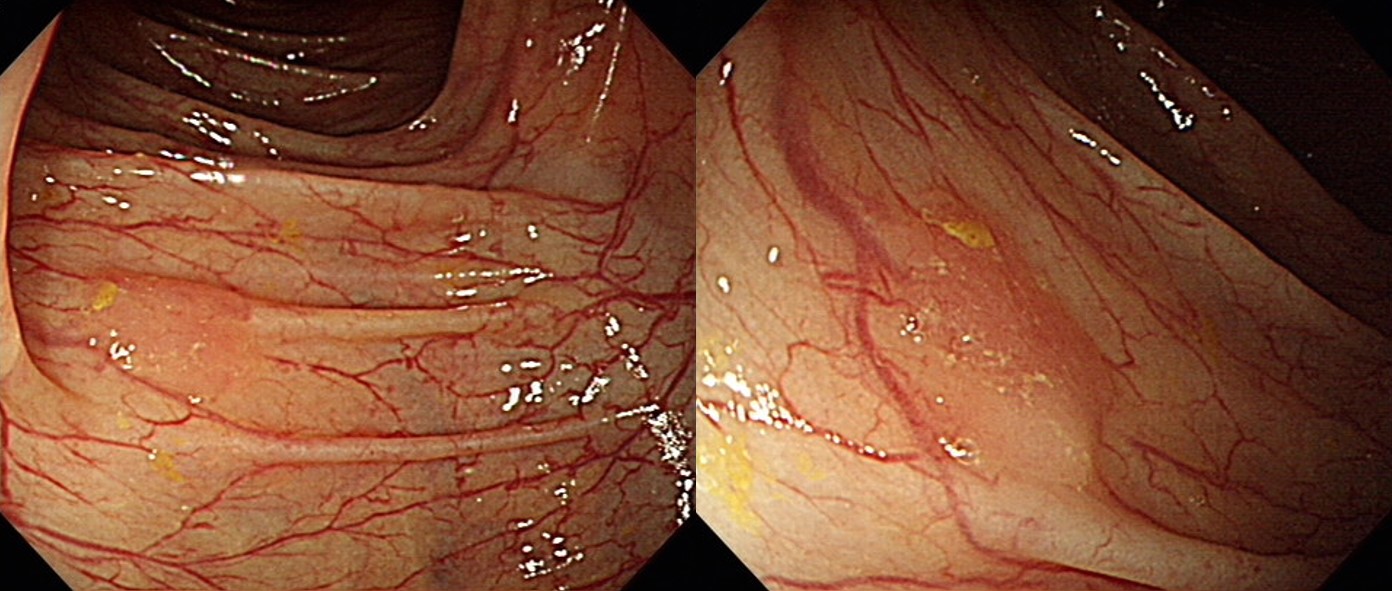 정답: serrated adenoma
---
[이준행 comment]
Focal lesion이므로 neoplastic lesion을 고려해야 합니다. 변이 묻은 것은 serrated adenoma에서 자주 보이는 현상이라고 합니다.

Serrated adenoma는 interval cancer의 중요 원인 중 하나입니다. 납작하고 일견 hyperplastic polyp과 비슷하므로 놓치기 쉽습니다.
* 참고: EndoTODAY serrated adenoma
---

Case 87
정답: 대장암
---
[이준행 comment]
바로 수술을 하였습니다.

Adenocarcinoma, well differentiated
1. Location: transverse colon
2. Gross type: fungating
3. Size: 1.5x1.5 cm
4. Depth of invasion: invades submucosa (sm2)(pT1)
5. Resection margin: free from carcinoma, safety margin: proximal, 22 cm ; distal, 11 cm ; radial, >10.0 mm
6. Regional lymph node metastasis : no metastasis in all 34 regional lymph nodes(pN0) (0/34: pericolic, 0/30; "right gastroepiploic LN", 0/2; "SMA LN", 0/2)
7. Lymphatic invasion: not identified
8. Venous invasion: not identified
9. Perineural invasion: not identified
10. Tumor budding : negative
11. Pathologic staging: pT1 N0
---

Case 88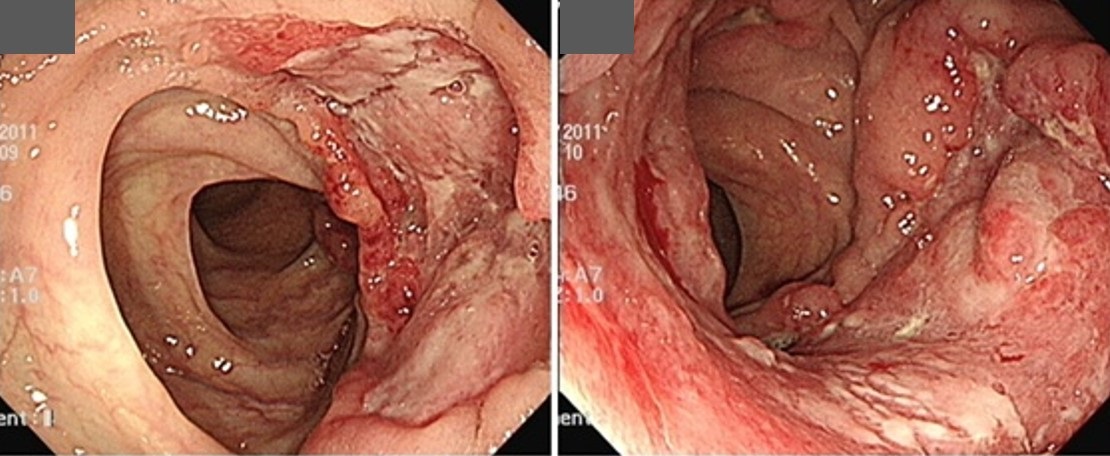 정답: Diffuse large B cell lymphoma
---
[이준행 comment]
이 정도 큰 colon adenocarcinoma는 대장의 내강이 좁아지는 경우가 많다는 점을 고려하고 혹시 lymphoma는 아닐까?? 정도 생각해 보면 좋습니다.
* 참고: EndoTODAY diffuse Large B-cell Lymphoma
---

Case 89. Rectum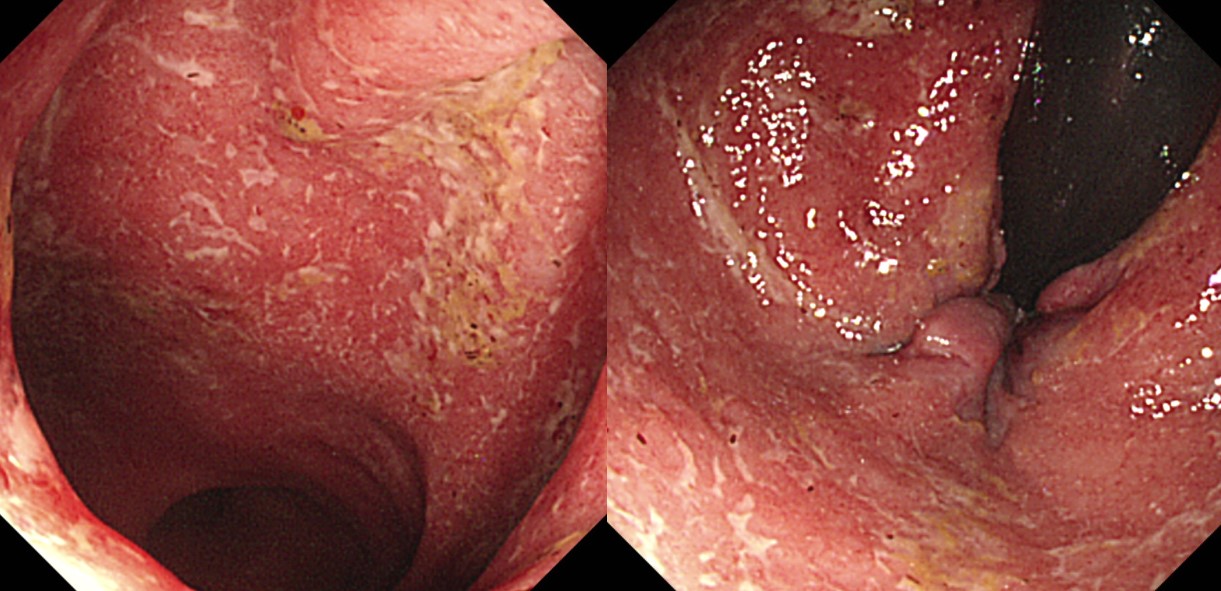 정답: Ulcerative proctitis
---
[이준행 comment]
Ulcerative colitis라고 답한 분들이 많습니다. 범위가 어디까지인지 사진 상 명확하지 않습니다만, 만약 직장에 국한되어 있다면 ulcerative proctitis로 명명하는 것이 좋을 것 같습니다.
---

Case 90. Terminal ileum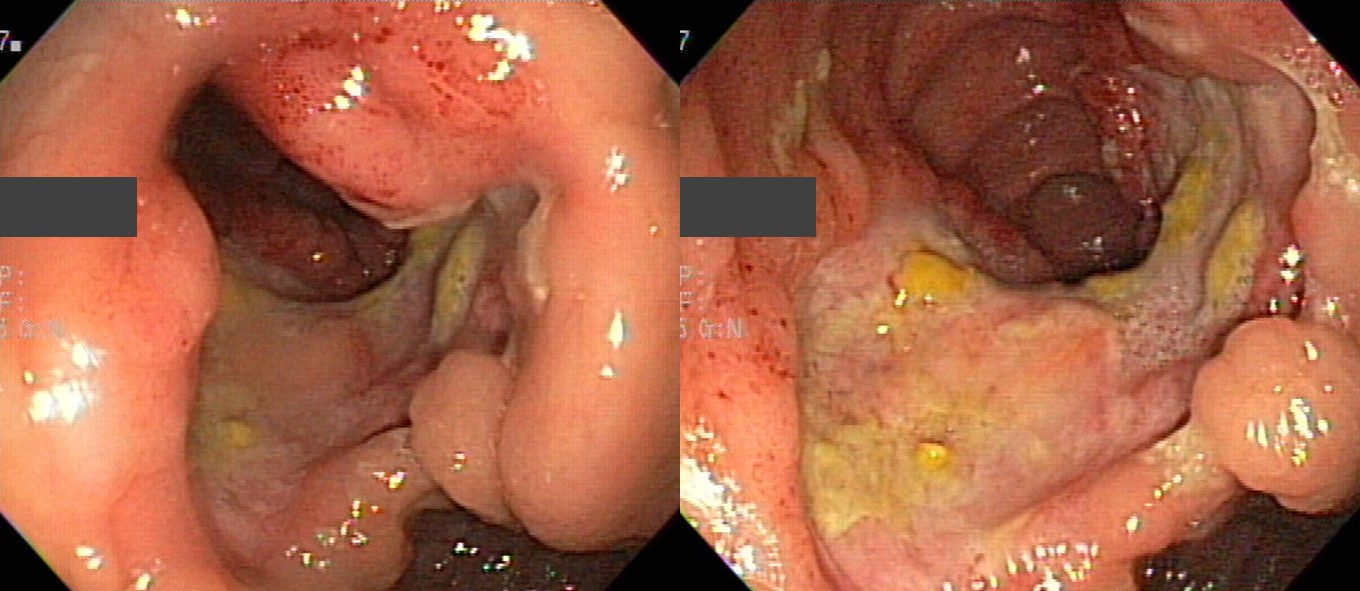 정답: Behcet's disease
---
[이준행 comment]
Ileocecal area의 하나의 크고 깊은 궤양인 경우가 많습니다.

2018 GI Winter School

류마티스 관절염 환자의 베체 장염

(2015) M/40, recurrent oral ulcer

2018 GI Winter School

Recurrent oral ulcer (+)
---

Case 91. Colon and stomach
정답: Cowden disease
---
[이준행 comment]
FAP의 일반적인 용종과 모양이 다릅니다. 이 경우는 손가락처럼 보이지 않습니까? FAP의 전형적인 sessile 혹은 peduculated adenoma와는 다른 모습입니다. 위에서도 FAP 환자의 fundic gland polyposis와 다릅니다. Colon polyposis를 가져오는 다른 질환을 고려해보면 좋겠습니다. Cowden disease였습니다. 아래 동영상 강의를 꼭 보시기 바랍니다.

위장관의 다양한 hamartomatous polyp에 대해서는 Gastric Hamartomatous Polyps - Review and Update (Clin Med Insights Gastroenterol 2016)를 참고하시기 바랍니다. 문헌 중 Cowden syndrome 부분을 옮깁니다.

The incidence of CS (Cowden syndrome) in the general population is 1 in 200,000 and more than 90% patients present in the adult life by the late third decade. Mucocutaneous hamartomas (trichilemmomas, acral keratosis, and papillomatous lesions) are pathognomonic features of CS. Macrocephaly and Lhermitte-Duclos disease or dysplastic cerebellar gangliocytoma are two other features considered specific for CS and are included in the major criteria.

These patients have an increased risk of breast, thyroid, and endometrial carcinoma, which are the other major criteria. Patients with CS also have a predisposition to benign hamartomatous outgrowths such as lipomas, arteriovenous malformations, fibrocystic breast disease, benign thyroid nodules, multiple uterine leiomyomas (fibroids) and/or bicornuate uterus, and gastrointestinal polyps. Diffuse esophageal glycogenic acanthosis is present in more than 80% of CS patients and may be diagnostic for CS in the presence of other benign gastrointestinal polyposis.

Gastrointestinal polyps occur in up to 50% of patients with CS with a wide variety of endoscopic and histologic features, including adenomatous, inflammatory, hyperplastic, lymphoid, ganglioneuromatous, and leiomyomatous polyps. The majority of CS patients (>50%) have two or more different polyp histologies. Though most studies describe polyps in CS being colonic, gastric polyps are present in almost all patients with CS and are usually numerous with a variable appearance. Depending on the major histologic component, they can be smooth contoured or have a hyperplastic/papillary configuration endoscopically. The polyps in the stomach are commonly misdiagnosed as hyperplastic hamartomatous polyps. Though dysplasia has not been reported in gastric polyps in CS, patients with CS and gastric cancer have been reported. The risk of colorectal carcinoma in CS is 7%?15%, and 1 in 100 patients with CS may develop gastric malignancy.

Individuals with multiple gastrointestinal hamartomas or ganglioneuromas should be evaluated for PTEN gene mutation. The recommended gastrointestinal surveillance for patients with PTEN gene mutation is colonoscopy and esophagogastroduodenoscopy examination beginning at the age of 15 years and repeated every two years or two to three years, though different suggestions has been suggested.
* 참고: EndoTODAY Cowden disease
---

[Archives]
[2021-1-20]
3주간 소화기내과 elective를 마친 본과 3학년 학생의 편지입니다. BOXIM도 좋았지만 DEX가 더 도움이 되었다는 내용입니다. 그렇습니다. 학생 수준에서는 내시경 시술과 사진을 이해할 수 있는 수준의 BOXIM 한두번 훈련이명 족합니다. 막상 필요한 것은 DEX입니다. 알아야 진단을 할테니... 매일 하나씩 DEX를 푸느라 힘들었을텐데 끝까지 잘 해준 학생들에게 감사의 마음을 전합니다.
[2021-3-1]
내일은 3월 2일, 새 fellow 들이 첫 근무를 시작하는 날입니다. 저는 fellow 과정 시작 전 BOXIM과 DEX를 통한 사전교육을 중요하게 생각합니다. 한 fellow 께서 2주 동안 매일 DEX quiz를 하나씩 공부하며 모든 과정을 마치면서 편지를 보내왔습니다. 보람을 느낍니다. 이런 보람때문에 힘들지만 BOXIM과 DEX를 계속하고 있습니다. 여러분. 감사합니다.
© 일원내시경교실 바른내시경연구소 이준행. EndoTODAY Endoscopy Learning Center. Lee Jun Haeng.