Parasite | Eso | Sto | Cancer | ESD
---

[제4회 Web-seminar: 위궤양의 진단과 치료 2에서 나왔던 질문에 대한 답변]
2015년 8월 4일 오후 7시 web-seminar가 열렸습니다. MERS 사태 이후 첫 web-seminar였습니다. 참석해주신 모든 분들께 감사드립니다. 8월 4일 나왔던 질문 일부에 대한 답변을 정리해 보았습니다.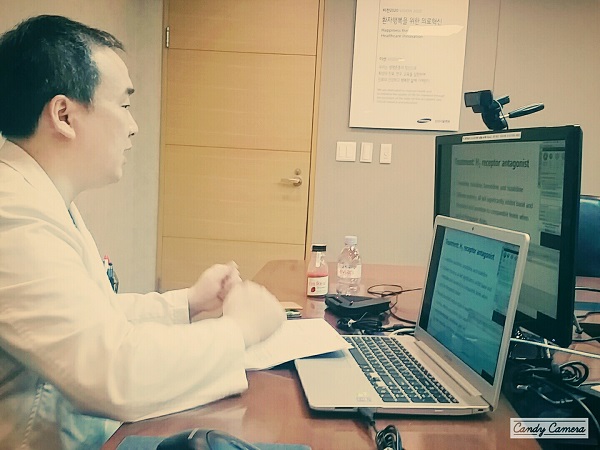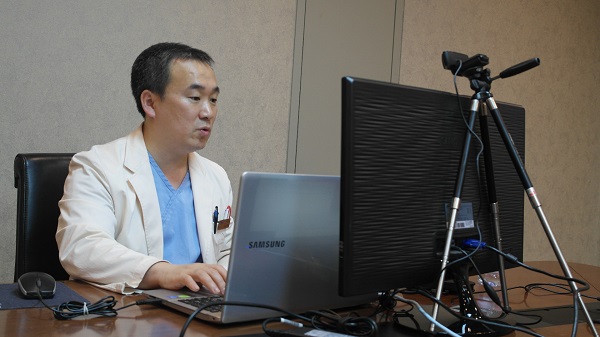 다음 삼성서울병원 소화기내과 Web-seminar는 9월 8일 저녁 7시입니다. Helicobacter에 대한 여러 이야기를 해 보려고 합니다.
---
Q. 임신시 궤양은 어떻게 치료합니까?
A. 제가 산부인과 의사가 아니므로 경험은 없지만 문헌에 의하면 H2RA나 PPI는 비교적 안전한 것 같습니다. 그러나 가급적 약을 쓰지 않거나 늦추는 것이 어떨까요? 사실 임신 시 위식도역류질환에서도 step up 치료를 권하고 있습니다. H2RA나 PPI를 가급적 쓰지 않으려는 시도입니다. 헬리코박터 제균치료는 임신 이후로 늦추어야 합니다. Misoprostol은 절대 금기입니다.
몇 개의 참고자료를 권합니다. 첫번째는 소화기내과의 입장이고 두번째는 산부인과의 입장입니다. 미묘한 차이가 있습니다만... 산부인과쪽 의견을 참고하는 편이 안전할 것 같습니다. 물론 각 환자 상태에 따라서 적절한 방법을 택하는 것이 최선일 것 같습니다만...
참고자료 1: The safety of drugs used in acid-related disorders and functional gastrointestinal disorders. Gastroenterol Clin North Am. 2010
Omeprazole is listed by the FDA as a pregnancy class C medication, whereas all other currently available PPIs are class B, which still denotes a possible serious risk to the fetus. Gill and colleagues recently published a systematic review evaluating the risk of PPI use in pregnancy. Among 1530 PPI-exposed subjects compared with 133,410 controls, they found no association between major fetal malformations, spontaneous abortions, or pre-term delivery. This lack of association was also apparent when omeprazole alone was investigated.

However, there is some suggestion that acid suppression alone may have an adverse affect on an exposed fetus. In a recent, large, case-control study investigating children with asthma, Dehlink and colleagues found a relationship between maternal gastric acid suppression with a PPI or H 2 RA and the development of childhood asthma (OR 1.43; 95% CI 1.29-1.59). The postulated mechanism, based on animal model data, is that acid suppression increases type 2 helper cell bias in their offspring, thus predisposing to increased atopy. Based on these data, the immediate fetal developmental risk of PPIs may be negligible. However, possible risks to the fetus that may only become manifest in childhood require further study.

H2RAs are commonly used in pregnancy to control reflux symptoms and seem to have no adverse effects on the fetus. Magee and colleagues investigated H2RA use among 178 women and matched controls in the first trimester of pregnancy and found no difference in adverse fetal outcomes. Ruigomez and colleagues analyzed a large population-based cohort of pregnant women who were exposed to cimetidine or ranitidine (or omeprazole) during the first trimester and found no increase in nongenetic congenital malformations with exposure to any of these medicines.
---
참고자료 2: Creasy and Resnik's Maternal-Fetal Medicine: Principles and Practice의 임신 중 소화성궤양 치료에 대한 부분을 옮깁니다.
Management begins with empiric treatment. Because PUD and GERD therapies are similar, a stepwise scheme should be followed before considering EGD. Dietary and lifestyle alterations include avoidance of fat-laden foods, acidic drinks, caffeine, chocolate, NSAIDs, and alcohol. Smoking, stress, anxiety, and nighttime snacks should also be avoided.

Antacids should be used as first-line medical therapy because they have been effective in approximately 75% of duodenal ulcers. Dosages range from 15 to 30?mL, taken 1 hour after meals and at bedtime. Extra doses may be taken 3 hours after meals. Aluminum- and magnesium-containing antacids have little systemic absorption and appear to be safe in pregnancy. Sucralfate, an aluminum-based polysaccharide complex, attaches to the surface of an ulcer, protecting the mucosa from further injury, and it may suppress H. pylori infection. Seventy-five percent of duodenal ulcers heal with 4 weeks of sucralfate therapy. Because of its minimal systemic absorption, it is a preferred drug for treating PUD in pregnancy.

H2-receptor antagonists are an effective treatment for PUD; about 80% of duodenal ulcers heal with this therapy in the general population. Before the discovery of H. pylori and the introduction of proton pump inhibitors, H 2 blockers were the mainstay of treatment. Their safety profile in pregnancy has not been adequately demonstrated. H 2 -receptor antagonists cross the placenta, but their use is justifiable if significant clinical conditions warrant. Cimetidine and ranitidine have had considerable use over the past 20 years. In animal studies, cimetidine has caused a reduction in the size of fetal testes, prostate, and seminal vesicles, presumably by means of a weak antiandrogenic effect. Ranitidine has no such effects in animals, and neither drug has had reports of genital malformations in humans. More than 2000 pregnancies in database studies with exposure to cimetidine or ranitidine have been assessed, and there has not been an associated risk for congenital malformations. There is less information reported for famotidine and nizatidine. Because of conflicting animal data for nizatidine, it is preferable to use the more extensively studied H 2 -receptor antagonists as first-line agents.

Proton pump inhibitors suppress gastric acid secretion at the level of the H + ,K + -ATPase on the parietal cell surface. These agents are highly effective in the treatment of esophagitis and gastroduodenal ulcers, and they are often used in combination therapy for eradication of H. pylori infection. In the nonpregnant population, proton pump inhibitors are usually the initial treatment for suspected or documented reflux esophagitis and PUD. H 2 -receptor antagonists, sucralfate, and antacids are used as secondary medications and for symptomatic relief. During pregnancy, therapy should be modified to avoid fetal harm and also because PUD usually improves during gestation. EGD is usually avoided unless the patient is failing empiric therapy with H 2 -receptor antagonists. There appears to be little benefit in diagnosing H. pylori infection during pregnancy, because treatment involves triple-drug therapy, including antibiotics, and it is usually deferred until after delivery.
---
참고자료 3: Medscape에는 아래와 같이 쓰여 있습니다.
H2-receptor antagonists (eg, cimetidine, ranitidine, famotidine) are the first choices of treatment for peptic ulcer disease. Treatment for Helicobacter pylori gastritis should be initiated after the pregnancy and breastfeeding periods are complete, because some of the recommended medications are relatively contraindicated in pregnancy. Lansoprazole has been reported to be safe in pregnancy.
---
Q. PPI 장기 사용시 폐렴 위험은 어떠합니까?
A. Gastroenterol Clin North Am (2010)의 표를 옮깁니다. Pneumonia는 probable하고 fracture는 negiligable 하다는 것입니다. 증상 조절을 위한 최소용량의 PPI를 사용한다면 대부분의 경우 득이 실보다 크다고 생각합니다.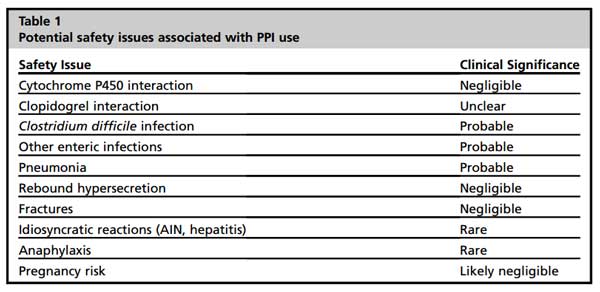 ---
Q. Asprin, clopidogrel, NSAID로 인한 ulcer bleeding Hx가 있던 분들께 NSAID나 aspirin을 지속적으로 드시는 분들은 약을 드시는 동안 PPI를 half dose로 계속 드린다고 하는데, 그럼 상병코드는 어떻게 넣고 주시는지요?
A. 중요한 질문이라고 생각합니다. 우리나라 제도에서 예방적 치료에 대한 부분이 상대적으로 취약합니다. 궤양 출혈 과거력이 있는 분은 NSAID, aspirin (경우에 따라서는 clopidogrel도)을 쓰는 경우 PPI를 함께 처방하고 있습니다. 보통 half dose를 사용하고 몇 년 간 문제가 없으면 half dose를 이틀에 한번 드시도록 권하고 있습니다. 저의 경우 code는 그냥 궤양 코드를 쓰고 있는데 아직 삭감당하지 않고 있습니다. 의무기록에 예방적 PPI를 드리는 이유를 명확히 써 두고 있는데 이것이 도움되는 것 같습니다. 선생님에 따라서는 K21.9를 추가로 코딩하는 수가 있다고 합니다. 꼭 옳은 일은 아니지만... 산역류에 의한 증상과 궤양 증상이 비슷할 수 있으므로 전혀 타당성이 없다고 할 수 없는 전략인 것 같습니다.
---
* Position statement: 환자마다 상황이 다릅니다. 직접 환자를 보지 않은 상태에서 질문에 답하기는 쉽지 않습니다. 전문가마다 생각이 다르거나, 학문적 근거가 부족한 경우도 많습니다. 여기 제시하는 답변은 저의 개인의견입니다. 병원이나 학계의 공식 입장과 다를 수 있습니다. 최종 판단은 여러 선생님들께서 나름대로의 판단과 경험, 그리고 학문적 근거에 따라주시기 바랍니다. 감사합니다.


© 일원내시경교실 바른내시경연구소 이준행. EndoTODAY Endoscopy Learning Center. Lee Jun Haeng.