EndoTODAY | EndoATLAS | 외래설명자료
기생충 | 식도 | 위 | 위암 | ESD | 천기누설
Home | Guide | 주인장 | 구독 | 검색 | 링크
---

[일원내시경교실 목요점심집담회 2016-1-28]

1. EGC-like AGC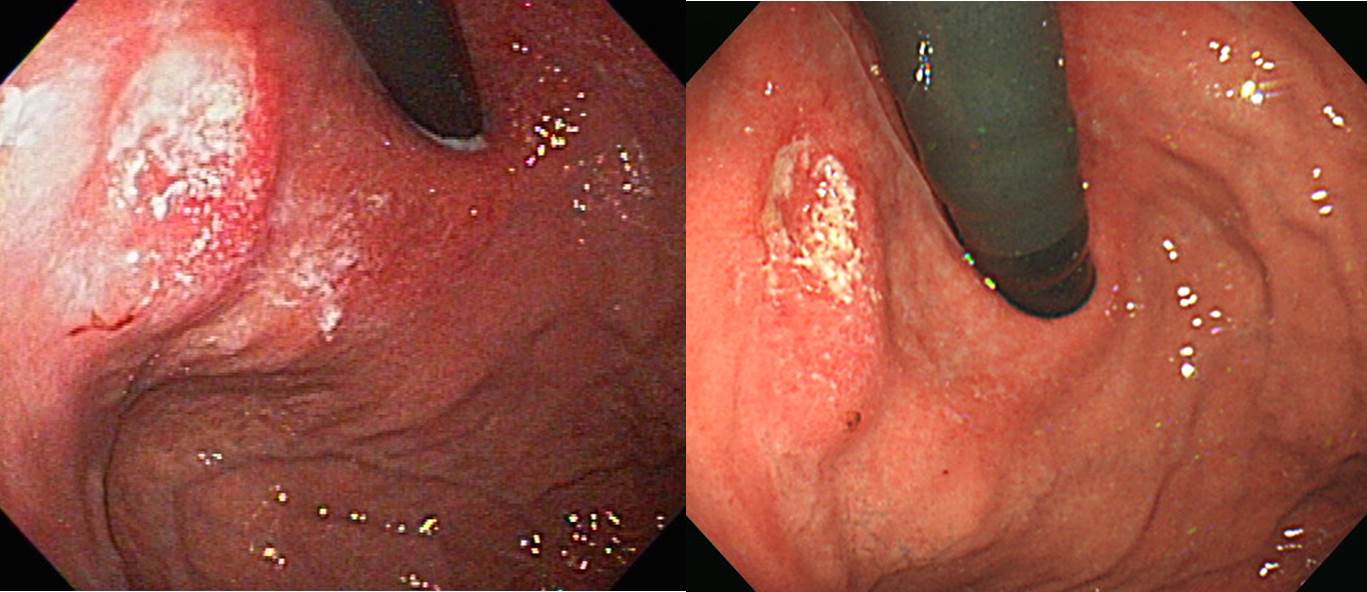 수술을 시행하였고 tubular adenocarcinoma, well differentiated with mucin production (30%), 2 cm, proper muscle invasion, LN (-), lymphatic invasion (+)로 나왔습니다. Cardia 직하부의 IIa + IIc 병소는 생각보다 깊습니다. 이 환자도 근육층까지 침범된 진행성위암이었습니다.
---

2. Papillary adenocarcinoma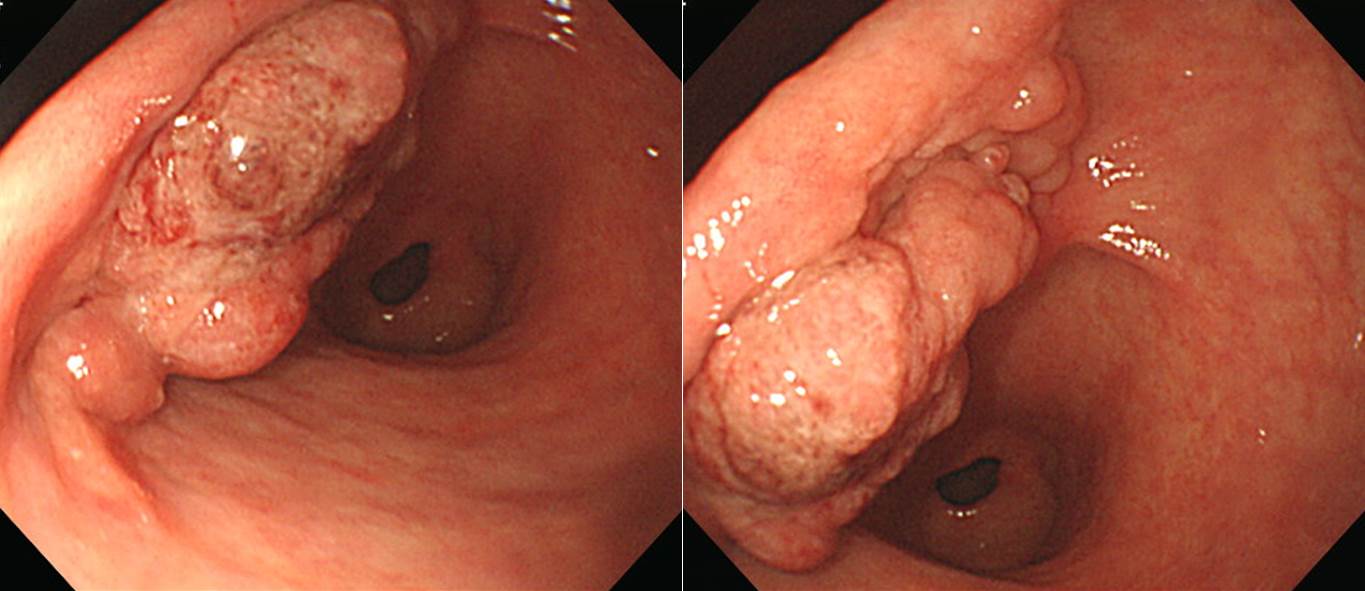 세 가지 점에서 특이했습니다. (1) 큰 종양인데 점막암으로 나왔습니다. (2) 점막암인데 림프절 전이가 있었습니다. (3) Papillary adenocarcinoma였습니다.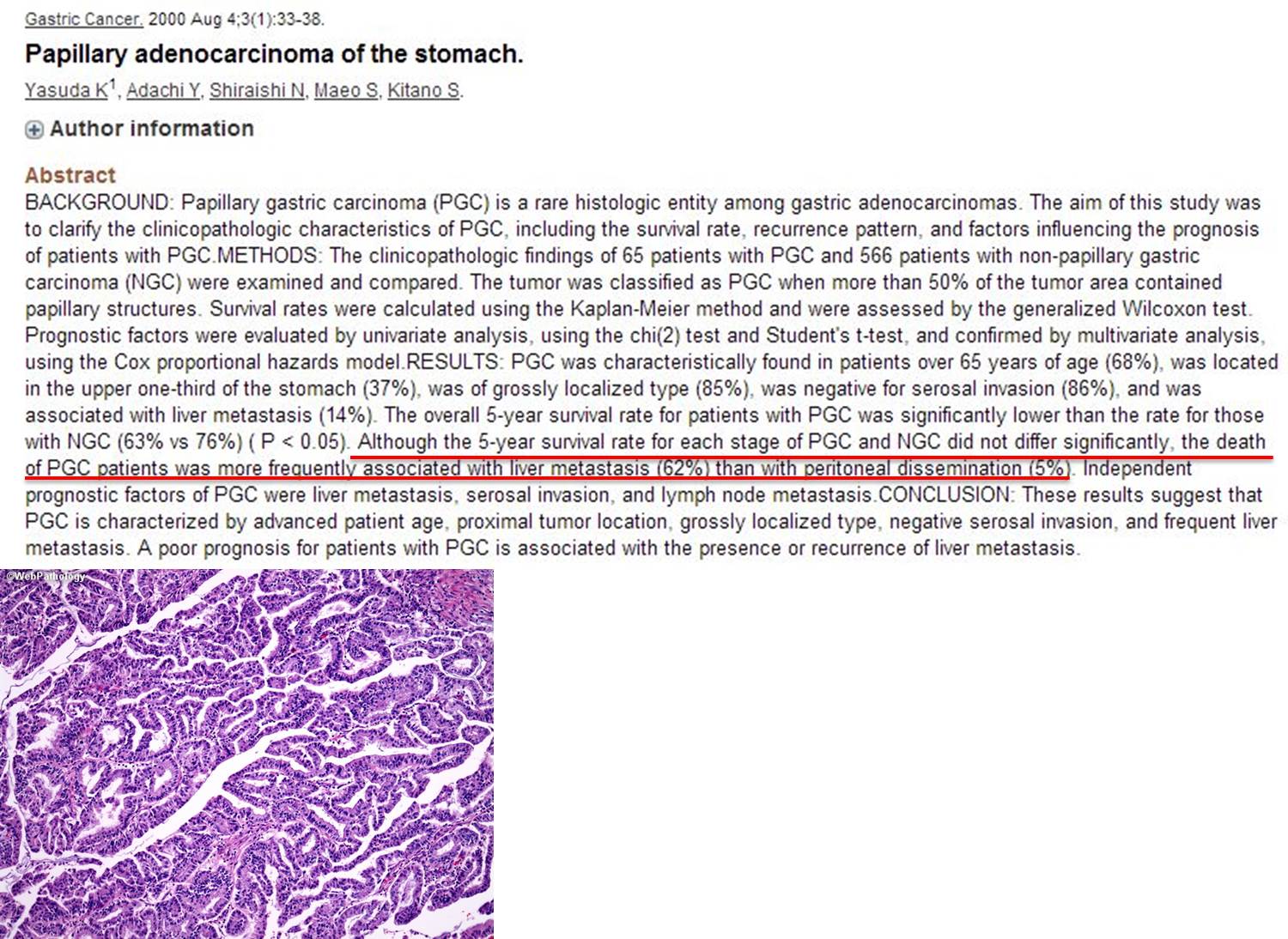 . Early gastric carcinoma
1. Location : lower third, Center at antrum and lesser curvature
2. Gross type : EGC type I
3. Histologic type : papillary adenocarcinoma, moderately differentiated
4. Histologic type by Lauren : intestinal
5. Size : 5.5x3.8 cm
6. Depth of invasion : invades mucosa (muscularis mucosae) (pT1a)
7. Resection margin: free from carcinoma, safety margin: proximal 3.1 cm, distal 2.5 cm
8. Lymph node metastasis : metastasis to 1 out of 50 regional lymph nodes (pN1)
9. Lymphatic invasion : present
10. Venous invasion : not identified
11. Perineural invasion : not identified
12. Peritoneal cytology : negative
13. AJCC stage by 7th edition: pT1a N1
---

3. Diffuse large B cell lymphoma of the stomach and duodenum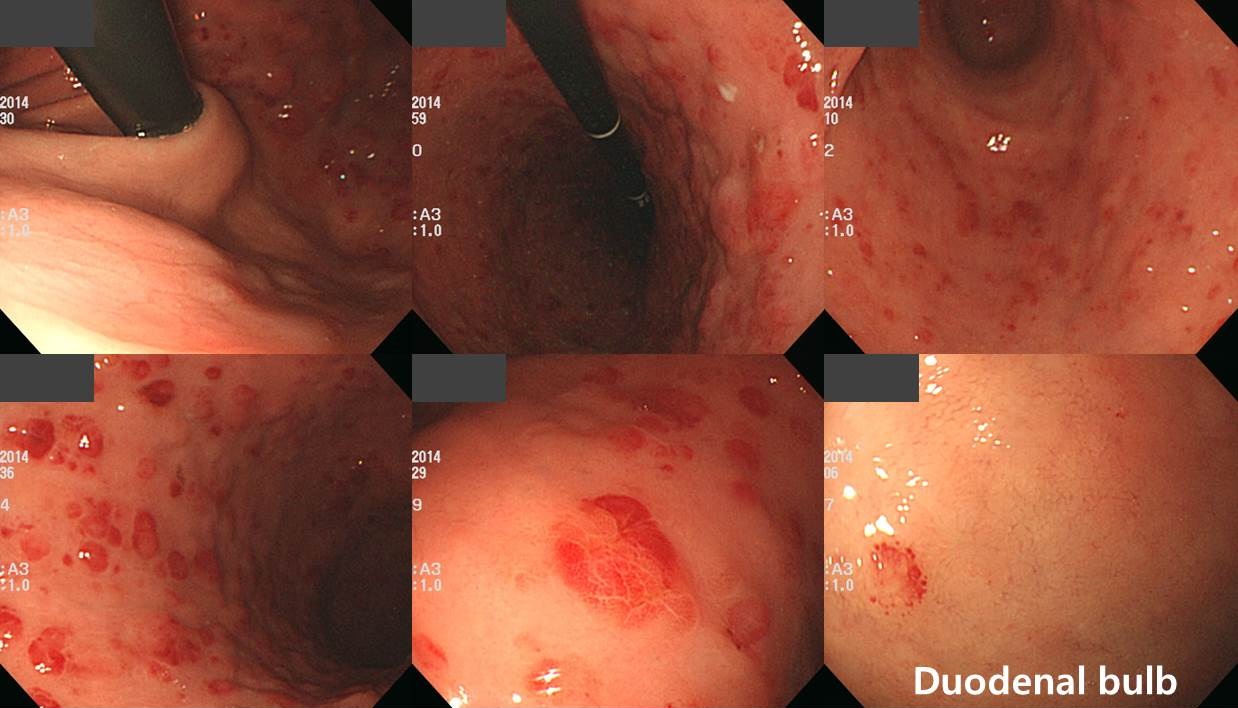 위는 diffuse large B cell lymphoma의 infiltrative type인 것으로 이해하면 무난할 것 같습니다. 십이지장 구부의 붉은 부위까지 DLBCL로 나왔습니다.
* 참고: EndoTODAY DLBCL
---

4. Rectal cancer anal involvement
50대 남성입니다. 건강검진 대장내시경이었습니다. 항문의 chronic prolapsed lesion이 있어 조직검사를 하여 adenocarcinoma가 나왔습니다.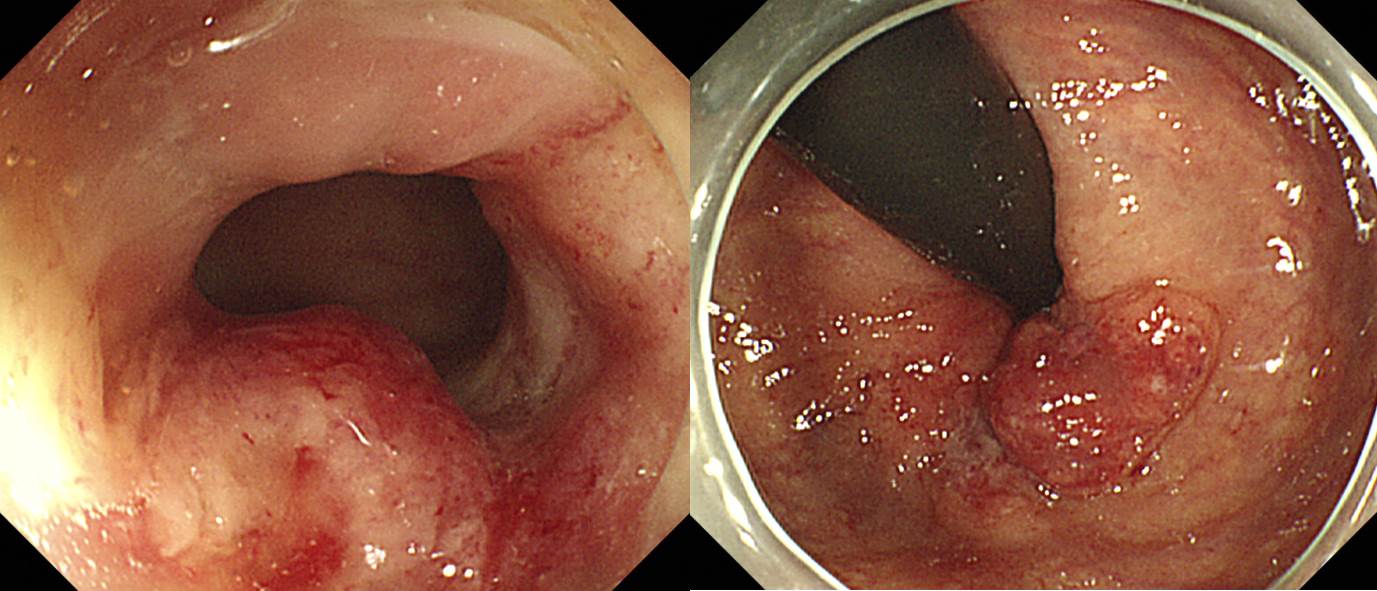 Rectum, Miles' operation:
. Signet-ring cell carcinoma with mucin production ;
1. Location: rectum
2. Gross type: fungating
3. Size: 5x4 cm
4. Depth of invasion: invades perirectal adipose tissue(pT3)
5. Resection margin: free from carcinoma, safety margin: proximal, 20 cm ; distal, 2 cm ; radial, 4 mm
6. Regional lymph node metastasis : Metastasis to 9 out of 25 regional lymph nodes(pN2b), (9/25: perirectal, 9/25; "IMA LN", 0/4)
7. Lymphatic invasion: present (+++)
8. Venous invasion: present(intramural)
9. Perineural invasion: present(intramural)
10. Tumor budding : negative
11. Micropapillary component: no
12. Tumor border: infiltrative
13. Pathologic staging: pT3 N2b
---

5. Sigmoid colon cancer with bladder invasion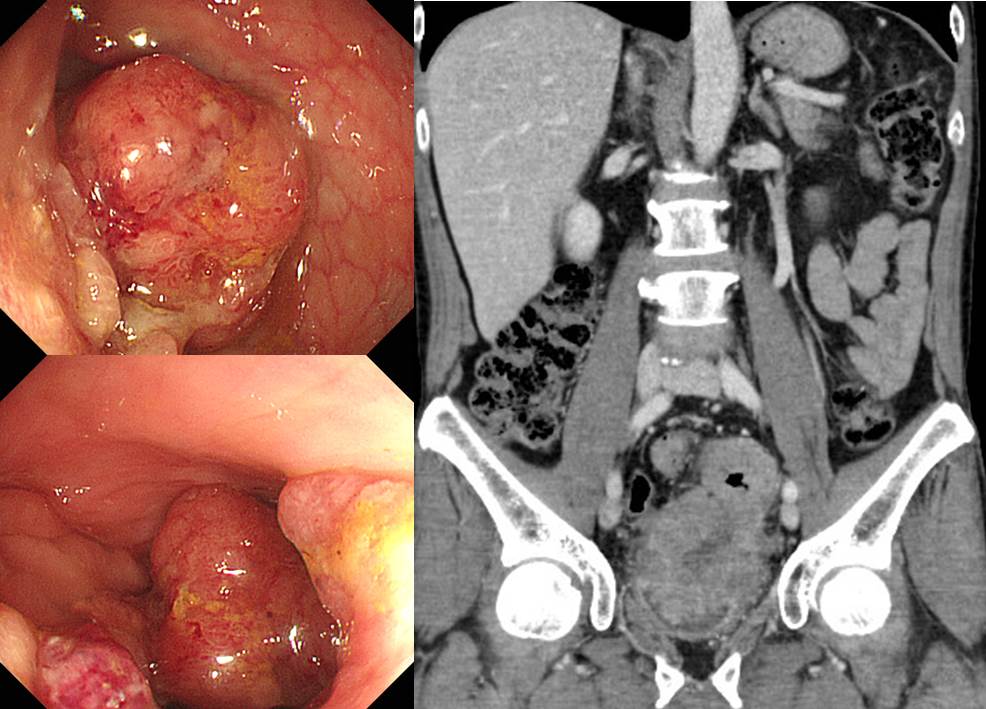 Sigmoid colon, anterior resection and partial bladder resection:
Adenocarcinoma, moderately differentiated
1. Location: sigmoid colon
2. Gross type: ulcerofungating
3. Size: 12x9 cm
4. Depth of invasion: directly invades adjacent organs(pT4b) (site: urinary bladder)
5. Resection margin: free from carcinoma, safety margin: proximal, 11 cm ; distal, 9 cm ; radial, 1.2 mm
6. Regional lymph node metastasis :
- Metastasis to 1 out of 26 regional lymph nodes(pN1a) (1/26: pericolic, 1/26)
- Number of Extramural Tumor Deposits: 0
7. Lymphatic invasion: not identified
8. Venous invasion: not identified
9. Perineural invasion: present(intramural)
10. Tumor budding : positive (5-9)
11. Micropapillary component: yes (1-5%)
12. Tumor border: infiltrative
13. Separate lesions: tubular adenoma ; 1) size : 2.5x2.5 cm, 2) resection margin : free from adenoma
14. Peritoneal cytology: negative
15. Pathologic staging: pT4b N1a
16. Direct tumor invasion to muscular layer of urinary bladder (pT4b)
---

6. 식도 이물
© 일원내시경교실 바른내시경연구소 이준행