EndoTODAY | EndoATLAS | Outpatient Clinic
Parasite | Esophagus | Stomach | Cancer | ESD
Home | Guide | Author | Subscription | Links
---

[SMC Monday GI conference 2016-8-8. Barrett esophagus and colorectal neoplasia pathway]
[전달 사항]
1. 평일 학회나 집담회 참석에 대하여: 발표자 이외에는 정해진 임상 schedule을 지켜주시기 바랍니다. 학술모임이 있는 날에는 5분 일찍 시작한다는 마음가짐으로 모두 조금씩 서둘러주면 좋지 않을까요? 여러분이 참석해야 하는 경우는 사전에 알려주셔서 schedule에 반영되도록 해 주세요.
2. 당직 schedule을 변경할 때에는 소화기내과 비서실로 꼭 연락해 주세요.
3. 진정내시경에서 midazolam을 환자에게 투여하기 전에는 내시경 의사가 환자와 한 마디라도 나누시기 바랍니다. 내시경실에 들어오자마자 의사 얼굴도 보지 못한 환자에서 midazolam을 투여하는 것은 예의가 아니라고 생각합니다.
---

1. 임상강사 안준성 선생님께서는 바렛식도 내시경진단 (대한소화기내시경학회지 2009)과 ACG guideline (AJG 2016)을 중심으로 발표해 주셨습니다.
ABSTRACT: Barrett's esophagus (BE) is among the most common conditions encountered by the gastroenterologist. In this document, the American College of Gastroenterology updates its guidance for the best practices in caring for these patients. These guidelines continue to endorse screening of high-risk patients for BE; however, routine screening is limited to men with reflux symptoms and multiple other risk factors. Acknowledging recent data on the low risk of malignant progression in patients with nondysplastic BE, endoscopic surveillance intervals are attenuated in this population; patients with nondysplastic BE should undergo endoscopic surveillance no more frequently than every 3-5 years. Neither routine use of biomarker panels nor advanced endoscopic imaging techniques (beyond high-definition endoscopy) is recommended at this time. Endoscopic ablative therapy is recommended for patients with BE and high-grade dysplasia, as well as T1a esophageal adenocarcinoma. Based on recent level 1 evidence, endoscopic ablative therapy is also recommended for patients with BE and low-grade dysplasia, although endoscopic surveillance continues to be an acceptable alternative. Given the relatively common recurrence of BE after ablation, we suggest postablation endoscopic surveillance intervals. Although many of the recommendations provided are based on weak evidence or expert opinion, this document provides a pragmatic framework for the care of the patient with BE. (ACG guideline (AJG 2016))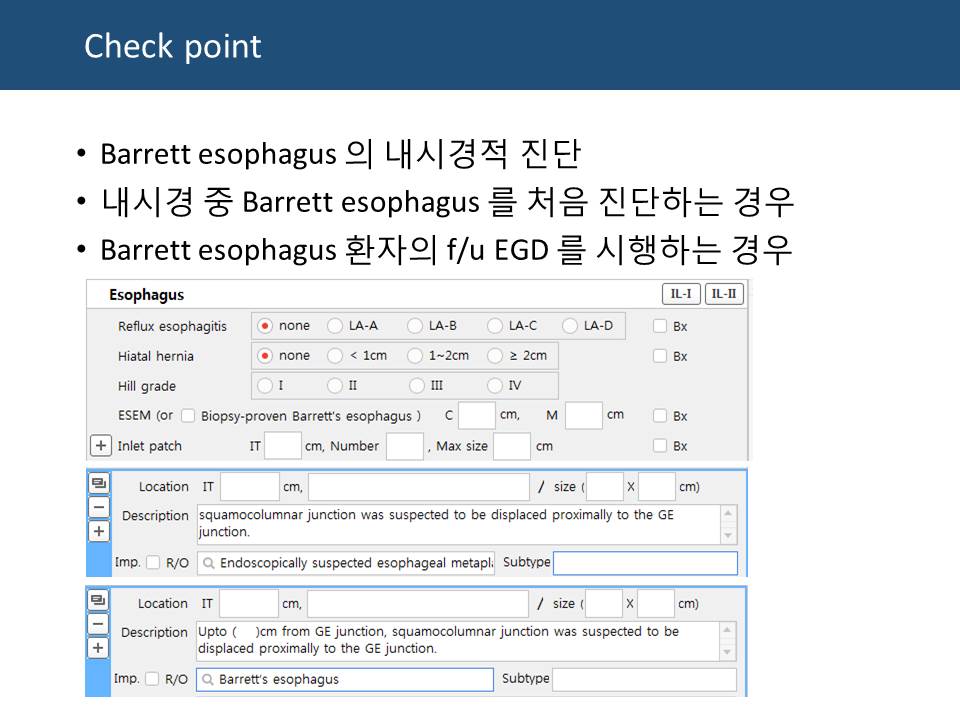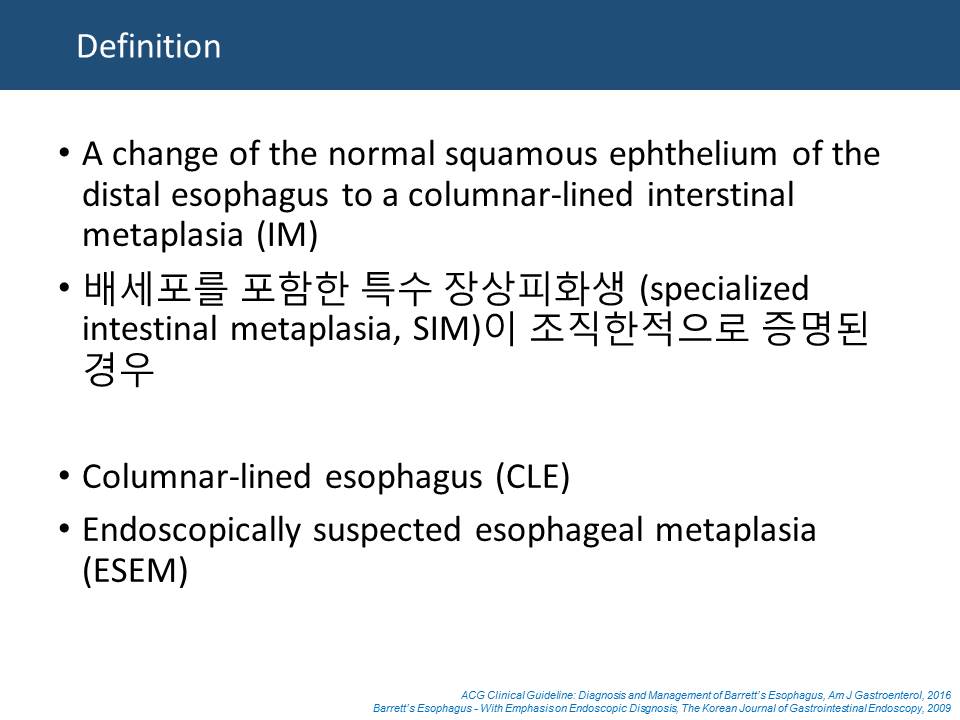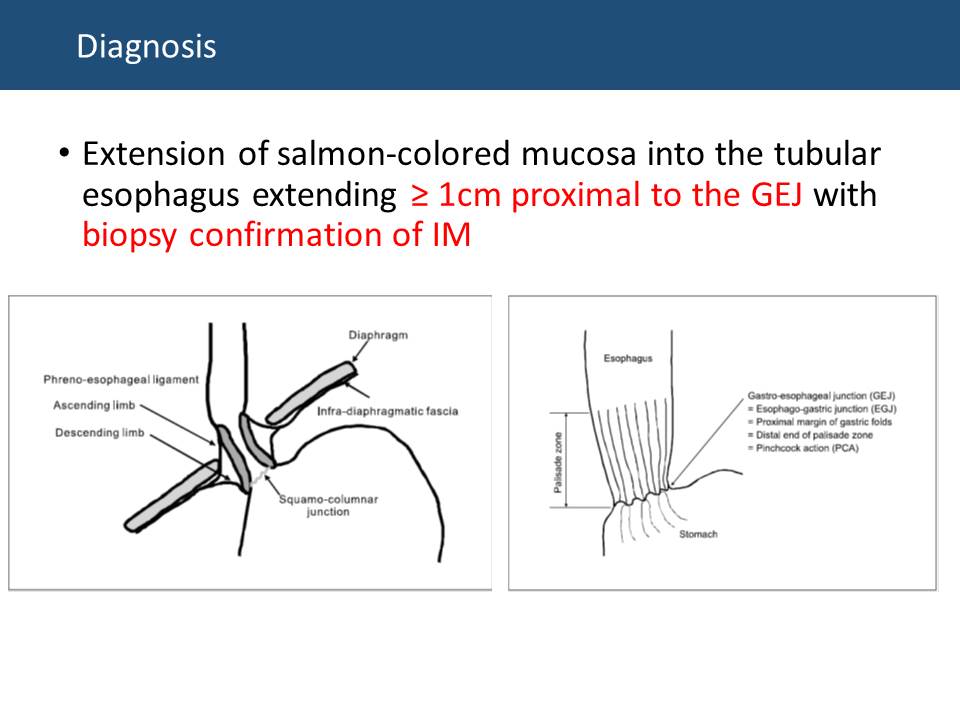 1 cm 미만의 ultra-short segment Barrett esophagus는 최근 강조되지 않는 분위기입니다. 저는 전공의, fellow 들께 1cm 미만은 무시하도록 권하고 있습니다.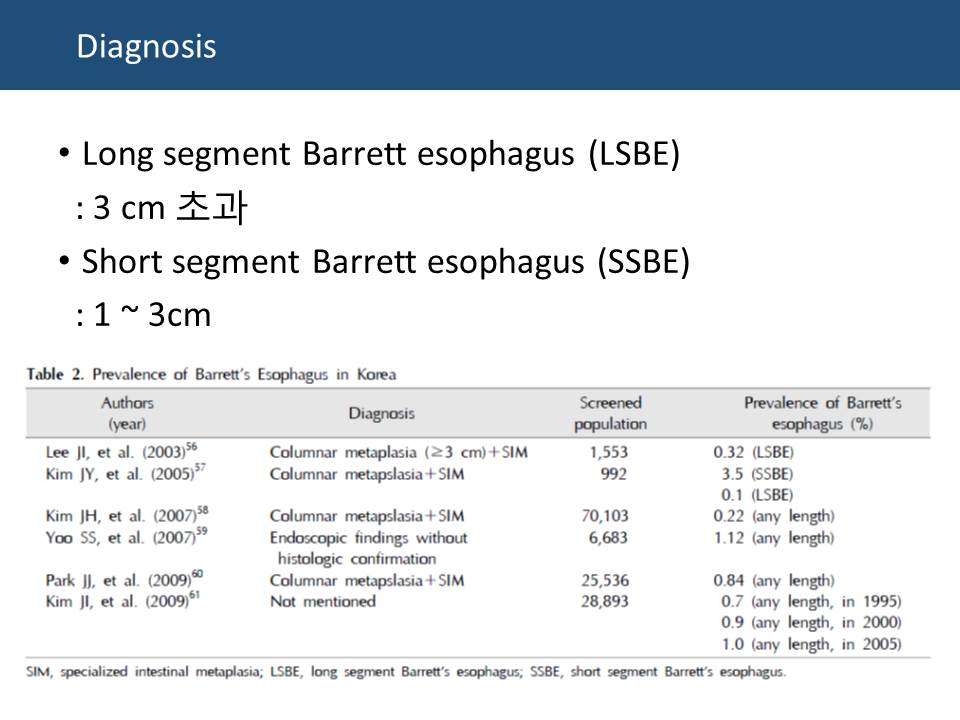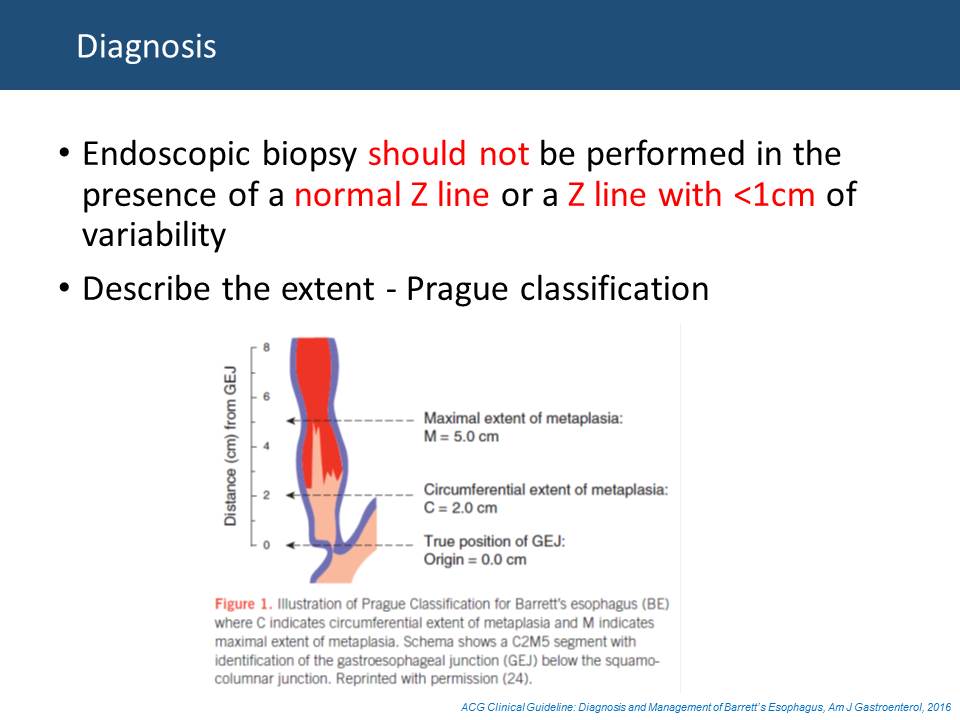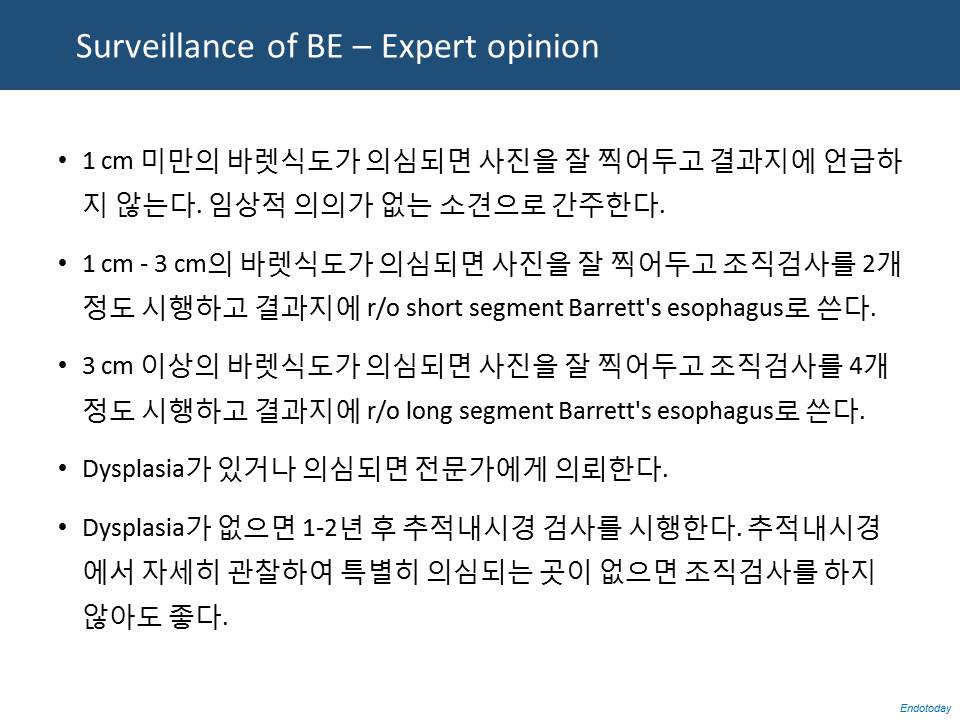 집담회에서 논의하였는데 내용에 대하여 대부분 참석자가 동의하였습니다. 다만 '1-2년 후 추적내시경 검사를 추천한다' 부분을 '1년 후'로 바꾸면 좋겠다는 의견이 있었습니다.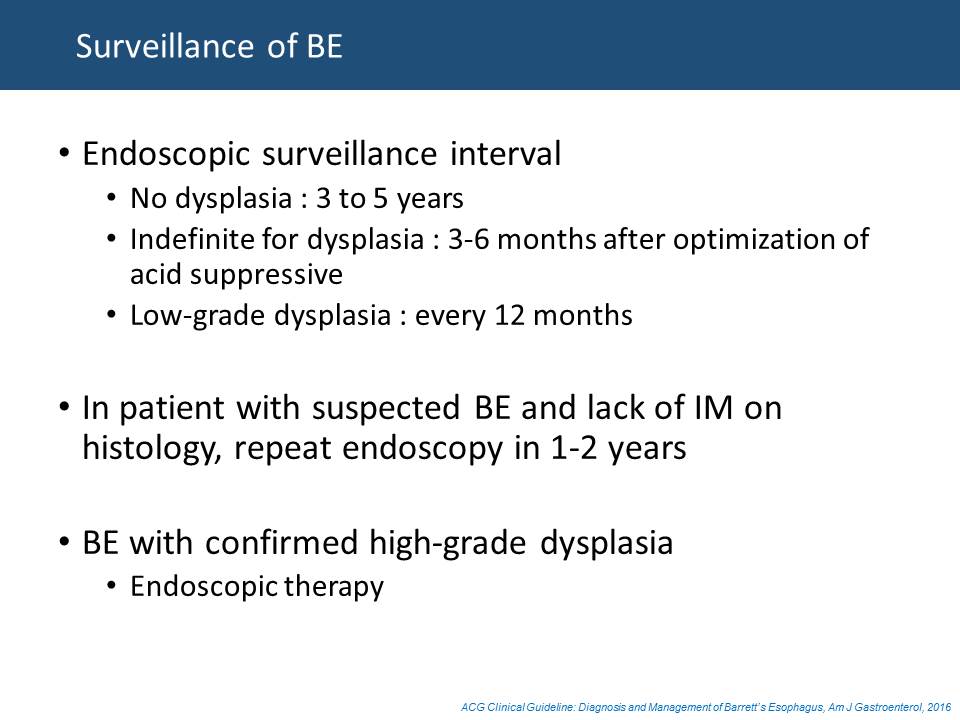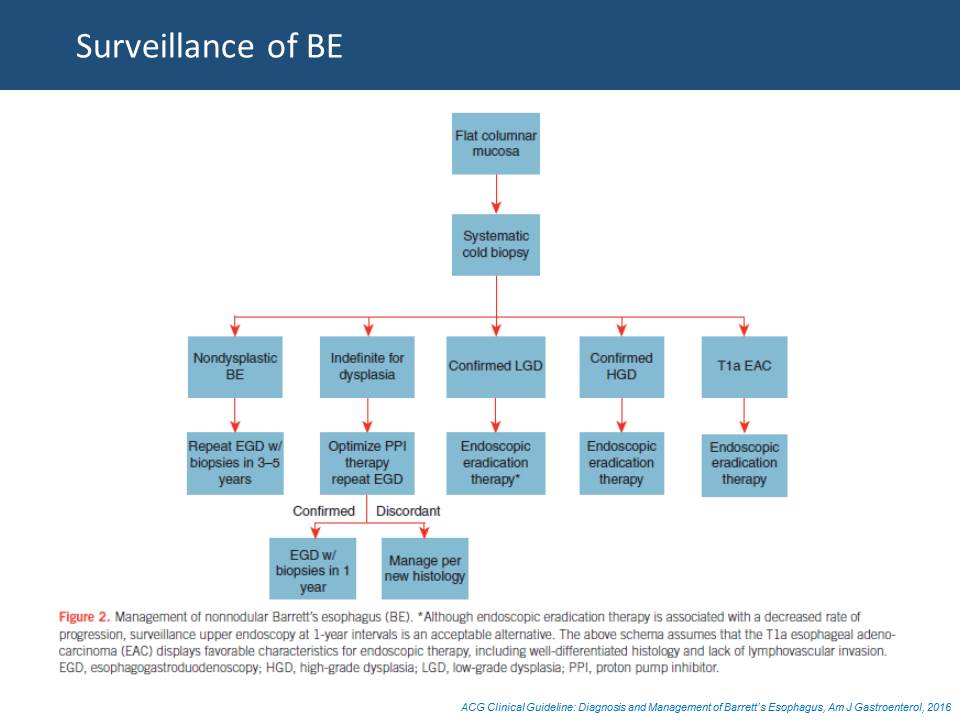 바렛식도 영역에서 최근 가장 달라진 점입니다. PPI가 도움이 될 것이라는 증거가 축적되고 있습니다.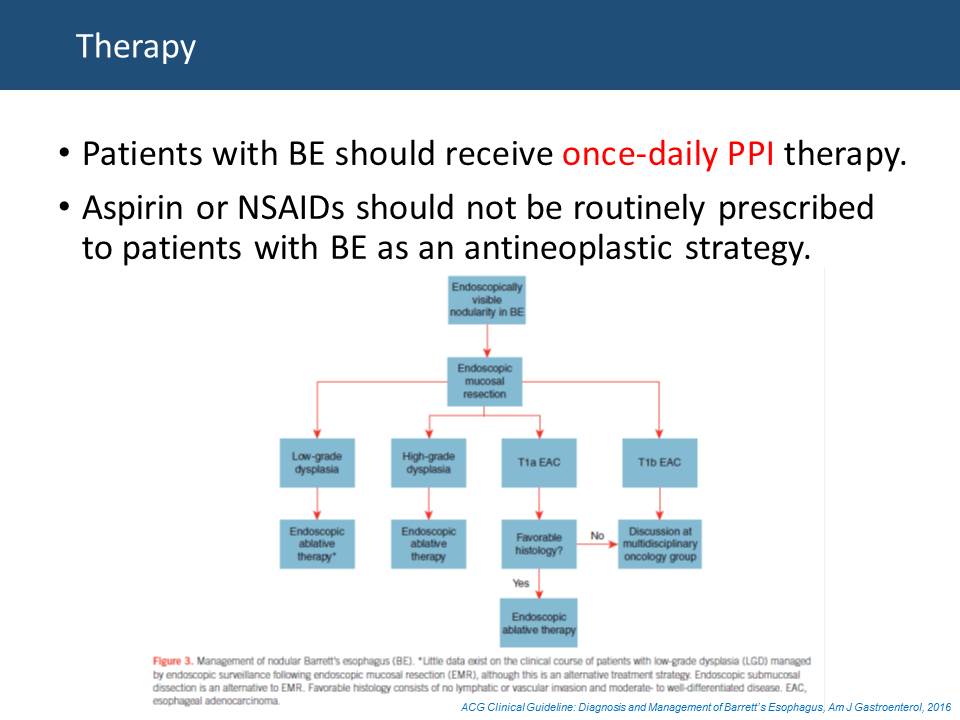 2016년 ACG guideline에 처음으로 PPI 사용이 언급되었습니다. 국내에서는 아직 보험급여는 되지 않고 있습니다. 약간의 산역류 증상을 가진 분들이 많으므로 적어도 이들에게는 PPI를 투여하고 있습니다.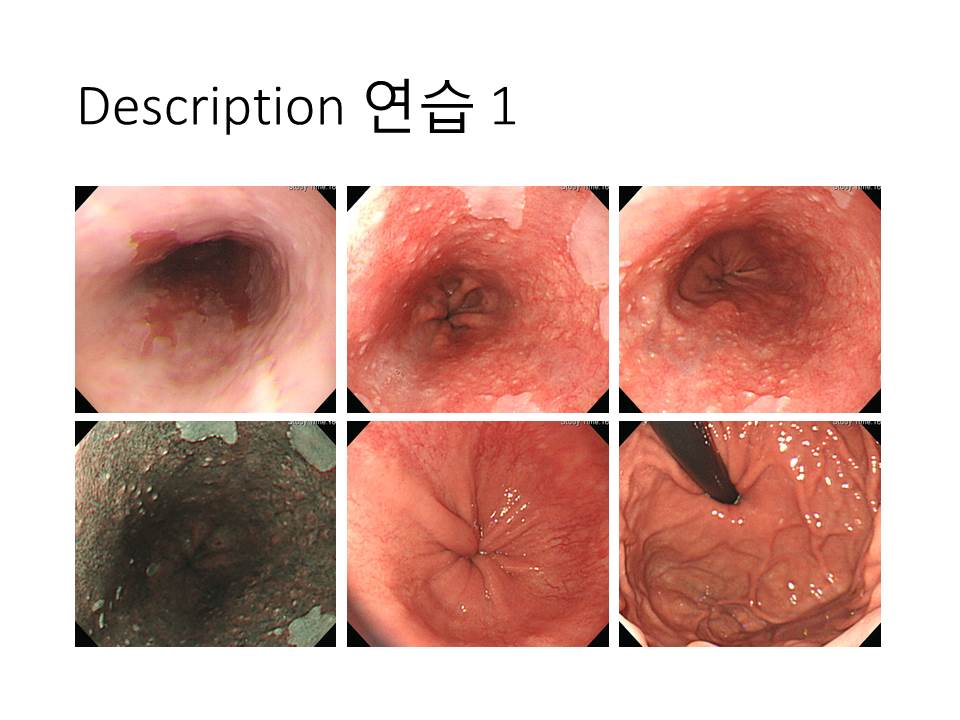 장분절 바렛식도입니다. 중간 중간에 squamous island가 보입니다. Hiatal hernia가 동반되어 있습니다. 장분절 바렛식도에서 hiatal hernia가 없는 경우가 거의 없습니다.
단분절 바렛식도이고 hiatal hernia가 동반되어 있습니다. 1시, 3시 방향을 제외하면 전반적으로 circumferential 한 단분절 바렛식도입니다. Palisading vessel이 잘 보이고 있네요.
역류성 식도염이 동반된 경우입니다. 사실 바렛식도에 역류성 식도염이 동반된 예는 많지 않습니다. 제 짧은 경험으로 보면 역류성 식도염이 동반된 경우는 바렛식도 길이가 길어지는 것 같습니다. 역류성 식도염이 없는 경우는 바렛식도가 길어지는 경우가 거의 없습니다.
* 참고: EndoTODAY 바렛 식도
---

2. 김순영 선생님께서는 Colorectal neoplasia pathways (Gastrointest Endosc Clin N Am 2015)를 중심으로 발표하셨습니다.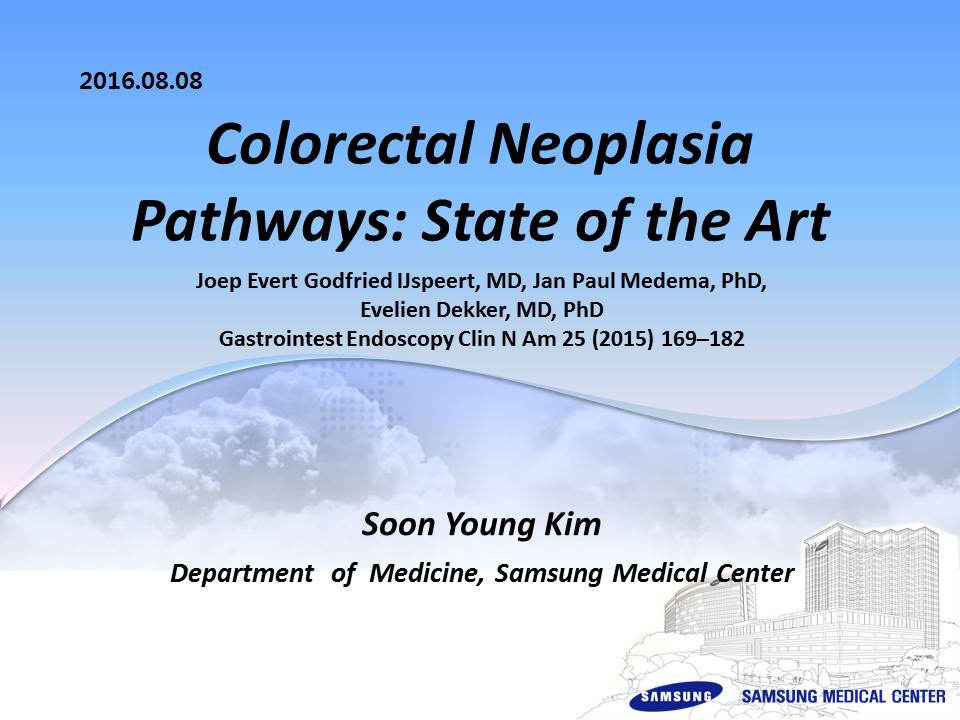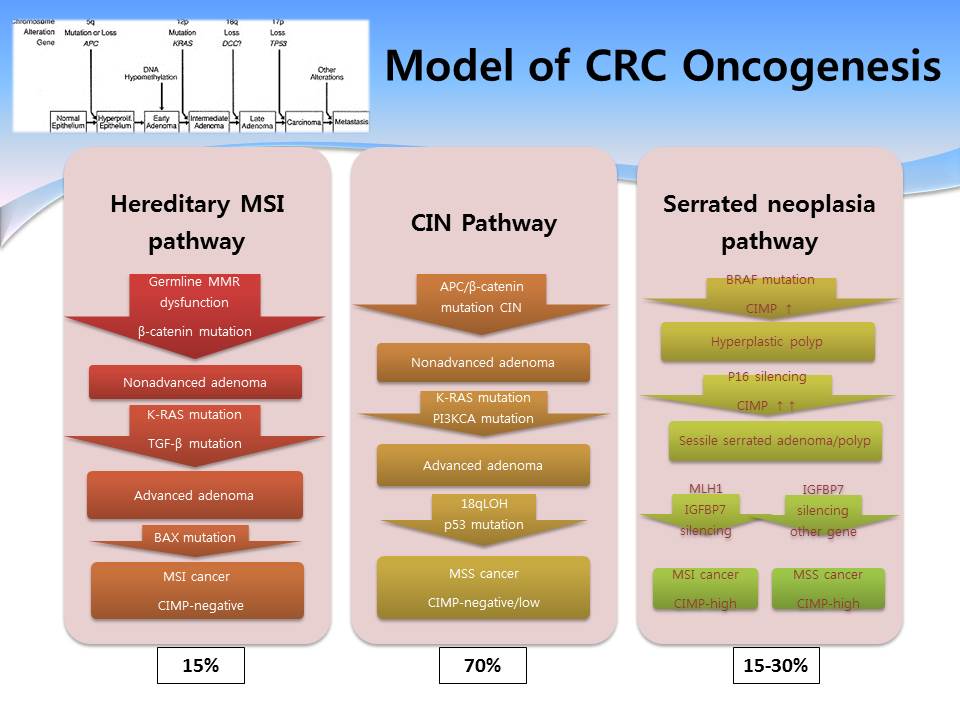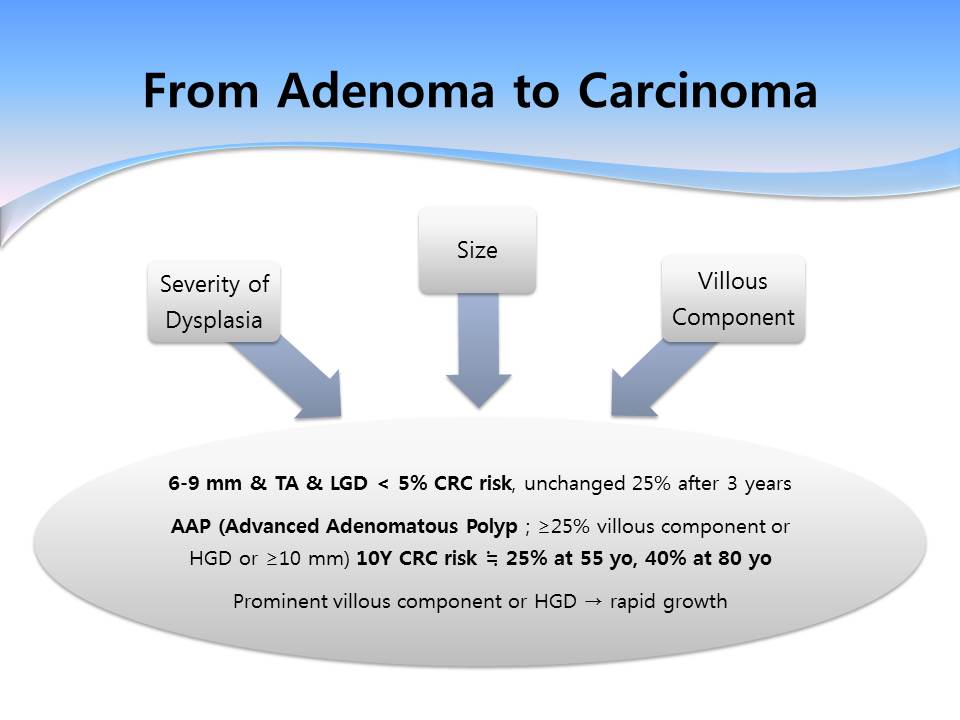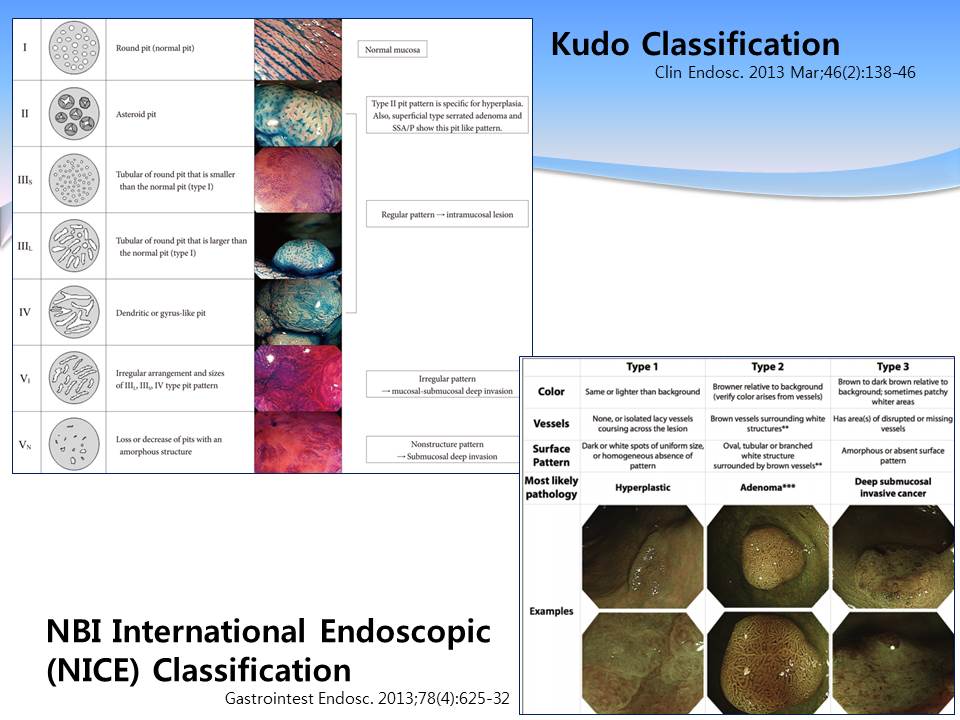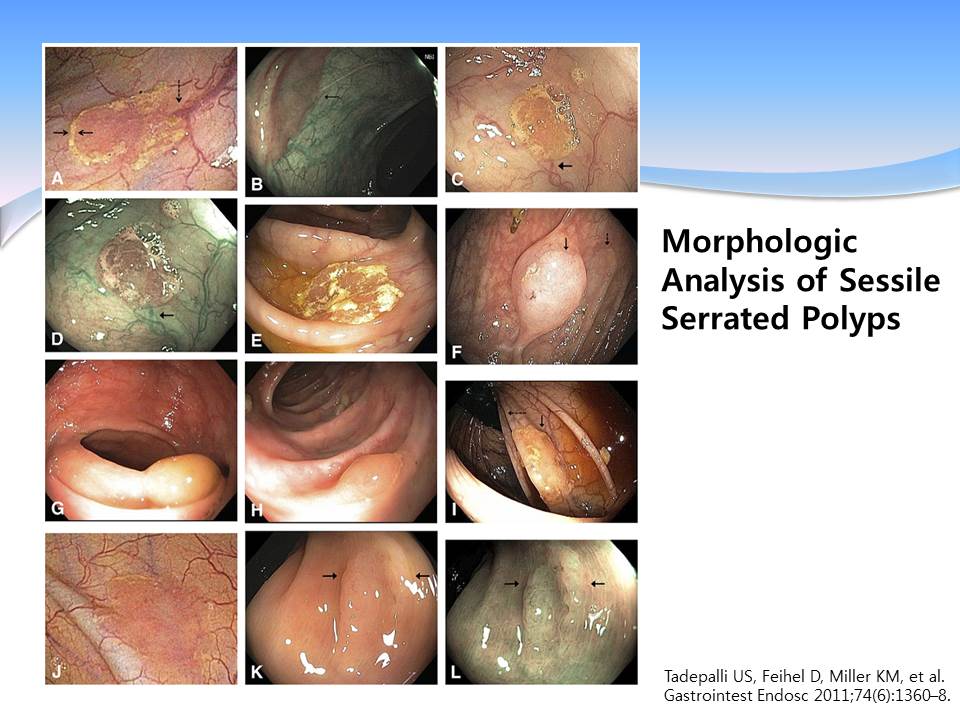 A, SSP rim of debris (solid arrows) obscuring the course of a submucosal vein (dashed arrow)
B, SSP mucous cap (arrow)
C, SSP rim of debris/bubbles, obscuring an underlying vessel (arrow),
D, Lesion in C seen under NBI. abrupt cutoff of the submucosal vein (arrow), typical reddish appearance of the mucous cap.
E, SSP debris-stained mucous cap
F, Flat SSP the lesion (solid arrow) has been lifted by submucosal saline solution injection. , a nonlifted portion of the lesion (dashed arrow)
G, Protuberant SSP displaying a dome shape and mucous cap
H, SSP dome shape, mucous cap, and altering the contour of a mucosal fold
I, SSP draped over a mucosal fold (solid arrow)
J, SSP red coloration relative to the background mucosa. A subtle rim of debris Lesion obscures underlying submucosal vessels
K, Flat SSP subtle nodular appearance of surfacemucosa. The solid arrows indicate the extent of the lesion
L, The same lesion as in K, seen under NBI and from a closer distance. Intracolonic air has been aspirated, eliciting more conspicuous nodularity.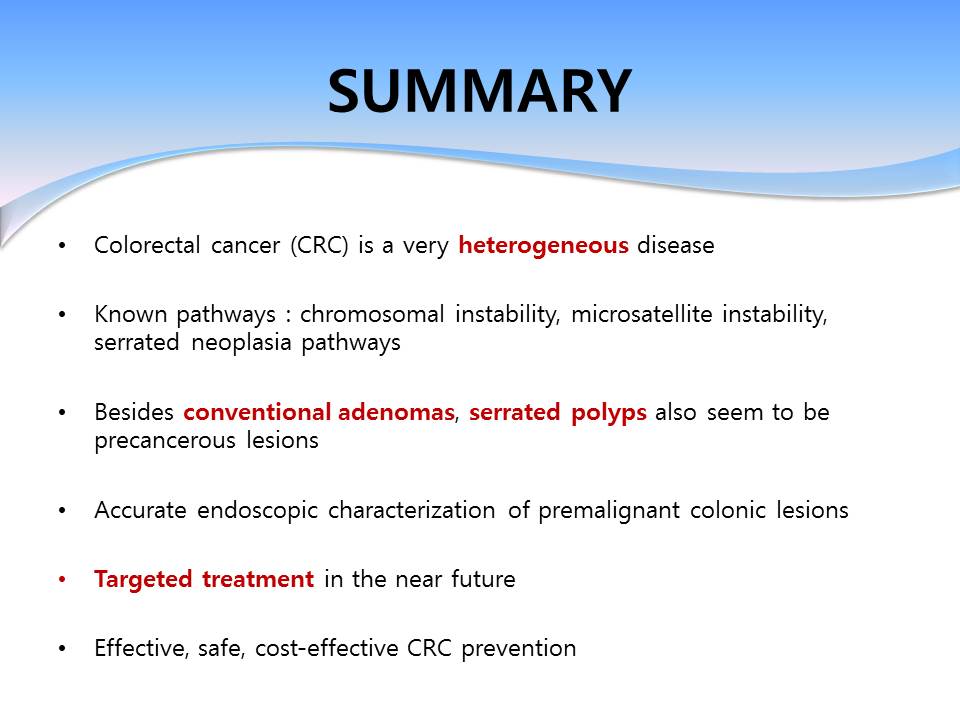 * 참고: EndoTODAY Serrated adenoma


© EndoTODAY Endoscopy Learning Center. Lee Jun Haeng. 일원내시경교실 바른내시경연구소 이준행