EndoTODAY | EndoATLAS | 외래설명자료
기생충 | 식도 | 위 | 위암 | ESD | 천기누설
Home | Guide | 주인장 | 구독 | 검색 | 링크
---

[일원내시경교실 목요점심집담회 2016-6-16]

1. CMV colitis after liver transplantation
간이식 환자가 hematochezia를 보였습니다.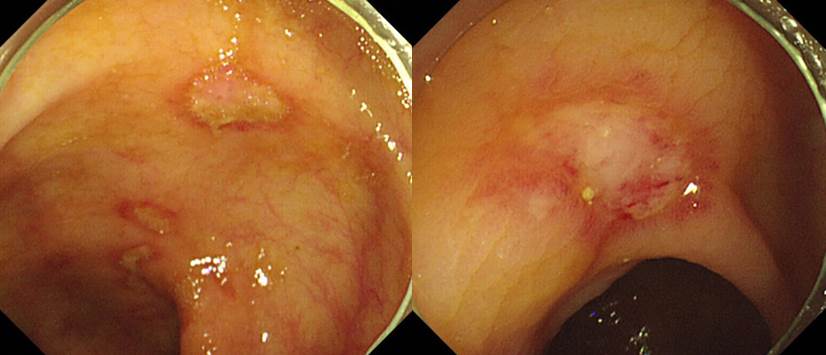 조직검사: Chronic active inflammation with some cytomegalic inclusion
이 환자는 나중에 대장 림프종이 발견되어 수술을 하였습니다.
---

2. Recurrence after ESD for EGC
Metachronous recurrence일 수 있다는 지적이 있었습니다만, 저는 local recur로 생각하고 있습니다. 아무래도 재발 위험이 높았던 환자입니다. 수술을 의뢰하였습니다.
* 참고: EndoTODAY ESD 후 국소 재발
---

3. Neuroendocrine carcinoma in the remnant stomach

1. Name of Procedure: Completion total gastrectomy
2. Site of Tumor: Stomach (Body and fundus)
3. Diagnosis: Neuroendocrine tumor (see note)
4. WHO classification(2010): Neuroendocrine carcinoma (G3)
5. Multiplicity: Single
6. Size: 2.3x1 cm
7. Extent: Proper Muscle
8. Grading: Mitotic Count(5/10HPF): 2-20/10HPF, Ki-67 labeling index G3>20%
9. Immunohistochemical Stains: Synaptophysin : Positive, Chromogranin A: Negative
10. Lymphovascular invasion: Present
11. Perineural invasion: Present
12. Lymph node metastasis: [Number of positive nodes/Total number of nodes(3/19)]
13. Resection Margins: Negative (Safety margin : proximal, 5.5 cm; distal, 3.7 cm)
---

4. Nonspecific cecal ulcer in IC valve
---

[References]
1) SMC Endoscopy Unit 삼성서울병원 내시경실
2) SMC Monday GI conference 삼성서울병원 일원내시경교실 월요점심소화기집담회
3) SMC Thursday endoscopy conference 삼성서울병원 일원내시경교실 목요점심내시경집담회


© EndoTODAY Endoscopy Learning Center. Jun Haeng Lee.