EndoTODAY | EndoATLAS | 외래설명자료
기생충 | 식도 | 위 | 위암 | ESD | 천기누설
Home | Guide | 주인장 | 구독 | 검색 | 링크
---

[일원내시경교실 목요점심집담회 2016-6-2]

1. Gastric neuroendocrine tumor
위 granular cell tumor라고 의뢰되었습니다. 그러나 외부병리슬라이드 재판독에서는 neuroendocrine tumor, granular cell tumor의 가능성이 모두 있다고 보고되었습니다. ESD를 시행하였고 최종 결과는 아래와 같았습니다. 혈청 gastrin은 778 pg/mL이었습니다. 과거 제1형 유암종이라고 부르던 병입니다.

Stomach, endoscopic submucosal dissection:
Well-differentiated neuroendocrine tumor (G1)
1. Name of Procedure: ESD
2. Site of Tumor: Stomach (low body, greater curvature)
3. Diagnosis: Neuroendocrine tumor
4. WHO classification(2010): Neuroendocrine tumor(G1)
5. Multiplicity: Single
6. Size: 0.4x0.4 cm
7. Extent: Mucosa and submucosa
8. Grading: Mitotic Count: 1/5 HPFs, Ki-67 labeling index: 2 %
9. Immunohistochemical Stains: (1) Synaptophysin : Positive, (2) Chromogranin A: Positive
10. Lymphovascular invasion: Not identified
11. Perineural invasion: Not identified
12. Lymph node metastasis: Not evaluated
13. Resection Margins: Negative
* 참고: EndoTODAY 위유암종
---

2. Diffuse large B cell lymphoma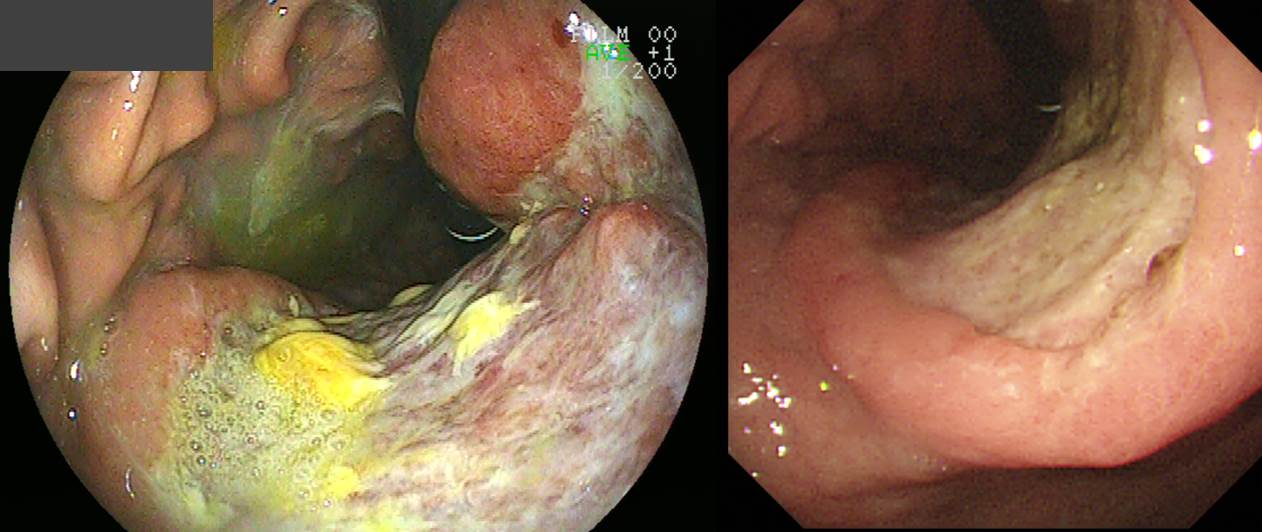 큰 mass이고 중앙에 넓은 궤양이 있습니다. 궤양 옆의 융기부는 BGU에서 보이는 edematous margin이 아니라 궤양을 둘러싸고 있는 견고한 heaped up margin입니다. AGC B-II 치고는 너무 크고, AGC-B-III 치고는 너무 깨끗합니다. AGC가 이만큼 큰 경우는 보통 좀 더 infiltrative한 양상을 보이는 경우가 많습니다. 그래서 lymphoma를 의심해야 합니다.
집담회 도중 이 환자의 진단에 대하여 Pingpong이라는 app을 이용하여 voting을 해 보았습니다. (1) BGU, (2) AGC, (3) Others 중 선택토록 문제를 냈습니다. 12분 중 6분이 정확하게 (3) others를 선택해 주셨습니다. 집담회를 반복하면서 점점 실력이 향상됨을 느낍니다. 여러분. 검사하고 공부하느라 수고가 많으셨습니다.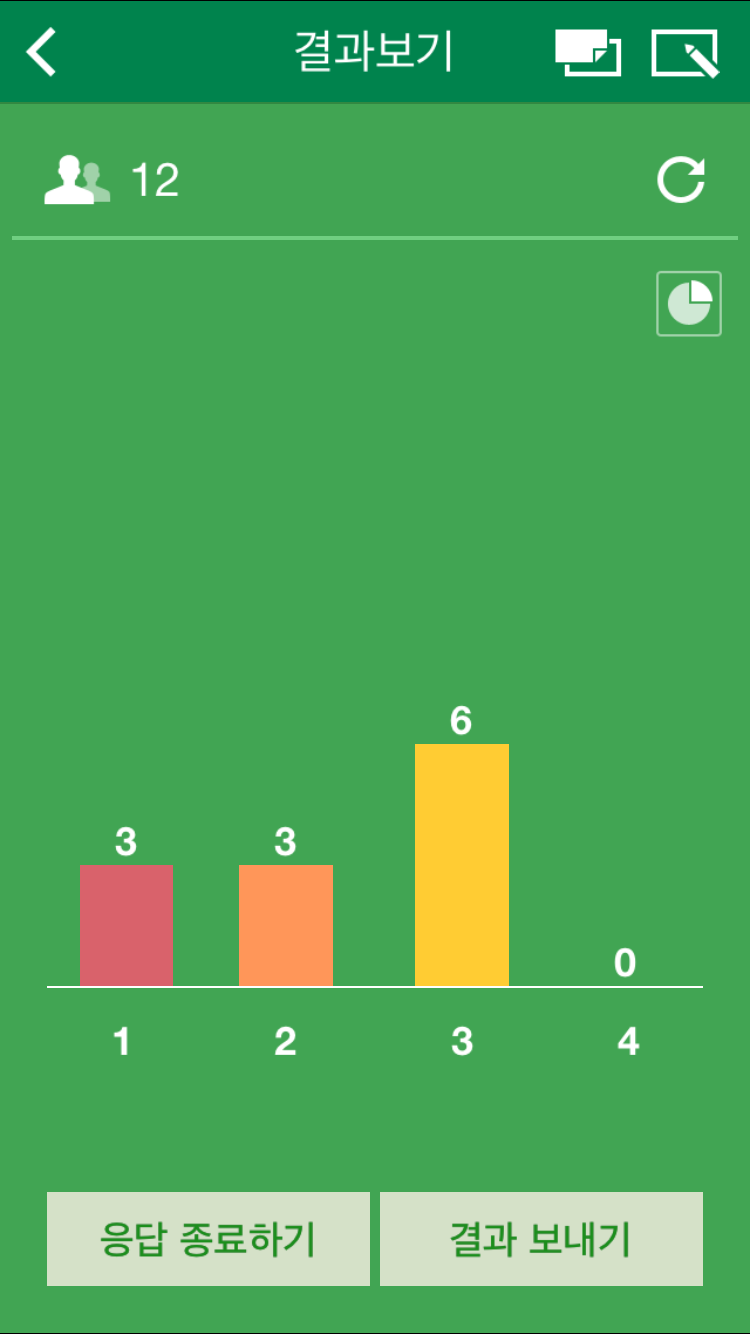 Diffuse large B cell lymphoma의 다양한 내시경 소견은 여기를 참조하면 됩니다. 그 중 오늘의 증례처럼 ulcerative mass였던 경우를 소개합니다.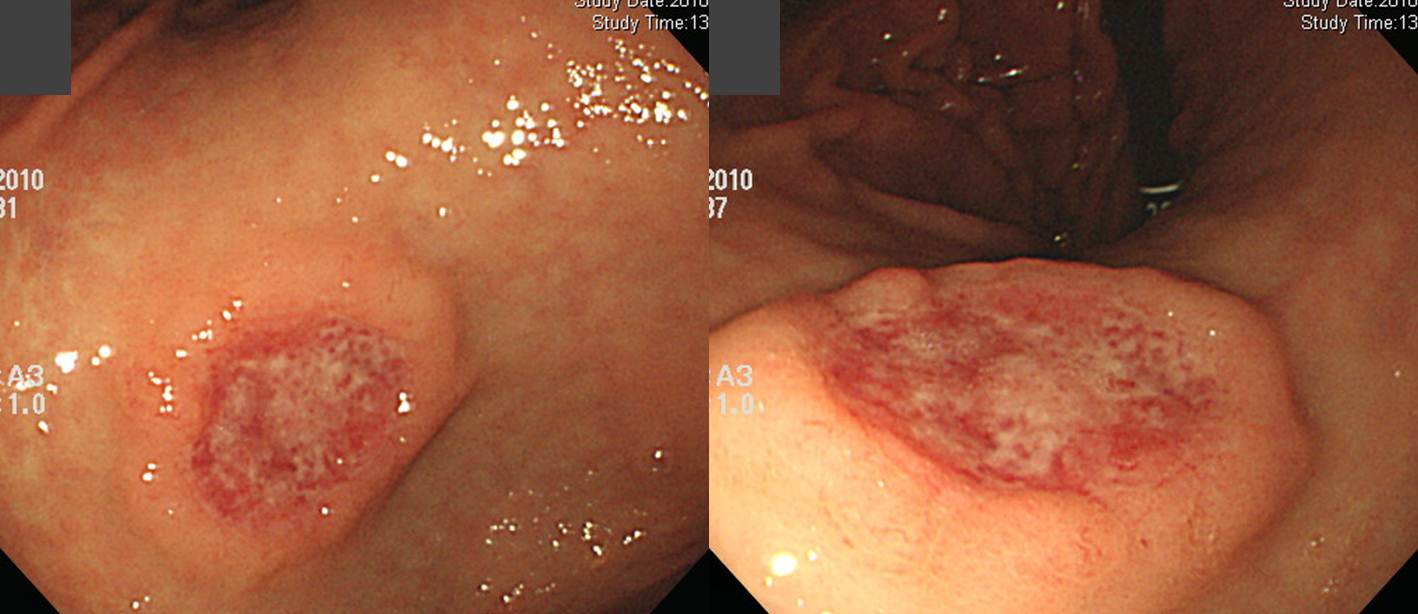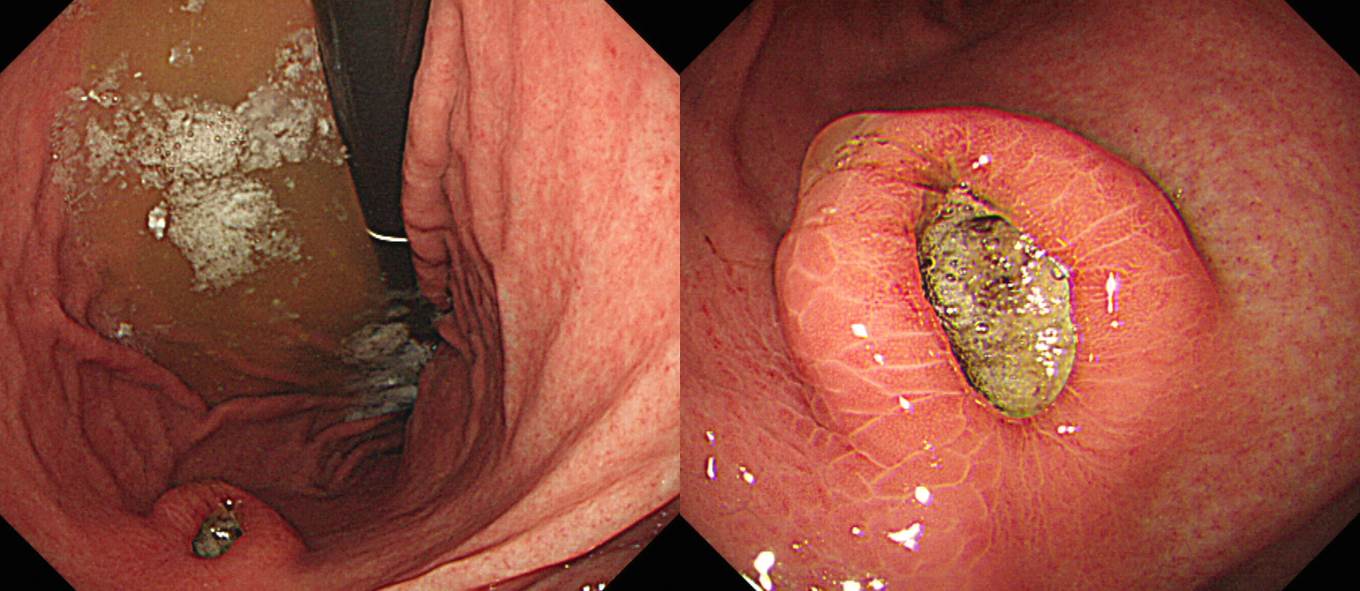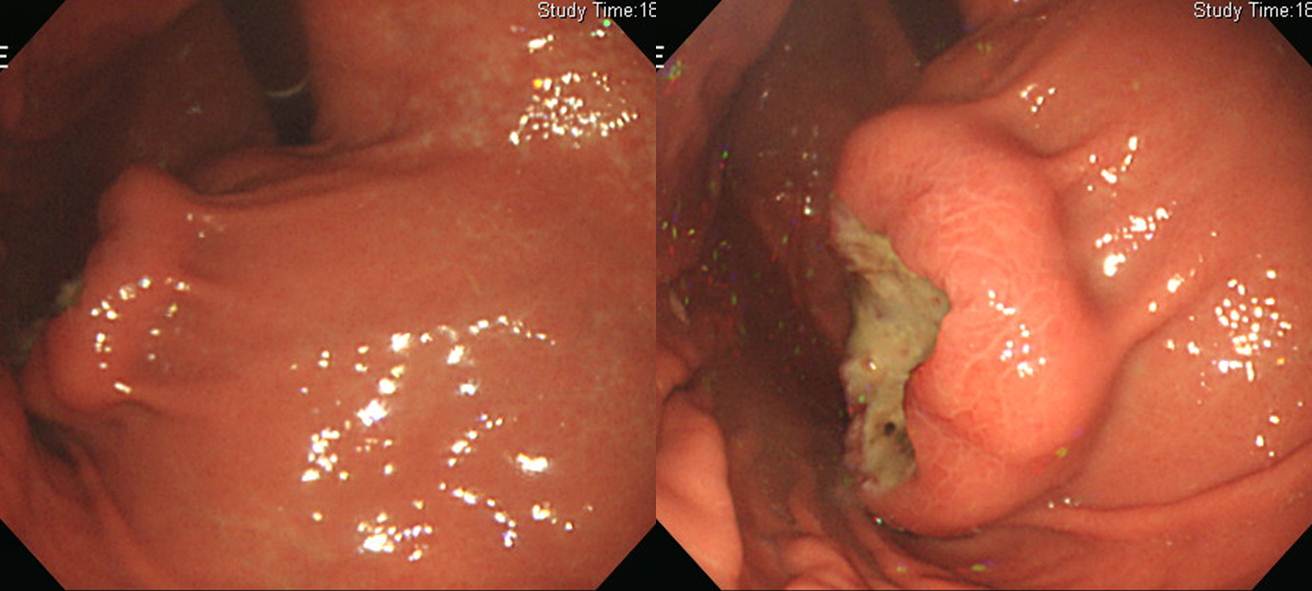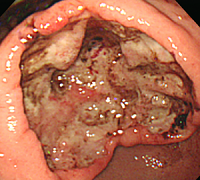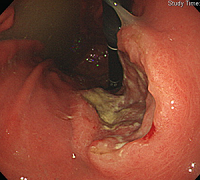 * 참고: EndoTODAY DLBCL
---

3. Rectal endometriosis
생리주기에 배변 시 통증이 있고 질출혈도 늘어서 산부인과에서 Pelvix MRI를 하였고 이상소견이 있어서 대장내시경 검사를 받으셨습니다.
MRI 판독 결과: Pelvis의 posterior cul-de-sac에 infiltrative ill-defined soft-tissue mass lesion이 있으며 이 mass는 upper vagina의 posterior fornix, rectosigmoid colon을 침범하고 있음. 크기는 대략 3.7 cm 정도됨. 내부에 hemorrhage를 동반한 spots등이 포함되어 있어 endometriosis로 판단됨. Left ovary내에도 2 cm 이하의 대략 3-4개 정도의 endometriomas가 동반되어 있음.
대장내시경에서는 아래와 같은 소견이었습니다 (From AV 15cm to AV 11cm, about 4cm sized ill-defined flat elevated lesion with hard consistent, non-movable, surface hyperemic change was seen.)
Rev Esp Enferm Dig. 2016에서 옮깁니다. Intestinal endometriosis is defined as a bowel infiltration by ectopic endometrial tissue. The prevalence is 3-37% of all women affected by endometriosis. Rectosigmoid colon is the most frequent location (70-93%), followed to ileocecal region, appendix and other colon and small bowel segments. Intestinal endometriosis usually is asymptomatic. Often it is only diagnosed during surgery for other reasons. The symptoms frequently are nonspecific, although it may appear as an acute abdominal pain. Clinical history, physical examination and image techniques are necessary for the diagnosis. The choice of the operative technique depends on the clinical presentation and on the fertility wishes of the patient. Laparotomy and laparoscopy are equally effective, but laparoscopic approach is preferred.
제가 경험하였던 증례 몇 개를 소개합니다.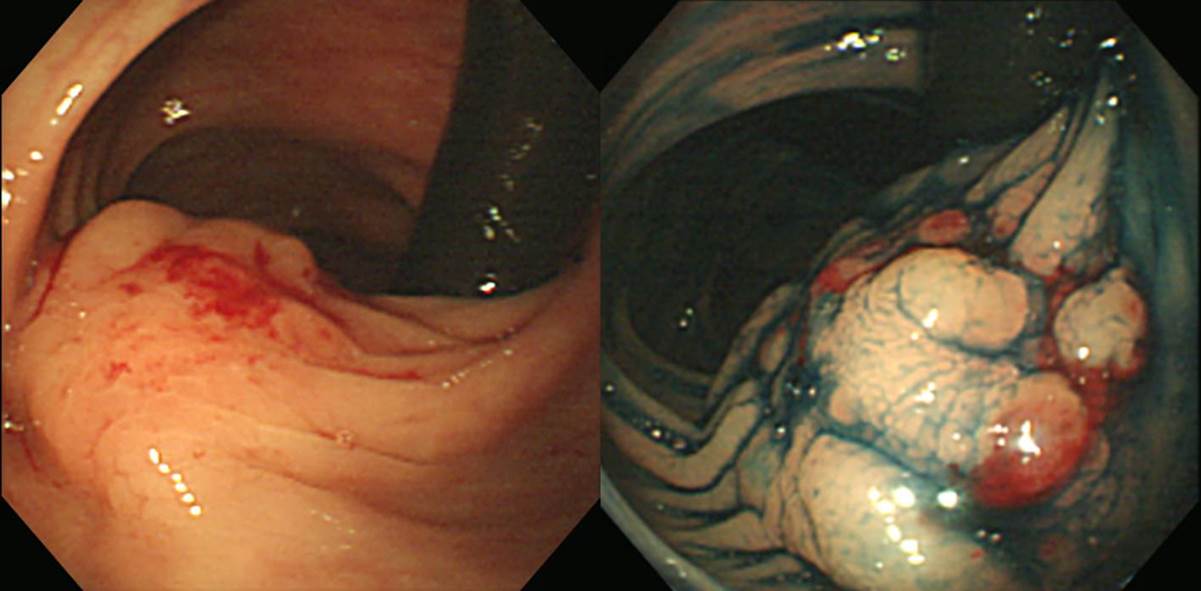 무증상 검진내시경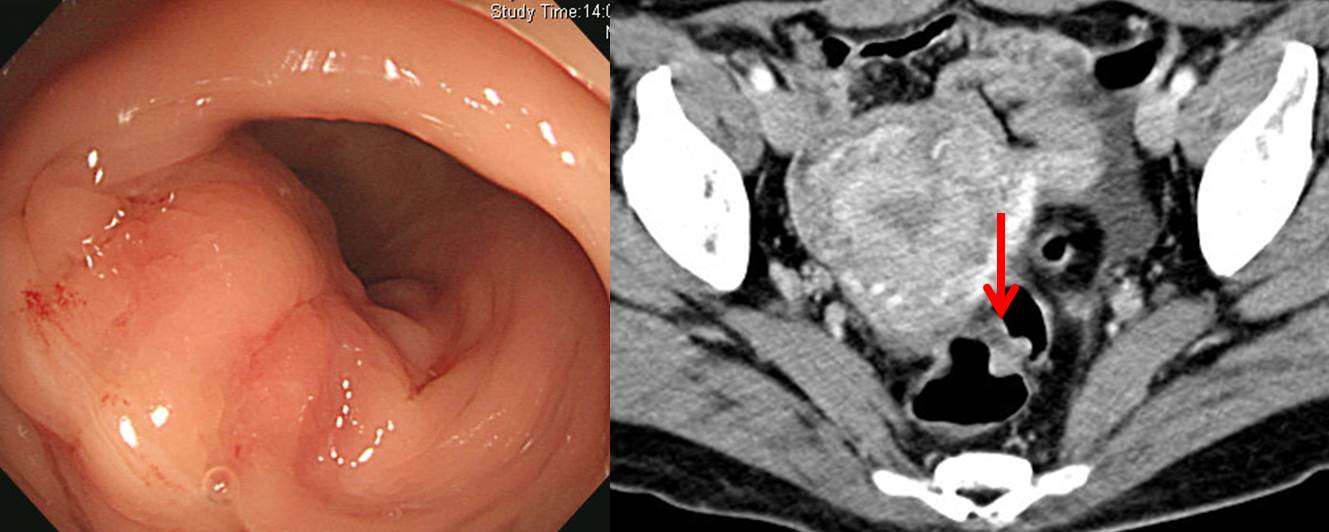 무증상 검진내시경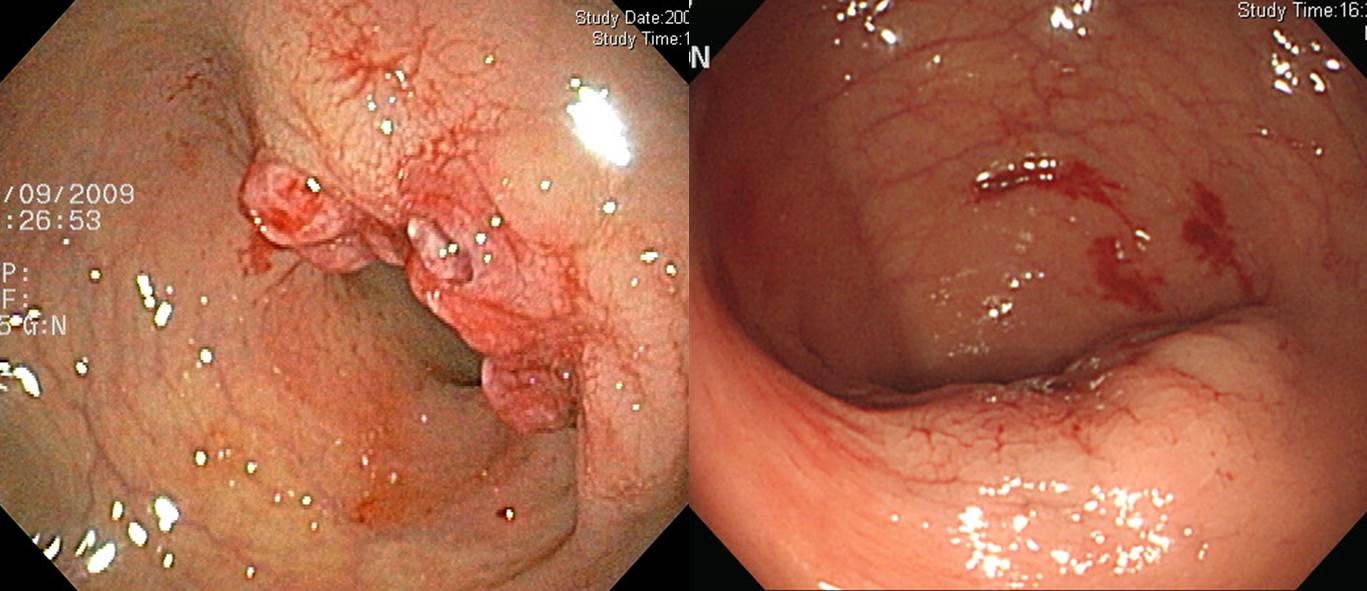 Rectal bleeding during mestruation period
건강검진에서 발견된 cecal mass입니다. CT에서 약 2 cm 크기의 oval enhancing mass가 cecal base에서 발견되었고 GIST의 가능성이 있는 것으로 평가되었습니다. 그리고 우연히 ovary와 salpinx에서 cyst mass가 발견되어 joint operation으로 salpingo-oophorectomy와 cecectomy를 시행하였습니다. 결과는 모두 endometriosis였습니다.
* 참고: EndoTODAY 자궁내막증
---

4. Esophageal neuroendocrine carcinoma mixed with adenocarcinoma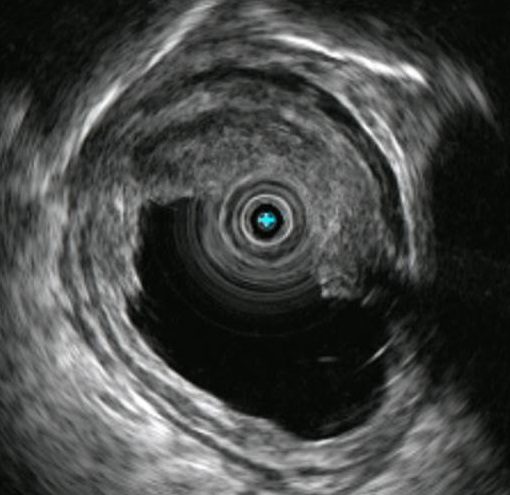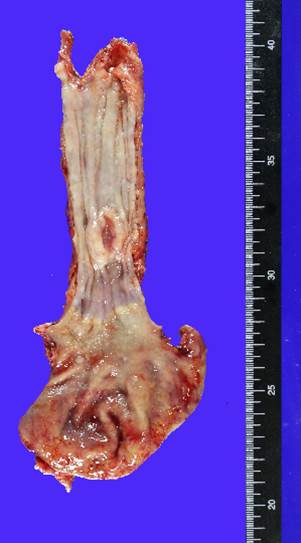 Esophagus and upper stomach, Ivor Lewis operation :
Mixed poorly differentiated neuroendocrine carcinoma and adenocarcinoma,
1) tumor size: 2x1.5 (neuroendocrine carcinoma 99%, adenocarcinoma 1%)
2) extension to submucosa
3) mitosis: 52/10 HPFs
4) necrosis: present
5) lymphovascular invasion: present
6) perineural invasion: not identified
7) resection margins: free from carcinoma, circumferential (adventitial) margin(deep), 0.4cm
8) metastasis to 7 out of 44 regional lymph nodes (7/44: "RRLN", 0/6; "LRLN", 0/6; "RD", 1/1; "G1", 2/6; "G2", 0/2; "G3", 0/8; "2R", 2/3; "7", 1/3; "8u", 1/3; "9R", 0/2; "10L", 0/4)
AJCC pathologic stage: pT1b N2
---

[References]
1) SMC Endoscopy Unit 삼성서울병원 내시경실
2) SMC Monday GI conference 삼성서울병원 일원내시경교실 월요점심소화기집담회
3) SMC Thursday endoscopy conference 삼성서울병원 일원내시경교실 목요점심내시경집담회


© EndoTODAY Endoscopy Learning Center. Jun Haeng Lee.