EndoTODAY | EndoATLAS | Outpatient Clinic
Parasite | Esophagus | Stomach | Cancer | ESD
Home | Guide | Author | Subscription | Links
---

[Thursday Endoscopy Conference 20160818]

1. Sloughing esophagitis (= exfoliative esophagitis = esophagus dissecans superficialis, EDS) in dabigatran user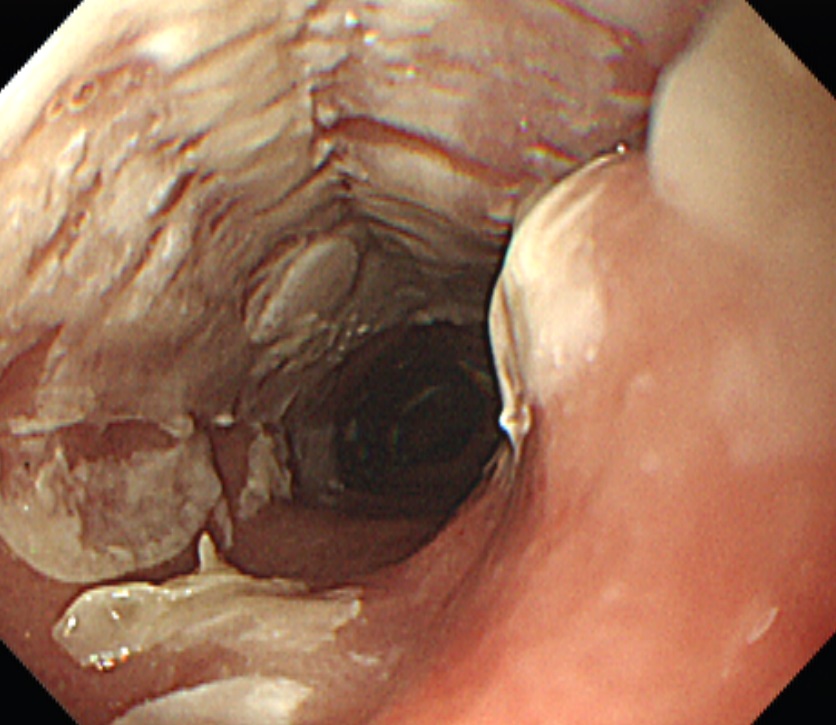 Sloughing esophagitis로 longitudinal sloughing esophageal mucosa (cast라고 부릅니다)가 특징입니다. Sloughing은 '허물을 벗다'라는 뜻입니다. 병리에서도 벗겨진 epithelium 에 inflammatory infiltration 이 보이는 것이 보통입니다. Odynophagia 와 같은 증상이 있는 경우가 많지만 없는 경우도 있습니다. 원인은 대부분 약제로 인한 식도점막 손상이므로 약물력을 확인이 필요합니다. 지난 2월 소화기내시경학회 교육자료로 나온 바 있습니다.
PDF 0.3 M
Sloughing esophagitis 유발약제로 NSAID와 일부 항생제가 포함되는 것은 잘 알려져 있는데 앞으로 dabigatran이 중요할 것 같습니다 (NOAC 처방이 늘고 있어서). 최근 연구에 따르면 Dabigatran을 복용하고 내시경을 시행한 환자에서 식도염이 약 20% 정도 관찰된다고 합니다 (Toya Y. J Gastroenterol Hepatol 2016).
Results: Dabigatran-induced esophagitis was found in 19 of 91 (20.9%) patients. Of the 19 patients with the esophagitis, 18 (94.7%) showed longitudinally sloughing epithelial casts in the mid and/or lower esophagus, which may be characteristic endoscopic findings of this disease. Symptomatic patients were more frequent in patients with dabigatran-induced esophagitis (68.4%) than those without (37.5%, P=0.02). Other factors including age, gender, coexistence of hiatal hernia, gastroesophageal reflux disease, or concomitant other medications did not differ between the two groups.

Figure 1. Endoscopic and histologic images of dabigatran-induced esophagitis. (a) Typical longitudinal sloughing of esophageal casts are seen in the mid and lower esophagus. (b) Histologic picture of a biopsy specimen of sloughing casts shows exfoliative esophageal squamous epithelium with eosinophilic degeneration and inflammatory infiltrate (hematoxylin and eosin stain, 200×).

Figure 2. Endoscopic images of dabigatran-induced esophagitis. (a) Circumferential erosions can be seen in the lower esophagus of an 85-year-old man who had been taking dabigatran for 8 weeks. (b) The circumferential erosions disappeared 3 months after dabigatran was changed to warfarin.
---

2. Borrmann type IV

50대 남성입니다. 위체하부와 위각의 전형적인 위암이 있지만 위체중부 소만과 위체상부 소만의 점막도 변색을 보이고 불규칙하여 조직검사를 하였고 모두 undifferentiated type adenocarcinoma로 나왔습니다. 위체하부의 deep SM invasion 정도의 EGC (혹은 PM cancer)와 위체상부의 넓은 EGC IIb 정도로 생각하는 것이 타당할 것 같습니다. 그런데 병리 결과는 추정하였던 것보다 매우 심했습니다. 보만 4형 진행성위암의 특이한 형태로 볼 수 밖에 없습니다. 보만 4형 진행성 위암은 늘 어렵습니다.
1. Location : middle third, Center at body and lesser curvature
2. Gross type : Borrmann type 4
3. Histologic type : signet-ring cell carcinoma
4. Histologic type by Lauren : diffuse
5. Size : 12x4 cm
6. Depth of invasion : invades serosa (pT4a)
7. Resection margin: involvement of proximal margin by endolymphatic tumor emboli negative distal resection margin, safety margin: proximal 0 cm, distal 0.3 cm
8. Lymph node metastasis : metastasis to 23 out of 24 regional lymph nodes (pN3b) (perinodal extension: absent)
9. Lymphatic invasion : present (+++)
10. Venous invasion : present(intra- and extramural) (++)
11. Perineural invasion : present
* 참고: EndoTODAY 보만 4형 진행성 위암
---

3. BGU of the fundus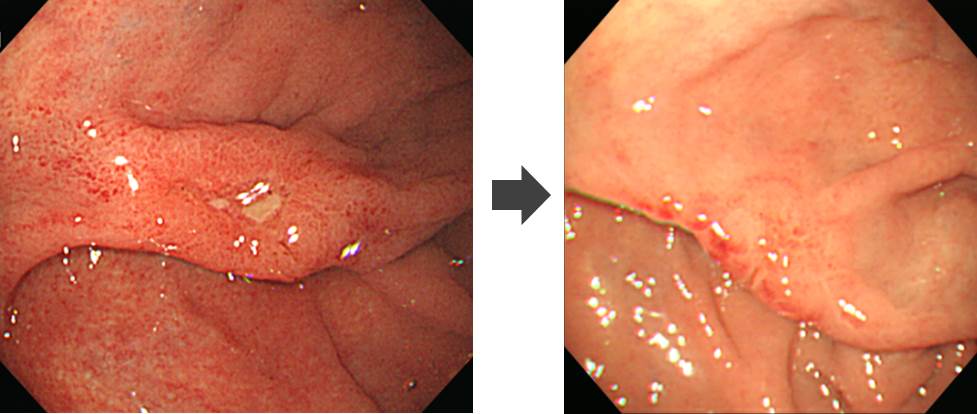 Fundus의 병소로 조직검사에서 H. pylori gastritis 정도였고 제균치료를 포함한 궤양치료 후 호전되었고 추적 조직검사에서 특이소견이 없었습니다. 양성 위궤양의 흔한 위치는 아니지만 현재까지 정보로는 '드문 위치에서 발생한 양성 위궤양'으로 볼 수 밖에 없을 것 같습니다. 추적관찰은 필요합니다.
---

4. Mantle cell lympoma of the terminal ileum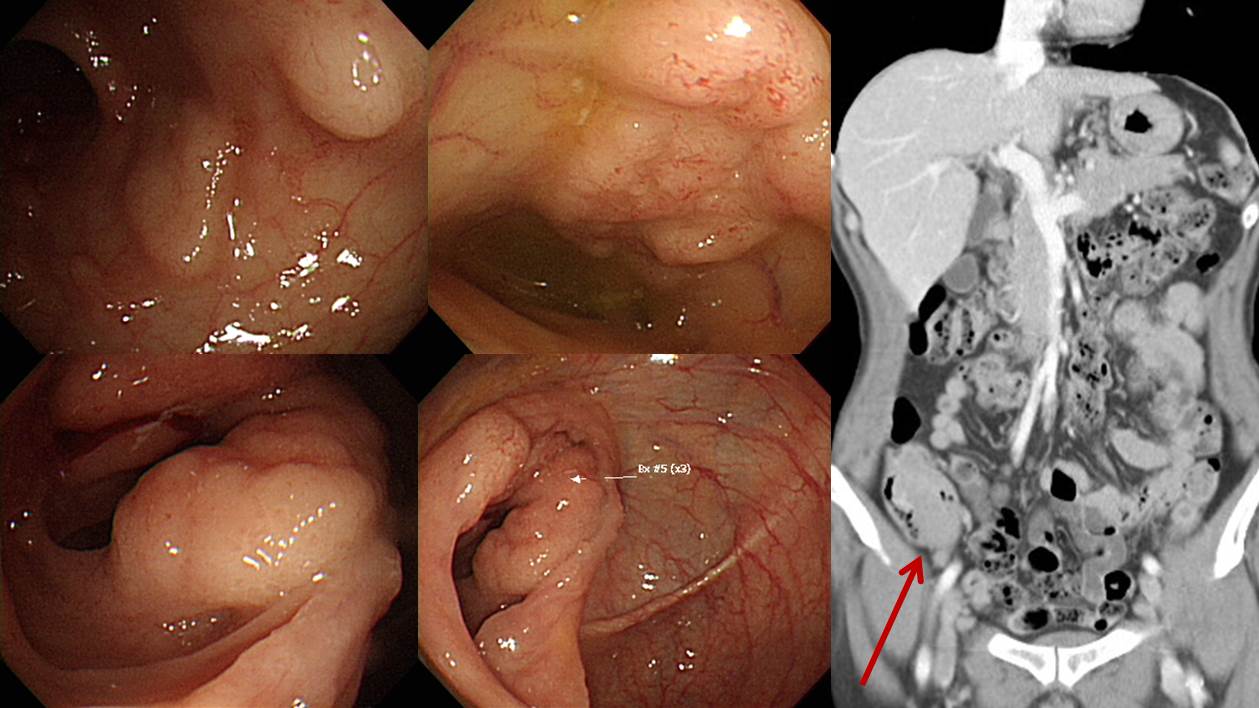 체중감소를 주소로 내원한 60대 여성의 대장내시경입니다. 조직검사에서 mantle cell lymphoma, cyclin D1 (+)가 나왔습니다. CT에서 ileum이 두꺼워 보였습니다. 경부 림프절과 골수 침윤이 있었습니다.
* 참고: EndoTODAY Mantle cell lymphoma
---

5. Colon mucosal cancer (LST type)
Colon, rectosigmoid juction, endoscopic mucosal resection:
Intramucosal carcinoma, arising in tubular adenoma
1) size: 0.6x0.3cm
2) invasion to lamina propria (pTis)
3) clear resection margin
---

[References]
1) SMC Endoscopy Unit 삼성서울병원 내시경실
2) SMC Monday GI conference 삼성서울병원 일원내시경교실 월요점심소화기집담회
3) SMC Thursday endoscopy conference 삼성서울병원 일원내시경교실 목요점심내시경집담회


© 일원내시경교실 바른내시경연구소 이준행. EndoTODAY Endoscopy Learning Center. Lee Jun Haeng.