EndoTODAY | EndoATLAS | 외래설명자료
기생충 | 식도 | 위 | 위암 | ESD | 천기누설
Home | Guide | 주인장 | 구독 | 검색 | 링크
---

[일원내시경교실 목요점심집담회 2016-4-14]

1. 식도암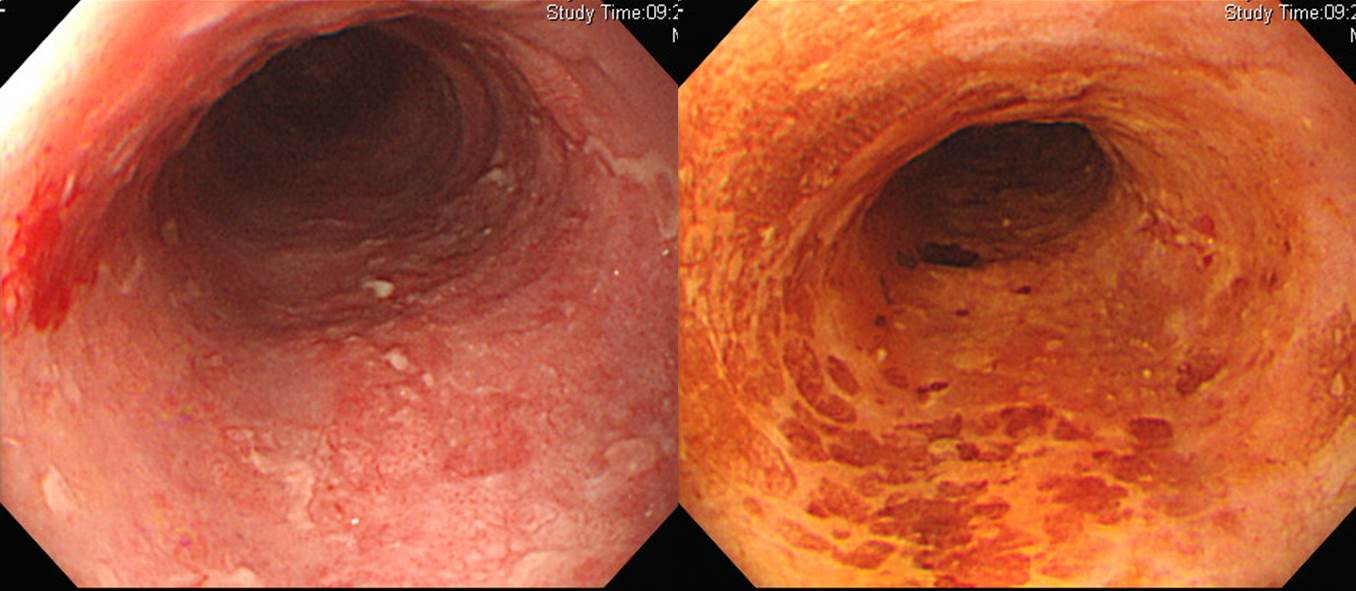 Invasive squamous cell carcinoma, well differentiated:
1) tumor size: about 4.5x4 cm
2) extension to lamina propria (pT1)
3) no involvement of gastroesophageal junction
4) negative resection margins (proximal, 3.5 cm; distal, 7 cm)
5) no metastasis in 43 regional lymph nodes
---

2. 식도 흑색종 수술 후 anastomosis site 국소 재발
식도 재수술에 따른 위험이 너무 크다고 판단하여 APC ablation 치료를 하였는데 이후 재발 없음.
* 참고: EndoTODAY 식도 흑색종
---

3. 조기위암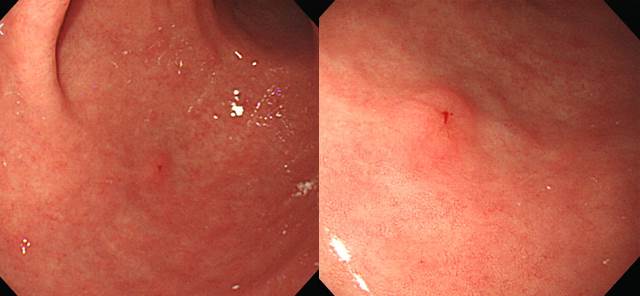 Stomach, endoscopic submucosal dissection:
Early gastric carcinoma
1. Location : antrum, greater curvature
2. Gross type : EGC type IIc
3. Histologic type : tubular adenocarcinoma, well differentiated
4. Histologic type by Lauren : intestinal
5. Size of carcinoma : (1) longest diameter, 4mm (2) vertical diameter, 2mm
6. Depth of invasion : invades mucosa (lamina propria) (pT1a)
7. Resection margin : free from carcinoma(N)
8. Lymphatic invasion : not identified(N)
9. Venous invasion : not identified(N)
10. Perineural invasion : not identified(N)
11. Microscopic ulcer : absent
12. Histologic heterogeneity: absent
---

4. Radiation proctitis
Anal cancer로 수술 후 방사선치료를 받은 환자의 hematochezia 였습니다. 검사 후 APC ablation treatment를 시행하였습니다.

Radiation proctitis는 아래 방식으로 중증도 scoring할 수 있습니다.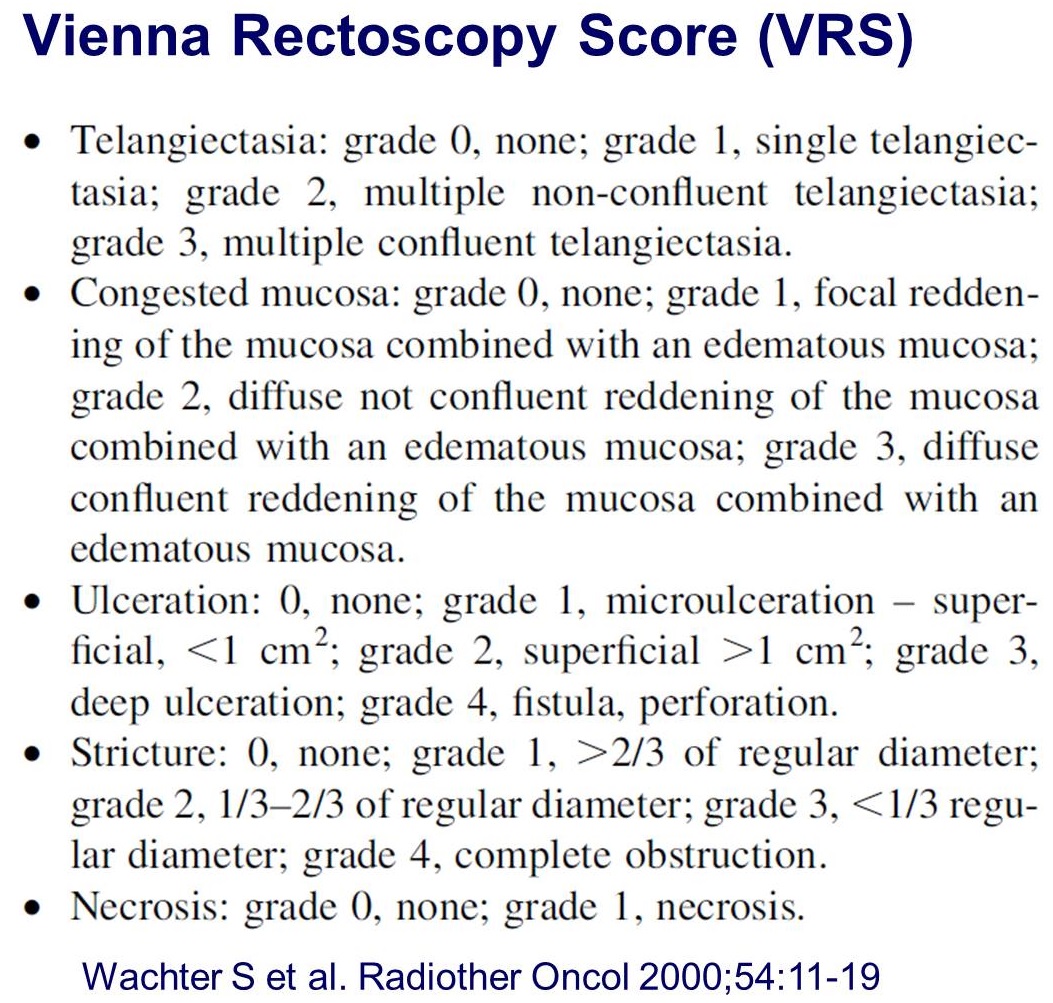 * 참고: EndoTODAY 방사선 위염
---

5. Appendiceal mucinous neoplasm
우연히 시행한 대장내시경입니다. Cecum에서 SMT-like mass가 발견되어 수술(laparoscopic appendectomy)을 하였습니다.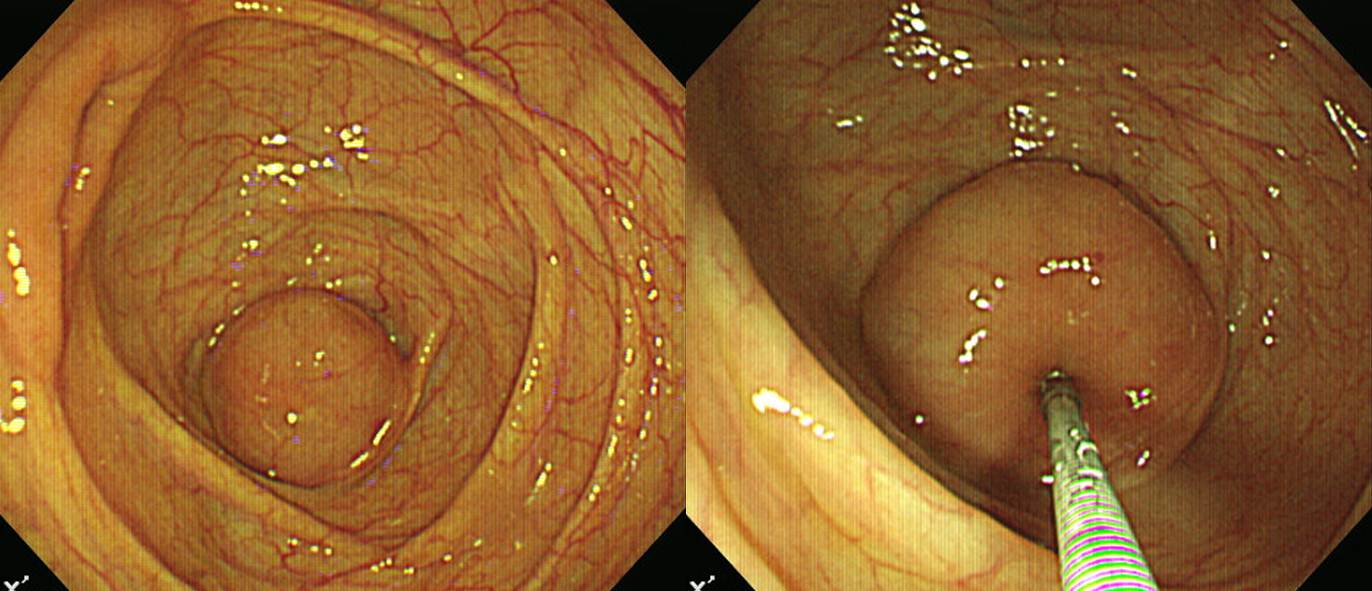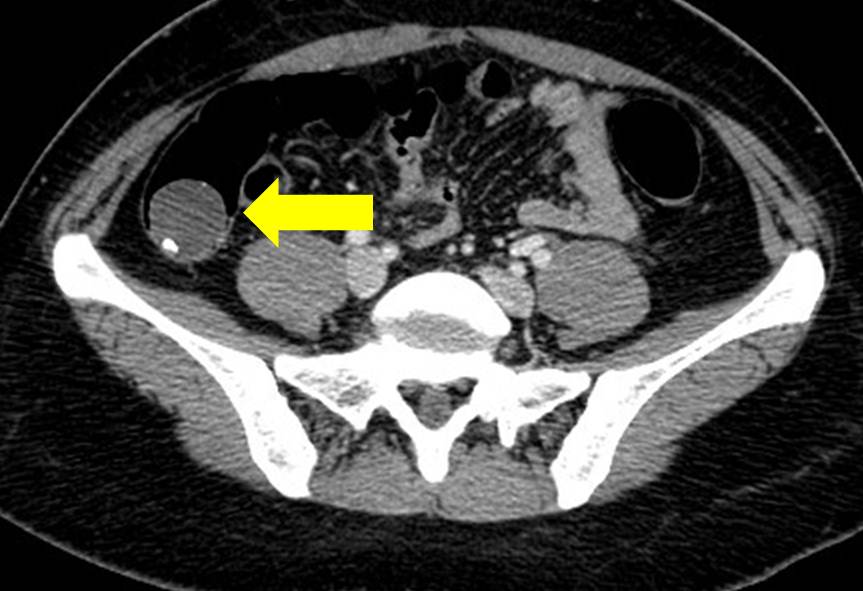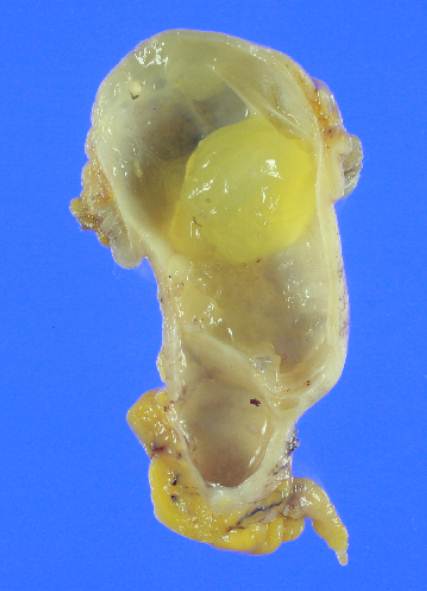 Appendix, appendectomy:
Low grade appendiceal mucinous neoplasm :
1) size: 6x3.5x3 cm
2) mild dysplasia
3) mucocele formation
4) no mucin is seen outside of the appendix
5) no perforation
6) negative resection margin
---

6. Gastric syphilis
History: A 25-year-old, apparently healthy man presented with one month history of epigastric tenderness and vomiting. The patient visited a local clinic where he underwent an endoscopic examination and the endoscopic diagnosis was benign gastric ulcer. But gastric ulcer symptom was not improved on ulcer medication. He was transferred to our hospital for further evaluation. His family history and past medical history were negative for any gastrointestinal disease, abdominal surgery or significant medical illness. Physical examinations were normal except minimal epigastric tenderness only. A laboratory evaluation revealed hemoglobin of 16.4 g/dL and hematocrit 47.9%. White blood cell count and differential count were within normal ranges. Total serum protein level was 7.3 g/dL and albumin level 4.3 g/dL.? Serum bilirubin and liver enzymes were within normal ranges. A computed tomographic scan of the abdomen with contrast revealed diffuse layered thickening of the wall of the gastric antrum, pylorus, duodenal bulb, and second portion of duodenal loop without definite perigastric and periduodenal fatty infiltration (Fig. 1). Multiple small and enlarged lymph nodes were identified along both common femoral vessel and inguinal area. Gastric endoscopy showed geographic irregular ulcer and shallow depressed mucosal lesions in almost all aspect of antrum. The ulcer revealed an irregular edge and uneven nodular base (Fig. 2). Endoscope was failed to advance to duodenal bulb due to luminal obstruction. A diagnostic procedure was done.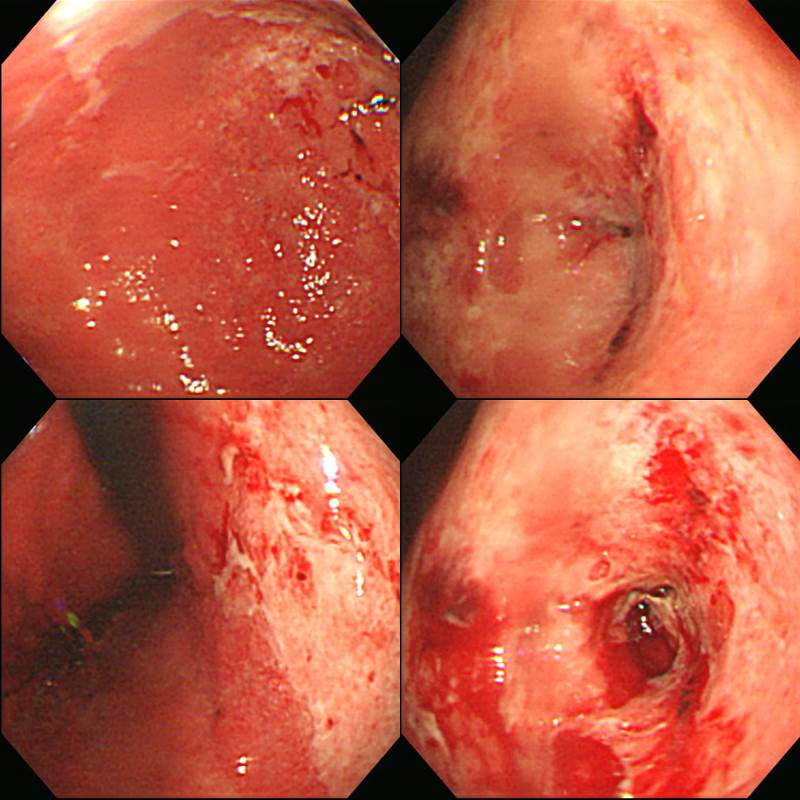 Biopsy: Chronic gastritis, active, with intestinal metaplasia (incomplete type), large lymphoid follicle and dense lymphoplasma cell infiltration ( Note: Based on histology, syphilitic gastritis could be considered)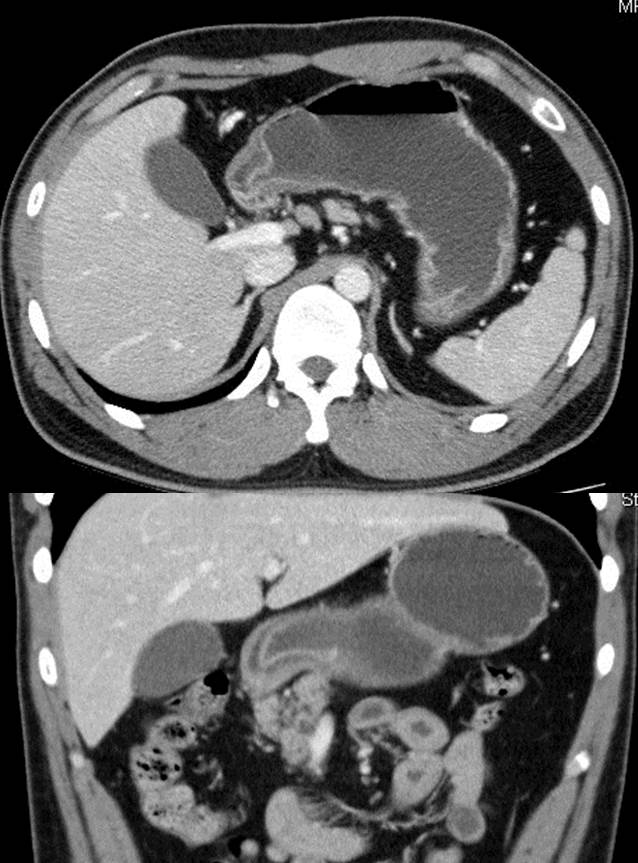 Layered wall thickening involving gastric antrum, pylorus, duodenal bulb,and 2nd duodenal loop
Automated Quantitative RPR Test: Reactive(5.00)
Automated Quantitative TPLA Test: Reactive(282.9)
A: foveolar pit 에서 H.pylori 가 관찰되지 않는다. B: 심한 위염소견으로 neutrophilic infiltration 이 관찰된다. C: lamina propria 에 심한 lymphoplasma cell infiltration 이 관찰된다. D: lagre irregular lymphoid follicular hyperplasia with geographic feature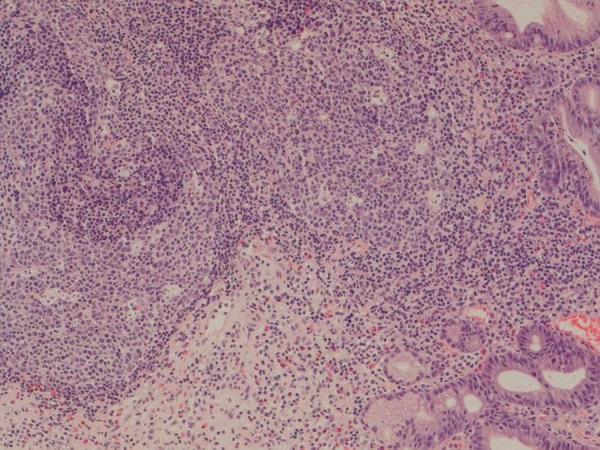 Large irregular lymphoid follicle : H.pylori 감염과는 달리 marginal zone 은 상대적으로 위축되어 있으나 follicular center 가 심하게 늘어나면서 지도모양(geographic feature) 으로 커져있다.
---
해설: 최근 위매독(gastric syphilis)가 조금씩 증가하고 있는 듯 합니다. 전체적으로 매독이 증가하고 있으므로 위매독도 따라서 증가하는 모양입니다. 우리나라에서 매독 환자는 생각보다 많습니다. 2008년의 경우 1,548명이었다고 합니다 (Clin Endosc 2015;48:256). AIDS 때문에 다른 성병이 무시되고 있기 때문인 것으로 추정하고 있습니다.
Gastric syphilis의 특징을 정리하면 아래와 같습니다.
1) Secondary and tertiary stage
2) Incidence in syphilis; <1%
3) Endoscopy; erosive gastritis or gastric ulcer with heaped, nodular edges or thickened, edematous rugal folds.
4) Histopathologic findings; suggestive, but not diagnostic
제가 지금까지 알고 있는 gastric syphilis 6예의 사진입니다. 특히 첫번째 증례가 보만 4형 진행성 위암과 비슷했습니다.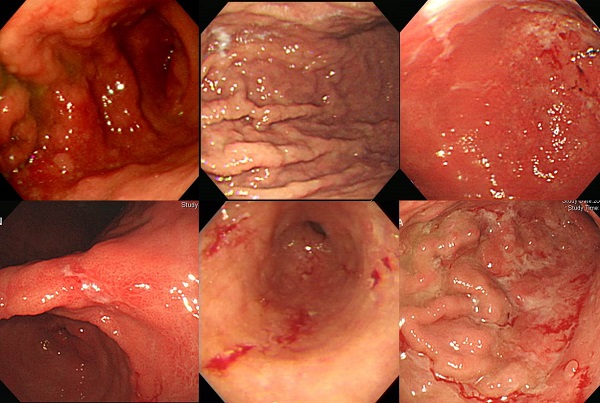 ---

[References]
1) SMC Endoscopy Unit 삼성서울병원 내시경실
2) SMC Monday GI conference 삼성서울병원 일원내시경교실 월요점심소화기집담회
3) SMC Thursday endoscopy conference 삼성서울병원 일원내시경교실 목요점심내시경집담회


© EndoTODAY Endoscopy Learninng Center. Jun Haeng Lee.