EndoTODAY | EndoATLAS | 외래설명자료
기생충 | 식도 | 위 | 위암 | ESD | 천기누설
Home | Guide | 주인장 | 구독 | 검색 | 링크
---

[일원내시경교실 목요점심집담회 2016-4-21]

1. Mucosal cancer with lymph node metastasis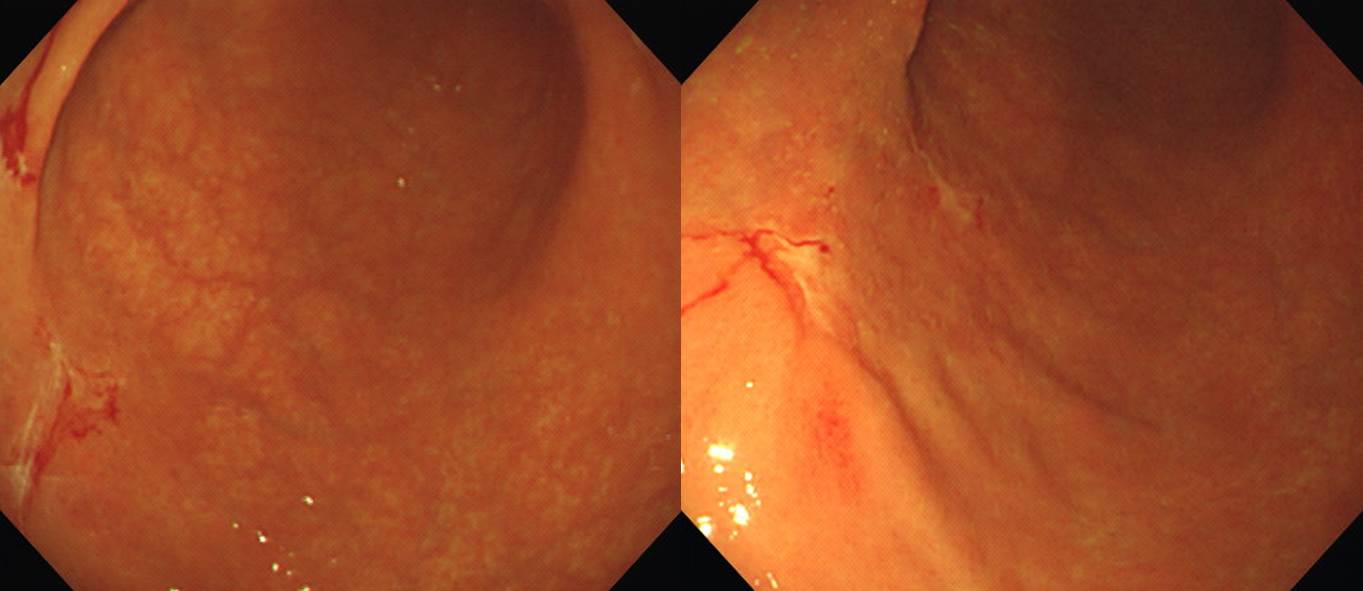 Stomach, subtotal gastrectomy:
Early gastric carcinoma
1. Location : middle third, Center at body and anterior wall
2. Gross type : EGC type IIb
3. Histologic type : signet-ring cell carcinoma
4. Histologic type by Lauren : diffuse
5. Size : 4.5x4.5 cm
6. Depth of invasion : invades mucosa (muscularis mucosae) (pT1a)
7. Resection margin: free from carcinoma, safety margin: proximal 4.2 cm, distal 5.7 cm
8. Lymph node metastasis : metastasis to 2 out of 40 regional lymph nodes (pN1) (perinodal extension: absent)
(2/40: "1", 0/1; "3", 0/8; "4", 2/15; "4sb", 0/0; "5", 0/1; "8a", 0/4; "7", 0/2; "9", 0/1; "11p", 0/1; "12a", 0/2)
9. Lymphatic invasion : not identified
10. Venous invasion : not identified
11. Perineural invasion : not identified
17. AJCC stage by 7th edition: pT1a N1
---

2. Cowden syndrome
위 조직검사는 hyperplastic polyp으로 나왔습니다. 과거 자궁암과 유방암으로 수술받으신 병력이 있습니다.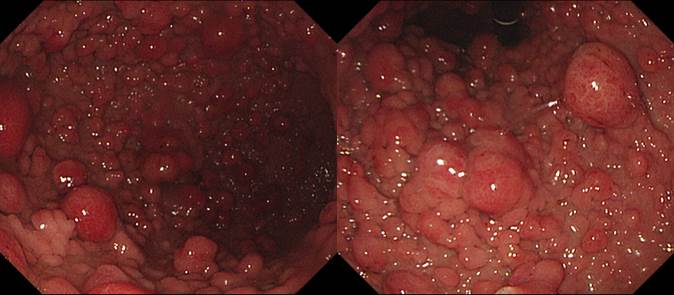 * 참고: EndoTODAY Cowden 증후군
---

3. Colon tuberculosis
조직 AFB smear/culture는 음성이었으나, 조직 병리에서 "Chronic granulomatous colitis with erosion, Consistent with tuberculous colitis" 소견이었습니다. 결핵약 복용 후 호전되었습니다.

Intestinal Tb 가 의심될 경우 조직검사 처방
1) BL1A112A. colon 생검 1~3개 --> 포르말린 통
2) BL4112. AFB stain and culture 처방 (검체 others(specify)) --> Saline 통
3) BG510101. Mycobacterium tuverculosis,nested PCR (검체 P17 colon) --> 생검조직만
미리 Bx 하기전에 간호사에게 정보를 줘야 포르말린통에 검체가 모두 담기는 것을 막을 수 있습니다. 꼭 미리 소통하세요.
* 참고: EndoTODAY 위장관 결핵
---

4. AGC
첫 두번 조직검사에서 암이 나오지 않아 의뢰된 경우입니다. 수술 전 조직검사는 poorly differentiated carcinoma가 나왔습니다. 매우 심했습니다.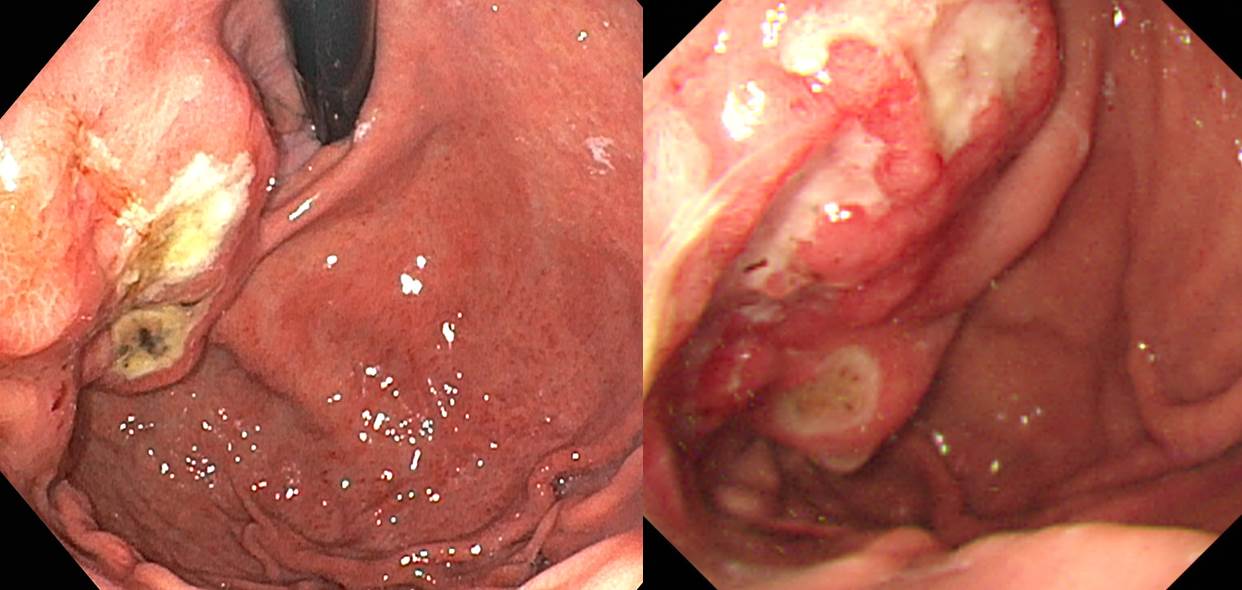 Advanced gastric carcinoma
1. Location : upper third, Center at cardia (Siewert III)
2. Gross type : Borrmann type 1
3. Histologic type : medullary carcinoma (lymphoepithelial-like carcinoma)
4. Histologic type by Lauren : diffuse
5. Size : 8 x 7 cm
6. Depth of invasion : invades serosa (pT4a)
7. Resection margin: free from carcinoma, safety margin: proximal 0.8 cm, distal 15 cm
8. Lymph node metastasis : metastasis to 9 out of 23 regional lymph nodes (pN3a)
9. Lymphatic invasion : present
10. Venous invasion : not identified
11. Perineural invasion : present
12. Associated findings : mesenteric seeding
13. Peritoneal cytology : negative
14. AJCC stage by 7th edition: T4a N3a
Pancreas and spleen, distal pancreatectomy and splenectomy: Metastatic adenocarcinoma present in peripancreatic lymph node (1/1: peripancreatic, 1/1) . No tumor, pancreatic parenchyme and spleen
---

5. Hp (+) Gastric MALToma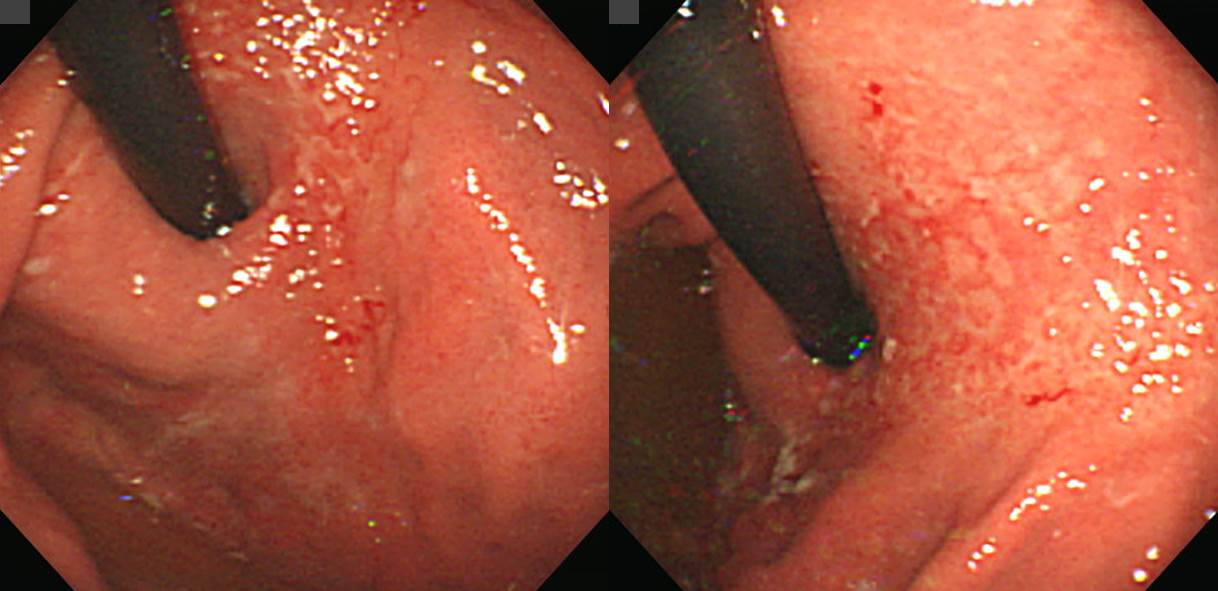 * 참고: EndoTODAY MALT 림프종
---

[References]
1) SMC Endoscopy Unit 삼성서울병원 내시경실
2) SMC Monday GI conference 삼성서울병원 일원내시경교실 월요점심소화기집담회
3) SMC Thursday endoscopy conference 삼성서울병원 일원내시경교실 목요점심내시경집담회


© EndoTODAY Endoscopy Learninng Center. Jun Haeng Lee.